Made.com share price collapsed this week amid going concerns about the company. The stock tumbled to a low of $0.342, which was its all-time low. It has crashed by more than 99% from its all-time high, giving it a market cap of about £2.3 million. The stock has underperformed the FTSE 250 and FTSE 100. So, will Made.com go bankrupt and what next for the stock?
What is Made.com?
Made.com is a British online retailer that focuses on furniture ad other home accessories. It partners with independent designers and then sells its products through its website and mobile applications. The company then takes a small cut for all furniture and all products it sells. Made.com has also diversified its business by having two stores in Soho and West Yorkshire.
Made.com' idea is not new. In the past few years, many online furniture companies have come up. For example, in the United States, companies like Wayfair and Overstock have gained a substantial market share in the industry. Fresh upstarts like Article have also come up.
In addition to the UK, Made.com sells its products in Germany, Austria, Belgium, and Netherlands.
Made.com latest news
Made.com is a troubled company and there are chances that it will not survive any time soon. This week, the company announced that it will stop taking any more orders as the management looked for funds to continue operating. At a time of high-interest rates, there is a likelihood that the company will not find an investor.
Still, the weaker British pound and its desperation could lead to a bailout by a foreign buyer. As mentioned, this is a popular company that makes more than $300 million that is being valued at just £2.3 million.
What went wrong for Made.com?
Made.com has been under pressure in the past few months. The company, which raised millions of pounds in its 2021 IPO, has become a cash-burning machine. It has faced a significant slowdown in sales as inflation has surged. For example, its total gross order volume for the first half of the year crashed by 18.8% year-on-year.
Made.com's revenue for the six months to June was over £178.2 million, slightly above its previous year's £171 million. Its fross margin dropped to 40.1% while its total loss before tax rose to over 32 million.
This slowdown happened because of the soaring inflation and the weaker British pound. Inflation has made many premium furniture and accessories unaffordable to most people. At the same time, the weak pound has made it more expensive to import.
Made.com has also been in a cash-burning spree. The company had over 175.3 million in cash at the end of its first half of the year in 2021. This year, this cash hoard was down to just 32.3 million. It is almost inexcusable for a company to spend such cash.
In all fairness, the company has made some changes to preserve cash. It reduced its showroom and warehouse space in a bid to save over 7 million annually. It also announced plans to reduce its headcount by 6 million.
Made.com share price history
The Made.com stock price history can be traced to June 2021 when the company went public. At the time, it raised 100 million pounds at a valuation of £775 million. This raise made it one of the top London IPOs.
At its peak, Made was being valued at over 1 billion in the private market. This happened as the management predicted that its revenue could surge to £1.2 billion by the end of 2025.
Made shares have been in a freefall since going public. As shown on the weekly chart, the stock has crashed in most weeks since going public. It has crashed by more than 99% during this time.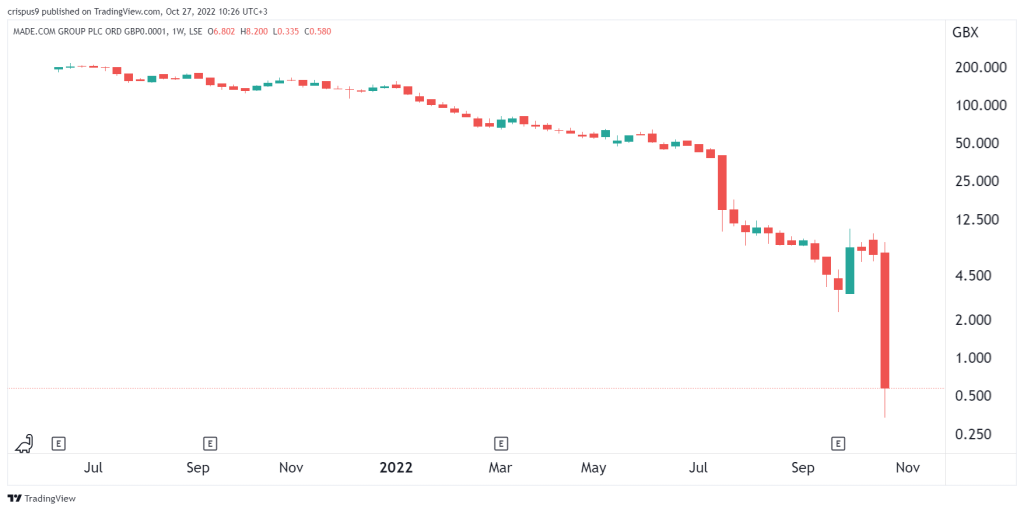 Made.com share price forecast 2022
The daily chart shows that the MADE stock price has been in a freefall since going public. The sell-off accelerated this week after the company stopped taking new orders and worries about its going concerns remained.
Therefore, with the stock trading at almost zero, there is a likelihood that it will remain in the current range for a while. It is unlikely that the stock will recover. A recovery can only happen if the company finds fresh cash injection, which is unlikely. Therefore, with two months to go, the stock will likely continue falling this year.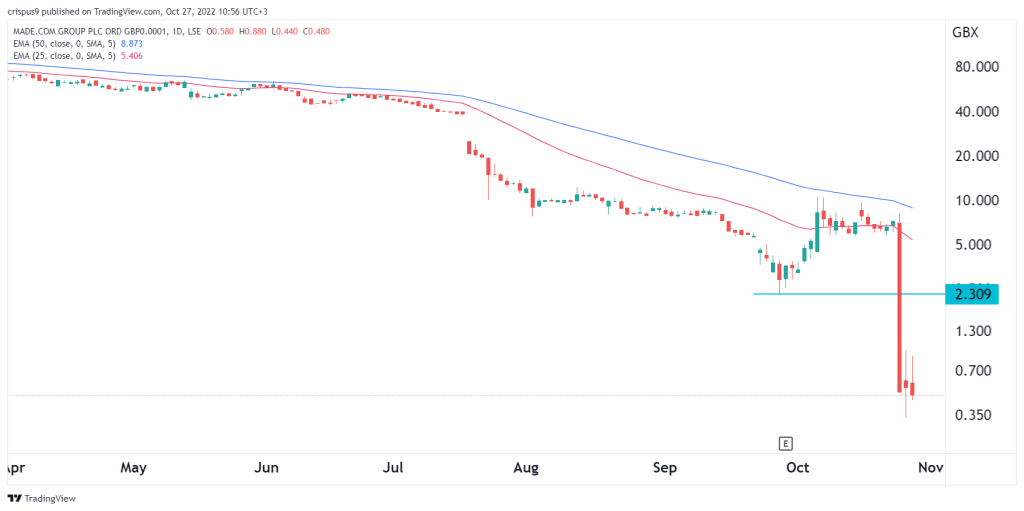 Will Made share price recover?
A common question among many Made holders is whether the stock will recover. Unfortunately, at this time, things don't look good for MADE. For one, the management and its advisors have failed to find a buyer for a while. Now, with the company not taking orders, it will be difficult for it to find a buyer.
In the long term, however, there is a likelihood that the company will be taken private in a fire sale since it has demonstrated that it has demand. For example, in six months to June, Made.com served more than 1.17 million customers in the UK and continental Europe. Its repeat order mix was about 48%. 
Last week, Made.com said that it had received several non-binding proposals and that it had invited some of them to submit bids by the end of the month. There is a possibility that it will recover in the near term.
Made.com share price forecast 2025
The outlook for Made.com for 2025 is significantly unclear. For one, analysts expect that the company will be delisted by the London Stock Exchange (LSE) by then. The only hope for Made is that it raises cash from private investors and then goes private. With its stock trading at 0, the company will likely not raise cash through a secondary offering.
Made.com share price forecast 2030
As with my previous forecast, I believe that Made.com shares will not be publicly traded by 2030. If it survives this turmoil, the company will be operating as a private company by then.
Will Made.com go bankrupt?
Made.com has been incinerating cash in the past few months. It has spent all of its IPO proceeds and analysts believe that it has very little remaining in the bank. It also has no pre-arranged credit or overdraft facilities. In a recent statement, the management said that it will need between £45 million and £70 million to become profitable.
Therefore, while the situation is stil fluid, there is a likelihood that the company will go bankrupt in the near term. This situation can be avoided by the company going private.