Crypto exchanges are the backbone of the industry. They supply the much-needed liquidity and allow the community to invest in digital assets from the comfort of their homes. Due to growing competition in the field, exchanges are coming up with many innovative ways to stay ahead in the game. One such innovative platform that has recently got our attention is the NAGAX crypto exchange. If you've ever come across a NAGAX review site, you will certainly agrees that the platform has excellent feedback.
NAGAX was launched in March 2022 by the European fintech giant NAGA AG Group. The exchange is owned by NAGAX Europe OÜ, a separate entity from the NAGA AG Group. NAGAX diversifies the NAGA ecosystem, which was previously more focused on the traditional markets. The platform has gained a lot of traction within a few months since its launch due to its unique social trading features.
Platform Overview
NAGAX crypto exchange is equipped with one of the friendliest UI in the industry. The platform provides trading and brokerage services for a wide range of cryptocurrencies. Users can trade in 80+ NAGAX digital assets available in more than 150 countries. The brand differentiates itself from its competitors by providing users with unique social trading features. In fact, the official slogan of NAGAX is "Crypto made social".
The platform currently provides the following features to the traders.
Beginner Friendly UI: Due to its intuitive interface, beginners can easily navigate across the website. NAGAX login is pretty convenient for new users as well. Users can sign up in just 3 simple steps.
Fiat Deposits: The exchange also acts as a fiat on-ramp as it allows users to deposit EUR and USD to buy available cryptocurrencies directly.
Security: NAGAX boasts industry-leading protection for user assets. Most digital assets are held in cold storage to avoid any security breach.
Wallet Services: Due to its bank-grade security, users can also use the platform to store their cryptocurrencies across different blockchains. This relieves users from the hassle of handling their seed phrases and private keys.
Regulatory Compliance: NAGAX is fully committed to complying with all the fintech regulations. Its effective yet very convenient KYC process keeps malicious practices like money laundering, tax evasion, and terror financing at bay. Also, NAGAX Estonia complies with all local regulations, ensuring that it operates within the country's legal boundaries.
Fees & Discounts
Despite being equipped with many cutting edge features, NAGAX still offers one of the lowest fees in the industry. The exchange only incorporates trading and withdrawal fees, while all the deposits are completely free. It also allows users to discount the platform fees by holding NAGA coin in their wallets.
NAGA coin (NGC) was launched via a successful ICO in 2017 and has since acted as the utility token for the whole NAGA ecosystem. NGC holders are entitled to many privileges, including up to 90% off on trading fees. Also, with NAGA coin, users can stake and earn in NAGAX digital assets and also benefit from air drops.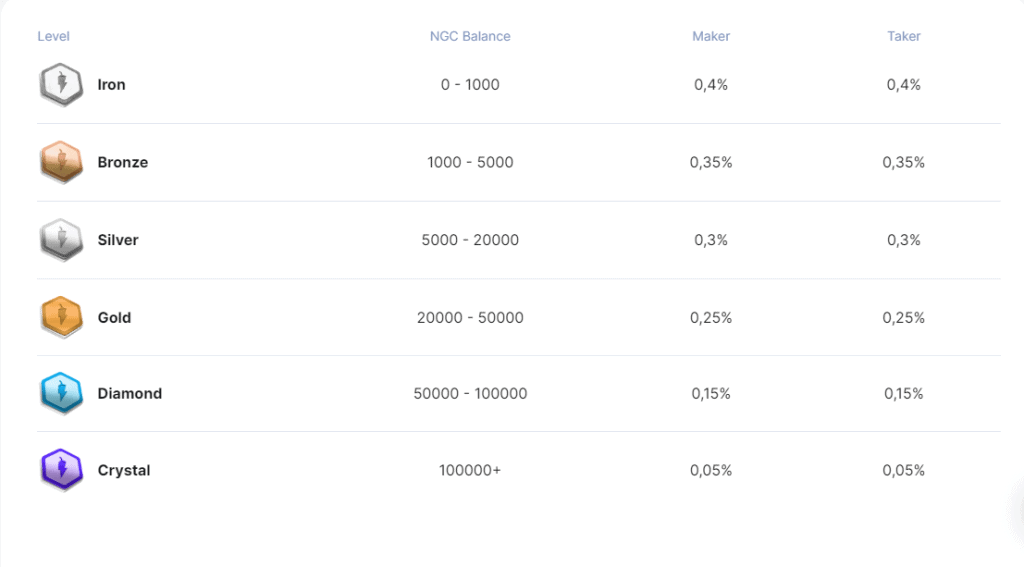 Social Trading
The most distinguishing aspect of NAGAX is its social trading feature that allows traders to interact with each other. This feature lets users share their knowledge, trading strategies, and techniques in a social media-like environment. The Newsfeed section on the website allows the newbies to learn from veteran traders interactively.
NAGAX Staking
NAGAX staking is a novel feature that allows all of the platform's users to stake their BTC, altcoins and leading tokens. This product was added recently to enable users to earn passive income from low-risk investment. The NAGAX staking period is flexible, and users can lock up their assets for 24 hours, one week, 14 days or 30 days. Furthermore, it offers an attractive APY package of up to 20%.
NAGAX Crypto Wallet
Many crypto holders are not comfortable storing their assets on the blockchain. This is because most beginners find it very complicated to back up their seed phrase and/or private keys on different blockchains. NAGAX facilitates its users by allowing them to store cryptocurrencies across multiple blockchains using its web wallet. Instead of backing up their lengthy private keys, users can manage their crypto assets by simply logging into their NAGAX accounts.
With the cryptosphere becoming increasingly targeted by hackers, wallet security is paramount. NAGAX keeps the user funds secure by storing them offline and leveraging Multi-Part Computation (MPC). This makes it an ideal custodial solution for beginners. Also, because the private keys in NAGAX are encrypted, both outsiders and employees can't get their hands on them. Furthermore, the platform supports 2FA, which adds another layer of security to user accounts. Finally, you can also add SMS code verification to your NAGAX login credentials.
NAGAX Academy
Another useful feature for beginners is the Academy section in News Feed. It includes the educational content necessary for the onboarding of new users. There are different modules available that cover various aspects of cryptocurrencies.
NAGAX YouTube channel is also a great way to start your crypto journey. The channel has many videos that explain the complex crypto terminology to non-specialists. This makes it much easier for beginners to navigate their way in the crypto world.
NAGAX Support
Users naturally need support with their NAGAX trade needs, to help them use various products or even to identify potential scam sites posing as NAGAX affiliates. NAGAX support is available through Twitter, Facebook, Discord, Instagram, YouTube, Telegram, Email and through Live Chat. Furthermore, you can get help from other users through the social trading Feed.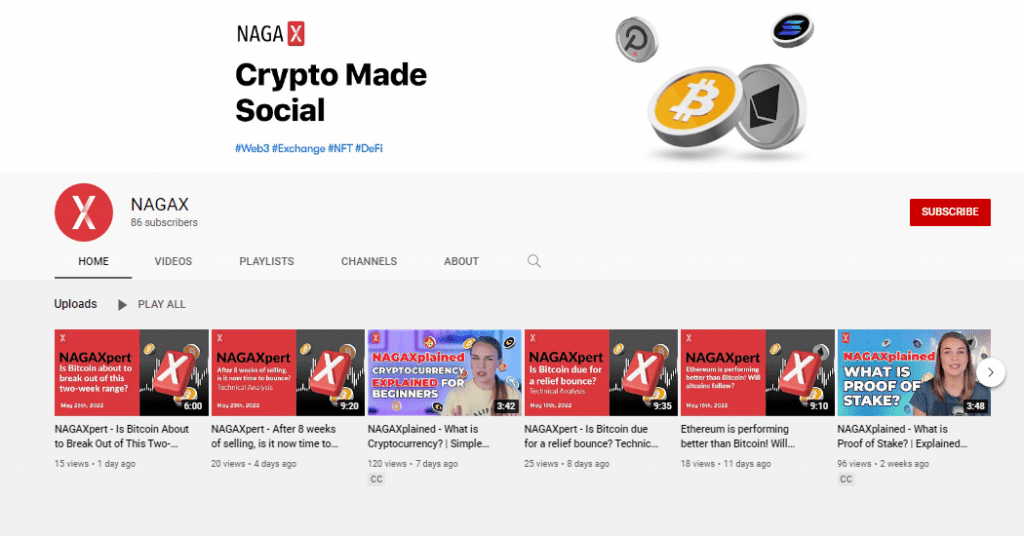 Upcoming Features & Expansion Plans
Although the NAGAX is already equipped with industry-leading tech, it has yet to unleash its true potential. The team has many disruptive features in the pipeline that can give it an edge over its competitors in the coming months. Some of these features are listed below.
NAGAX NFT Marketplace
One of the most anticipated features of the platform is the upcoming NAGAX NFT marketplace. This new feature would allow the users to create, buy and sell their NFTs. Users would be able to deposit their Eth or buy Eth directly with their credit cards.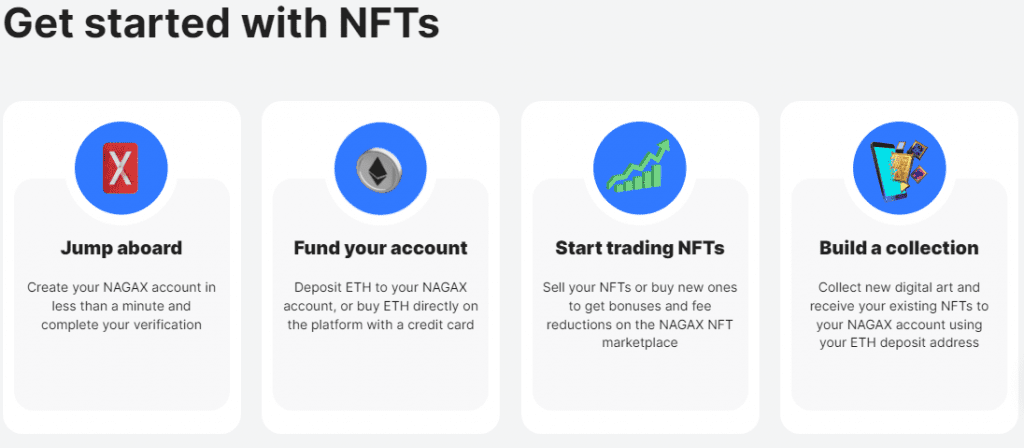 One significant aspect that could make this marketplace stand out is storefront creation. Creators would be able to showcase and market their NFTs much better by creating a storefront. The marketplace will be built on the Ethereum blockchain.
The team has also launched a NAGAX Creator Fund. This new fund would help the latest projects to launch their collections by winning up to $100,000. Interested projects may submit their applications from 1st May till 31st July 2022. The NAGAX Creator Fund is expected to incentivize NFT creators to use the NAGAX ecosystem as their NFT launchpads.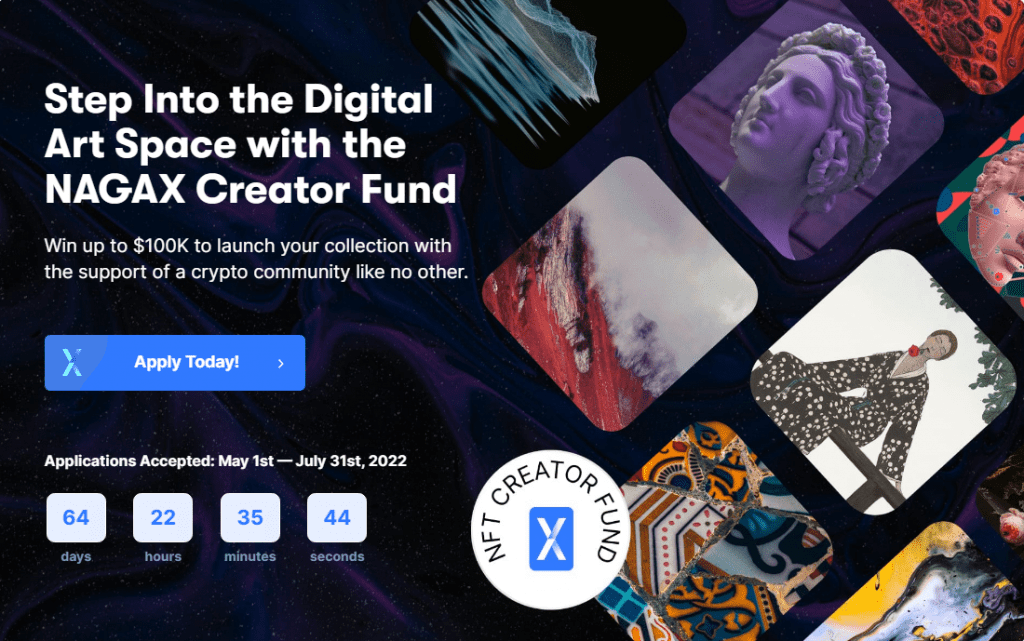 Copy Trading
Another valuable addition to the News Feed would be NAGAX Copy trading. As the name suggests, it will allow the users to copy each other's trades with just one click. This might be ideal for people with little or no prior trading experience as they would be able to follow the most successful traders on the platform.
There are very few crypto platforms that currently support copy trading. Therefore, the launch of this component could make NAGAX copy trading a hit and attract a lot of new users to the platform. Expert traders would be able to monetize their expertise by allowing the subscribers to follow their trades.
Leverage Trading
NAGAX derivatives are also expected to roll out soon. These products would allow users to trade with leverage of up to 100x. In this way, users would be able to hold a much bigger position by just maintaining a small margin.
However, leverage trading requires an additional responsibility, increasing the risk factor. Therefore one must manage their risk carefully before entering into any leveraged position.
Conclusion
Social trading is still a unique concept in crypto. It provides the necessary guidance to beginners and allows expert traders to monetize their expertise. Moreover, NAGAX expansion plans strengthen the brand's commitment to becoming a one-stop solution for spot trading, leverage trading, copy trading and NFTs.
These attributes make the NAGAX crypto exchange ideal for both the newbies and the veterans. Nevertheless, there are many other trading platforms with equally good tech. Such platforms can give NAGAX a run for their money in the coming days. Therefore, it is recommended to do your own research before trading on any platform.