The Loopring price took off like a meme-stock on reports that GameStop is using the protocol for an NFT project. Loopring (LRC) is trading at $0.1430 (-0.42%), a four-week increase of 345% and +530% year-to-date. LRC's market cap has jumped to $1.9 billion, making it the 76th most valuable cryptocurrency ahead of Huobi Token (H.T.).
Loopring is an open protocol for building decentralized exchanges built on Ethereum (ETH). For most of the last two months, the native LRC token has flown under the radar in a tight rage between $0.35-$0.50. However, that changed when the link to the O.G. meme-stock was revealed. Whether the rumour is true or just a well-placed story to create a buying frenzy is unclear at this stage. But what is clear is that altcoin mania is reaching dangerous levels.
Euphoric bubbles are popping up all over the cryptocurrency market. In the last few days, altcoins, in particular, are surging, with some like Solana (SOL) achieving new all-time highs. That isn't to say there won't be clear winners as we advance, but it seems the buying is indiscriminate, and therefore, investors should be more cautious now than ever.
LRC Price Analysis
The daily chart shows the Loopring price exploded from nowhere last week. Encouragingly, LRC has managed to hold on to most gains, which lends credibility to the rumour. Nonetheless, until a partnership is confirmed, we have no way of deciding if the current price is cheap, fair, or expensive.
On that note, for now, a Loopring price prediction is tricky. However, we will revisit this one as more details emerge.
Loopring Price Chart (Daily)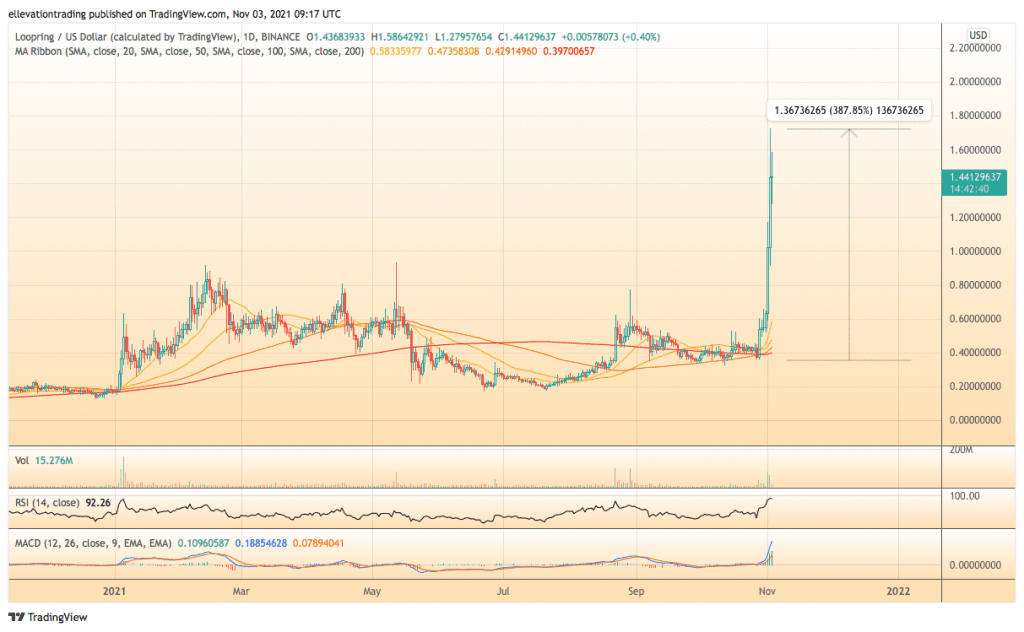 For more market insights, follow Elliott on Twitter.