Gold (XAU/USD) price is currently consolidating after hitting a new all-time high last week. Even though the precious metal couldn't close above its previous all-time high but the move still showed that the demand for safe-haven assets has never been more.
Gold price per ounce had the second consecutive green day as it rose by 0.39% on Tuesday. This puts the overall weekly gains at 0.63% after a sharp drop at the end of last week. Gold is not the only metal rallying as the Silver price also soared to its fresh YTD highs a few days ago.
XAU/USD Remains Strong As DXY Bounces
Safe haven assets like gold and silver usually show an inverse correlation with the dollar strength index. However, for the past few days, XAU/USD has been rallying despite a bounce in the DXY index. The bounce in DXY comes after a retest of its 101 points support.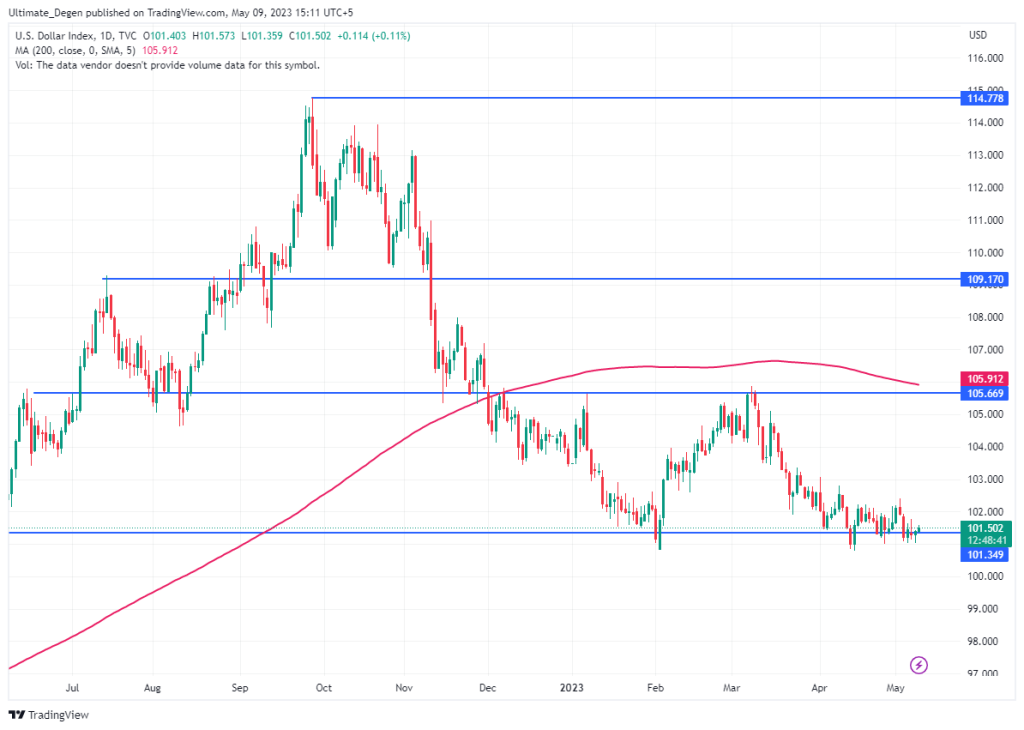 If the dollar strength index starts to rally, then the Gold price may retest its $1980 support once again. The CPI data for April 2023 is set to release tomorrow. A significant increase in inflation may act as a catalyst for a rally in DXY.
Gold Price May Surge Above $2,100 Very Soon
If the April inflation comes close to expectations, then I expect the XAU/USD to keep rallying. This will put a new all-time high for the global preferred store of value on the cards. In such a case, the $2,100 level will be a key to watch. A reclaim of this level will send the price to $2,200 and $2,350 very soon.
As long as the price remains above $1960, my Gold price forecast will remain bullish. A break below this level will invalidate this forecast. Such a rally may also send the Silver price per ounce above $27. However, close attention must also be given to the actions of the US Federal Reserve.
I'll keep posting my updated outlook on Gold and other assets in my free Telegram group, which you're welcome to join.