The VeChain price has been essentially unchanged over the last seven days despite the blistering altcoin rally that is underway. VeChain (VET) is trading at $0.133 (+2.73%), +38.80% in October and around +650% this year. There are currently 64.3 billion VET tokens in circulation, with a total value of $8.54 billion, making VeChain the 23rd most valuable crypto project behind Axie Infinity (AXS).
Although VeChain has had a remarkable run in October, the VET token has taken a back seat more recently. In the last week, several altcoins like Ethereum (ETH) have motored to new highs. Despite this euphoria, VET is half the price it was in April. VeChain's underperformance is likely due to the rise of Decentralized Finance (DeFi) and Non-Fungible tokens (NFT's).
Much of the capital invested in the crypto market rotates between asset classes depending on what will provide short term gains. Right now, the NFT and DeFi tokens are piping hot and subsequently sucking capital from other areas of the market. As a result, the overall gains are not evenly shared, leaving some projects lacking a bullish catalyst. However, it's not all bad news, VeChain is making progress technically. The VeChain price is above the key moving averages and moving higher in a concise uptrend. Furthermore, if VET clears horizontal resistance at $0.157, it could catch up with its rivals.
VET Price Analysis
The daily chart shows the 200-day moving average supports VET at $0.122, as does the 100 at $01112. As long as the price remains above the moving averages, a test of trend resistance at $0.157 should follow. Successful clearance of the horizontal barrier opens the door to a run at $0.2000.
On the other hand, below the 100-DMA, a return to horizontal support at $0.081 could be on the cards. Considering the overall buoyancy of the market, I favour the bullish scenario. However, this view relies on the price holding the major averages. Therefore, a close below $0.112 invalidates this thesis.
VeChain Price Forecast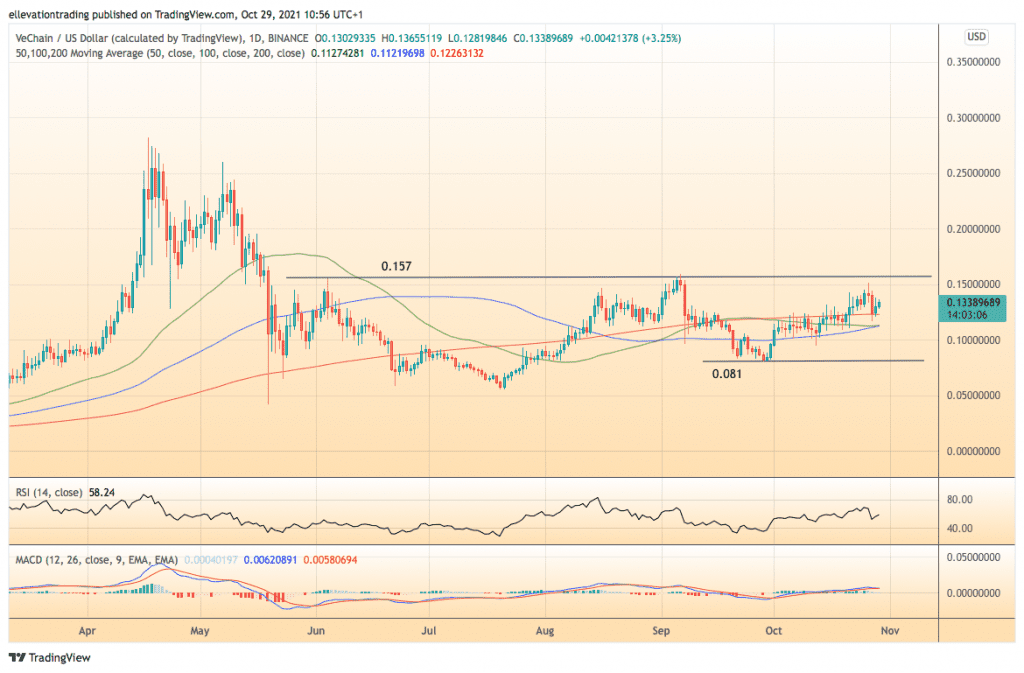 For more market insights, follow Elliott on Twitter.