After surging 2,200%, it was inevitable the Axie Infinity price would correct. AXS is 30% off the highs, but a bigger drop may lie ahead. Axie Infinity rode the wave of retail buying euphoria higher perfectly over the last two months. The blockchain-based trading game that rewards players with AXS tokens jumped from relative obscurity and a $100m market cap in June to a $5.4 billion valuation in September. And that tells you everything you need to know about the latest altcoin bubble.
In late June, as Bitcoin (BTC/USD) dipped below $30k, AXS tokens were changing hands for just over $3 apiece. By the 4th of September, the Axie Infinity price was $94.64 and looking likely to break into triple-digits. However, the buying has dried up since then, and the price has started to roll over. Furthermore, the market as a whole is showing signs of fatigue.
Last week, broad-based selling enveloped the cryptocurrency market, sending valuations lower across the board. BTC slid 18%, Ethereum lost close to 25%, and some Alts halved intraday before recovering into the close. However, several cryptos like Algorand (ALGO/USD) and Elrond (ELGD/USD) not only recovered but went on to make new all-time highs, but AXS's recovery has been less than impressive.
AXS Price Forecast
The Axie infinity price lost 40% intraday on Tuesday before finishing the session -18% at $64.13. The recovery continued throughout the week, and AXS improved by around 12%, although it could not climb above $72.00. As a result, the price is now turning lower and currently trading at $64.68.
Looking at the daily chart, we can see the price has been trending sideways in a wide trading band between $55.00 and $94.00. Notably, since the run-up in August, the price has never closed below $63.00, and even though AXS traded down to $55.00 last week, I consider $63.00 the support. Furthermore, the 50-day moving average at $62.85 lends weight to this support level. And therefore, a close below $62.85 could lead to acceleration on the downside.
If the Axie Infinity price breaks down, the obvious target is the 100-day moving average at $37.20, which coincidentally lines up almost perfectly, with a series of lows in July.
The first level of resistance is, of course, $72.000. A close above this sets the price up for a run at resistance two. Just as AXS hasn't closed below $63.00 since July, it has never finished the day above $82.50. On that basis, if the price clears $82.50 on a closing basis, an extension to a new all-time high is probable. Although taking everything into account, the downside looks favourable.
AXIE Infinity Price Chart (Daily)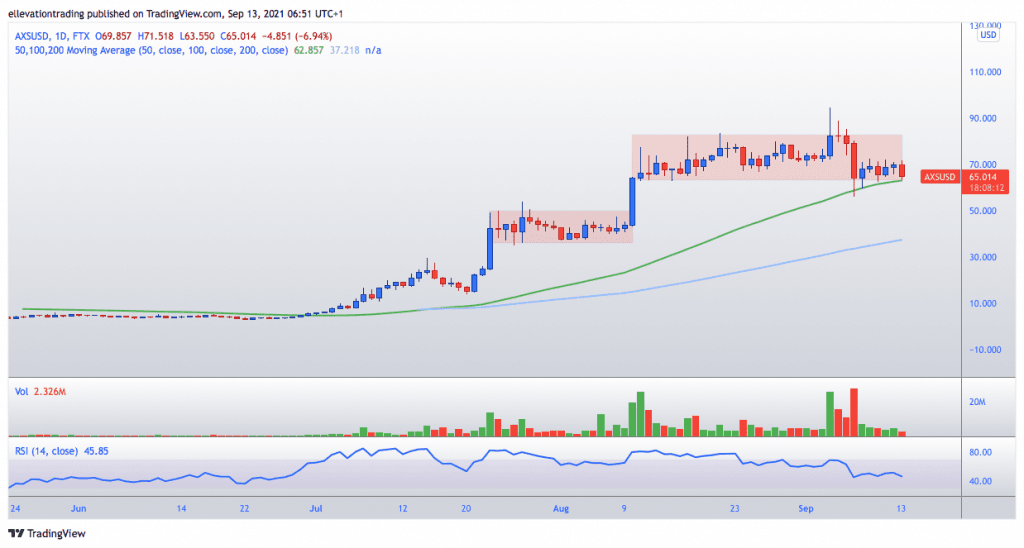 For more market insights, follow Elliott on Twitter.