In an industry where new crypto brokers pop up every week, the BTCC exchange has been maintaining its spot as a leading broker for the past 12 years. The platform's adaptability to the latest trends and features has helped it succeed in a very competitive business of crypto trading.
After an intense downtrend and the collapses of multiple industry giants in 2022, crypto markets have rebounded strongly this year. Bitcoin price has been up 65% since the start of 2023, which makes it one of the best-performing financial assets of this year.
When Was BTCC Broker Launched?
BTCC broker was launched in June 2011 with the aim of making crypto trading reliable and accessible to everyone. Unlike most other brokers, BTCC exchange holds licenses in multiple jurisdictions, making it one of the most credible players in the space.
Since its launch, BTCC has served millions of customers. The exchange is expanding very rapidly across the globe due to its aggressive marketing and affiliate system.
Main Features
Even though BTCC's primary focus is on BTC and ETH trading, it also supports a range of other digital assets like ADA, XRP, LTC, BCH, XLM, DOGE, etc. This makes it one of the most beginner-friendly exchanges with a very easy-to-learn trading interface.
In addition to letting users swap between crypto assets, the broker also allows trading with leverage of up to 150x. This means that you can trade big positions by depositing very little in your account. However, leverage trading is like a double-edged sword, and one must manage one's risk before dabbling with it.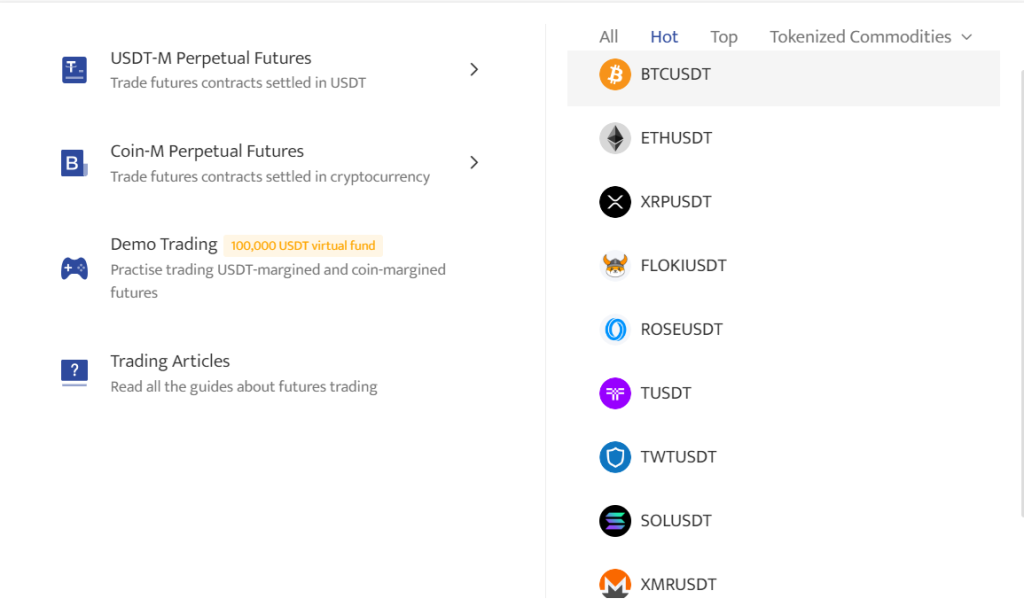 BTCC Supported Countries & Jurisdictions
Unlike many crypto exchanges, which are confined to only a particular geographical region, BTCC exchange supports almost all countries. This lets you trade cryptocurrencies on the go without having to use a VPN or hide your IP address.
In addition, BTCC also holds the official licenses to operate in the US, Canada, and Europe. This adds to the credibility of the exchange in an industry that has been facing strong headwinds due to the regulatory crackdown in different jurisdictions since the start of 2023.
BTCC Exchange Trading Volume
The current usage stats of BTCC are at par with any major crypto exchange. On a daily basis, the exchange is settling trades of billions of dollars. According to the most recent stats, $3.27 billion worth of digital assets has been traded on the exchange in the past 24 hrs. The trading volume is a very important aspect of our BTCC exchange review.
The online broker boasts an open interest of $3.18 billion, which is a measure of the leverage trades opened on the platform. The 12-year-old exchange boasts more than 1 million users, which is increasing every day due to effective marketing and promotional campaigns.

Market Competitive Exchange Fees
Fees play a very vital role in selecting a crypto broker. Many exchanges are ripping off the new crypto users by charging hefty fees. Some platforms even fail to disclose the full details and may involve some hidden fees.
However, this hasn't been the case with the BTCC crypto exchange. There are different types of fees that a beginner crypto trader must know before opening any trade. These include the deposit fees, transaction fees, funding fees, and the withdrawal fees.
Deposit fees depend on the payment method used and may involve 3rd party charges from credit card companies or other payment providers. The transaction fees are the fees paid while trading crypto on the broker. BTCC has 0.06% transaction fees for both the maker and taker orders.
| | | |
| --- | --- | --- |
| Cryptocurrency | Deposit Fees | Withdrawal Fees |
| Bitcoin (BTC) | 0 | 0.0004 |
| Ethereum (ETH) | 0 | 0.005 |
| Tether (USDT) – TRC20 | 0 | 2 |
| Tether (USDT) – ERC20 | 0 | 20 |
| Tether (USDT) – Omni | 0 | 10 |
| Ripple (XRP) | 0 | 1 |
| Cardano (ADA) | 0 | 0 |
| USDC – TRC20 | 0 | 2 |
| USDC – ERC20 | 0 | 20 |
BTCC Deposit And Withdrawal Fees
How To Deposit And Withdrawal Funds From BTCC?
As per most online reviews, the BTCC deposits and withdrawals are very convenient and efficient. The exchange supports multiple payment methods for both transaction types. If you are just starting your crypto journey, you can deposit using a credit card, debit card, or wire transfer.
If you're already trading cryptocurrencies on a different broker, you can also move your funds to BTCC, as the exchange also supports crypto deposits in many coins. These deposit methods make it one of the leading choices for crypto trading.
The primary currency for withdrawals is USD on the crypto trading platform. The exchange usually charges 0.3% for cash withdrawals, but there is also a minimum fee for transactions below a certain threshold. In addition to online bank withdrawals, crypto withdrawals in major coins like BTC, ETH, and USDT are also supported.
Is BTCC The Best Crypto Broker For Beginners?
If you have just started to dabble in the world of cryptocurrencies, the interface of most crypto brokers might appear overwhelming to you. However, the user interface of BTCC is pretty straightforward. Without any complex mumbo jumbo, the exchange gives you exposure to the top digital assets of the world. You can start your crypto journey today by signing up on BTCC today and start trading within a few minutes.
BTCC is one of the few brokers in the industry which also allows you to demo trade without having to deposit any funds. This makes it one of the best crypto exchanges for paper trading or demo trading. Utilizing this feature, you can learn crypto trading with proper risk management without investing any real money.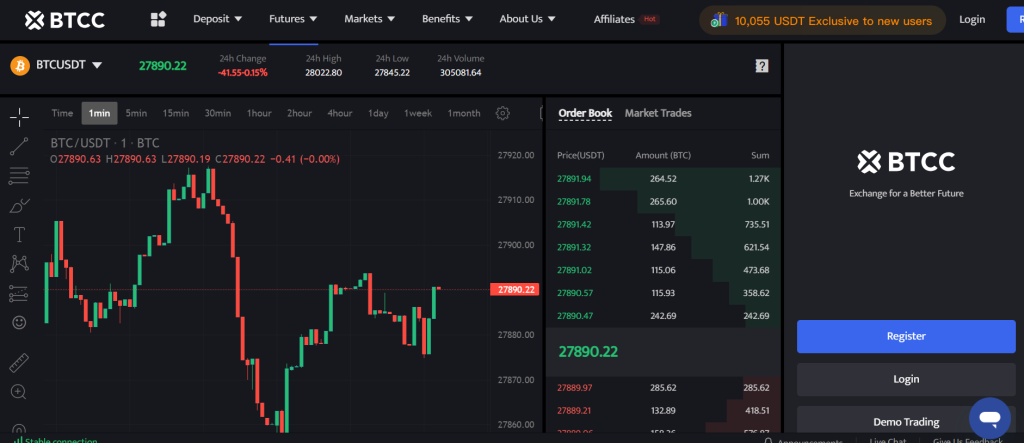 Is BTCC Exchange Secure?
BTCC exchange review will be incomplete without the security aspect. The 2022 collapse of one of the biggest crypto giants, FTX, has impacted investor trust in the whole ecosystem. Every other day, we see a new crypto exchange or a DeFi protocol getting hacked. Therefore, you must only deposit funds on platforms with strong credibility and a good security history.
Until now, there hasn't been any security breach reported on the BTCC exchange, but it is still recommended to do your own due diligence and understand the risks before depositing funds in any online broker.
BTCC Exchange App (android/iOS)
To trade cryptocurrencies, you don't have to sit for hours in front of your computer screen. BTCC app App allows you to trade magic internet money on the go. The app can be downloaded on both Android and iOS devices and has a very beginner-friendly UI.
On Google Play Store, the app boasts more than 1 million downloads with an average rating of 4.3. It has exactly the same rating on the Apple Store as well, depicting good customer satisfaction.

Conclusion
The above-mentioned aspects make BTCC exchange one of the reliable players in the crypto sphere. We have tried to cover all features that may help you take your crypto journey ahead. Nevertheless, it is still advisable to understand the investment risks and your personal goals before making any decision.