Silver price has continued its bearish trend in the past few days as investors price in lower demand and elevated supplies in the coming months. The XAG/USD pair is trading at $19.31, which is about 35% below the highest point in January last year. This price action is in line with that of gold, which has crashed to about $1,740.
Silver and the strong USD
Silver price has been in a strong sell-off for several reasons. First, the US dollar has continued its strong comeback as the Fed points to more tightening. The dollar index surged to the highest point in over 20 years. In most periods, silver tends to underperform in a period when the US dollar is strong. Sadly, the tight labour market means that the bank will likely continue tightening in the coming months.
Second, XAG/USD has retreated because of higher silver supplies. In the past few months, many silver mining companies have ramped up supplies to compensate for the falling prices. These include companies like Fresnillo, Polymetal, and Pan American silver corporation.
Third, since silver is an industrial metal, its price has declined because of the rising recession risks. Most analysts believe that central banks like the Federal Reserve, European Central Bank, and Bank of England are pushing the world to a recession. Silver tends to underperform in periods of recession.
Silver price prediction
The daily chart shows that the XAG/USD pair has been in a strong bearish trend in the past few days. The metal has managed to move below the important support point at $21.20, where it struggled moving below recently.
The 25-week and 50-week moving averages made a bearish crossover pattern while the Stochastic Oscillator moved below the oversold level. It is also approaching the 61.8% Fibonacci retracement level. Therefore, silver price will likely keep falling as sellers target the key support at $18. A move above the resistance at $21.20 will invalidate the bearish view.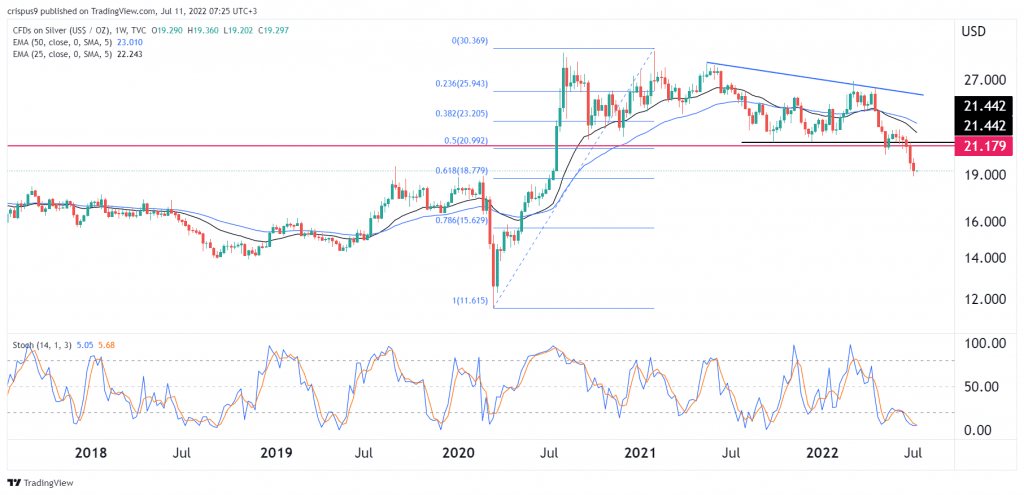 XAG/USD support and resistance
InvestingCube's S&R indicator is an advanced robot that has one of the highest degrees of accuracy. You can subscribe to the indicator for live signals of silver prices. The robot has a bearish view of silver with its support and resistance levels being at $18.75 and $19.73, respectively.