The IOTA price has bounced back in the past few days even as other cryptocurrencies remain underwater. MIOTA, its native coin, was trading at $0.944, which was about 35% above the lowest level this year. Will the bullish trend continue or is it a dead cat bounce? Read our Iota price prediction to learn more.
What is IOTA?
IOTA stands for Internet of Things Application and is one of the leading platforms in the world. MIOTA has a market capitalization of more than $2.5 billion, making it the 53rd biggest cryptocurrency in the world. It sits between Helium and The Graph.
IOTA is not a blockchain project. Instead, it describes itself as a tangle project that helps organizations solve some of their most difficult challenges like on supply chain and cross-border management.
There is a difference between blockchain and tangle. In a blockchain, blocks of transactions are confirmed through distributed ledger technology (DLT). Most cryptocurrencies that you know about are all built using the blockchain technology.
Tangle, on the other hand, is a process that uses a technology known as DAG, which stands for Direct Acrylic Graph. Tangle differs from blockchain in that its transactions are not gathered in blocks or organized linearly.
What does IOTA do?
IOTA simply works with leading organizations to help them simplify their processes. For example, it has a partnership with Trademark East Africa, a non-governmental organization that promotes cross-border business in the region. Using its platform, the organization helps businesses to cut paperwork by more than 50%.
IOTA also aims to become a platform for developers. In 2021, the IOTA price jumped when the network launched Shimmer, which is a smart contract network. Its smart contract is a DLT platform that aims to become a faster and cheaper alternative to existing ones. It will achieve that by enabling parallel smart contracts and by combining blockchain smart contracts on L2 with advanced UTXO types on L1.
Still, for a long time, IOTA has been named as a ghost chain meaning that it has no major projects in its network.
IOTA latest news
IOTA's network has not seen any major news after the announcement on Shimmer that happened in 2021. The most important announcement was that Serguei Popov had joined the network's supervisory board. Sergei was one of the founders of the IOTA Foundation and was previously a member of the foundation's board.
Another recent news on IOTA is that the developers decided to award a 1 million pound grant to Imperial College. The grant will see the researchers at the institution find ways in which the DLT technology can help promote the circular economy.
Another important IOTA news was that the developers launched their first-ever community vote in January.
IOTA market sentiment
One reason why the IOTA price has declined by more than 65% from its all-time high is that the market sentiment has been a bit weak lately. One way of knowing this is to check the number of people searching it on Google. As shown below, the number of Google searches for IOTA peaked in 2021 and have been in a downward trend since then.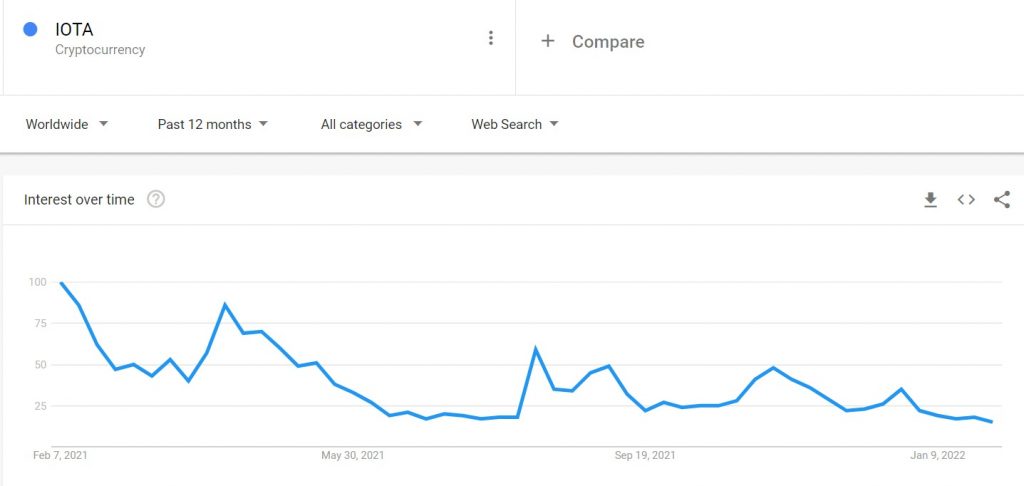 Another way to gauge market sentiment for IOTA is to look at the volume traded. In February, the maximum daily volume for the coin has been less than 50 million. In contrast, at its peak in 2021 when MIOTA price was jumping, the average volume was more than 500 million.
IOTA price prediction 2022
To gauge where the MIOTA price will be in 2022, we will use the daily chart to conduct this technical analysis. On the daily chart, we see that the coin has been underwater for a while. As a result, the coin is below the 50-day and 100-day moving averages, signalling that the bears are still in control.
Therefore, there is a likelihood that the coin's price will continue dropping as bears target the key support at $0.5700, which was the lowest level in July last year. A break below that level will see the coin's price continue falling, with the next target being at $0.300.
This view is supported by an analysis by Long Forecast. Their analysis predicts that the IOTA price will keep dropping in 2022 and end the year at $0.57.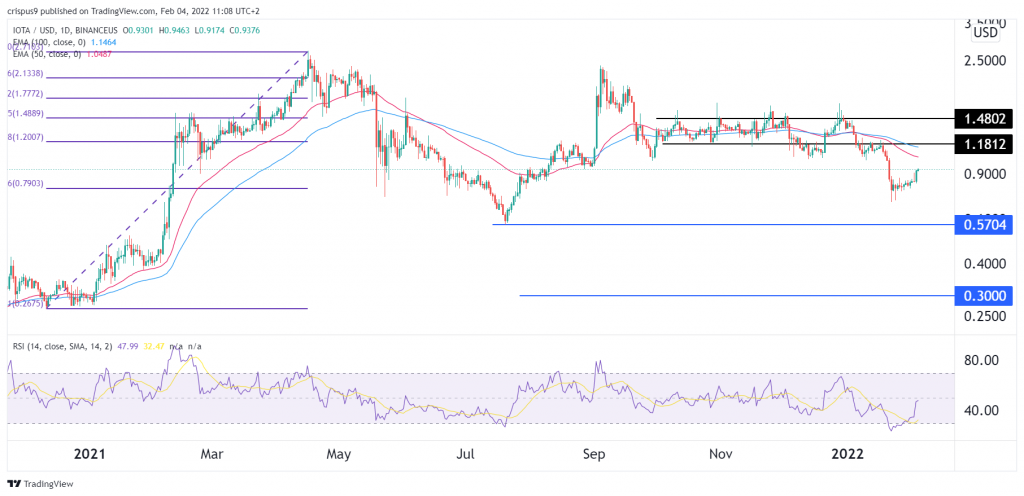 IOTA price forecast 2025
According to Long Forecast, IOTA price will have a few ups and downs between now and 2025. The estimate is that the price will end 2022 significantly lower than where it is today. They also expect that it will have a good 2023 as its price rises above $1 in October. It will stay above $1 until May 2024 and then start a bearish trend to $0.36 in December 2025. You can check the IOTA price prediction to 2025 below.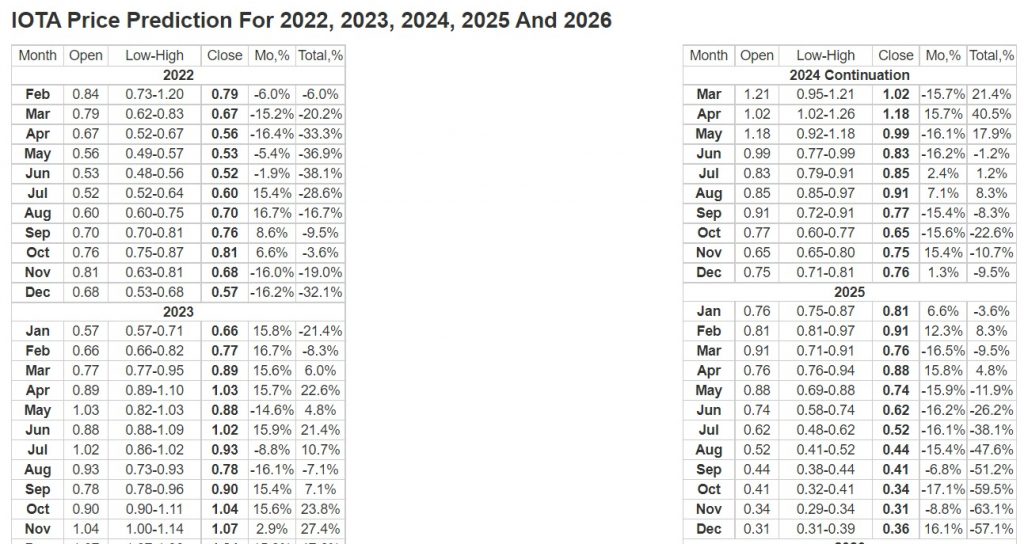 IOTA price prediction 2030
Cryptocurrencies are highly volatile assets, which makes it difficult to predict where they will be in a certain period. The situation is much more difficult when you are looking at a long-term horizon like 2030. According to Coin Price Prediction, IOTA will be trading at about $4.4 by 2030.
From a fundamental perspective, a case can be made that the coin will be trading at these levels. For one, analysts expect that crypto adoption will continue rising as regulations get more clear. Further, most analysts believe that Bitcoin prices will be much higher by 2030. And since IOTA tends to track BTC, there is a possibility that this will happen.
Is IOTA a good investment?
IOTA has been losing its lustre in the past few months. As a result, its rank among other cryptocurrencies has been dropping as investors embrace newer coins like Solana and Avalanche. Therefore, from a fundamental perspective, I don't think that IOTA is a good investment.