Dogecoin price wavered on Thursday morning as its correlation with Bitcoin approached 1. DOGE/USDT was trading at $0.087, where it has been in the past few days. This price is a few points below this week's high of $0.093 and is about 33% above the lowest point this year. So, what is the next Dogecoin price prediction?
Dogecoin's on-chain metrics show that the network activity has recoiled this year. Like other cryptos, it is highly correlated with Bitcoin, with the overall correlation coefficient standing at 0.96. A coefficient of close to 1 means that the two financial assets have a close correlation with each other and that they move in sync. Therefore, since there has been no Dogecoin news lately, the outright view is that this price action is mostly because of what is happening in the crypto space.
Another on-chain data is that the volume of DOGE coins held by whales has been in a downward trend recently. According to Into The Block (subscription needed), the volume of coins held by whales has dropped by more than 11% in the past 30 days while investors have grown by 7%. Large holders inflows have grown by over 1,950% in the past 30 days while outflows have jumped by over 2,800%. As a result, the netflow has jumped by 87% in the same period.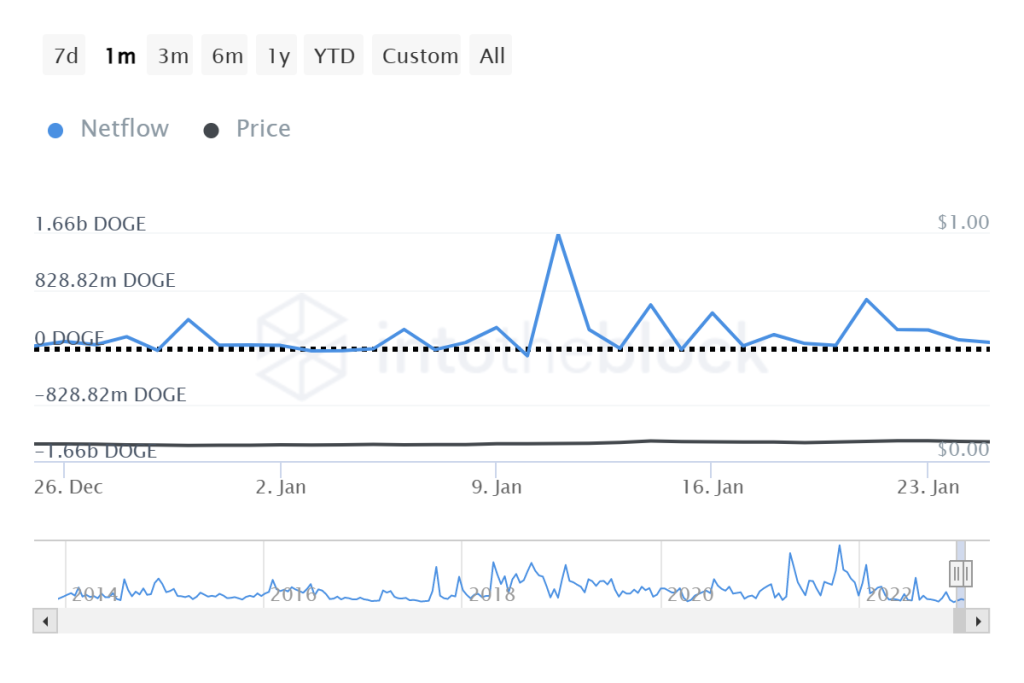 Dogecoin price also reacted mildly to the strong Tesla results. The EV giant, which is owned by Dogecoin's biggest fan, reported stellar profits and pledged to sell over 2 million cars this year. Still, Elon Musk warned about the headwinds that are facing the industry.
Dogecoin price prediction
My last DOGE forecast in November was accurate. At the time, despite the poor mood in the market, I wrote that DOGE had a chance for having a bullish breakout to about $0.10. While it did not reach $0.1, the coin moved to a high of $0.092, which is within the margin of error.
Dogecoin crypto price has formed a double-top pattern at $0.092. Its neckline is at $0.077, which is about 11% below the current level. In price action analysis, this pattern is usually a bearish sign, meaning that the coin is at risk of a major bearish breakout. At the same time, the coin remains slightly above the second resistance of the Andrews pitchfork indicator and slightly below the 50% Fibonacci Retracement level.
On a positive side, the price is above the ascending trendline shown in red. Therefore, my view is that because of the double-top pattern, the DOGE/USDT price will soon have a bearish breakout. The initial level to watch will be at $0.077, which is about 11% below this level. It also coincides with the 23.6% retracement level. A further breakdown below that level will bring the next key support level at $0.0712 to view.