The Boeing (NYSE:BA ) share price edged higher at the start of the trading session but has lost these gains and now trades marginally lower on the day. This is despite the company being in talks with the new owners of Air India over potential airplane orders. Air India has an aging fleet that features 140 aircraft from Boeing and rivals Airbus.
Tata Group reacquired the company from the Indian government after 69 years. According to sources close to the situation, it is looking to acquire new Boeing 787-9 Dreamliners. Earlier in the month, Boeing released data showing that it added 75 new airplane orders in January, with the recertified 737-MAX constituting more of the orders. It also received eight new orders for its cargo model, the 777F.
Boeing – NYSE:BA Share Price Outlook
An upside gap has followed Thursday's price bounce, but the active candle has met resistance at the 201.58 price mark. If the bulls can overcome this barrier, 207.84 will become the next target. Further upside action brings in 215.73 into the mix. Still, the advance towards 222.18 will need to take out the descending trendline that connects the recent tops at 15 November 2021, 18 January, and 10 February 2022 candles. If this trendline is broken, 229.50 could also become a viable target to the upside.
On the other hand, rejection at 201.58 and a pullback will bring 192.76 into the mix as a downside target. Any further declines will make 186.40 a viable target. A drop below this level aims for 175.92, marking a new low since the Omicron-induced drop of 1 December 2021.
Boeing: Daily Chart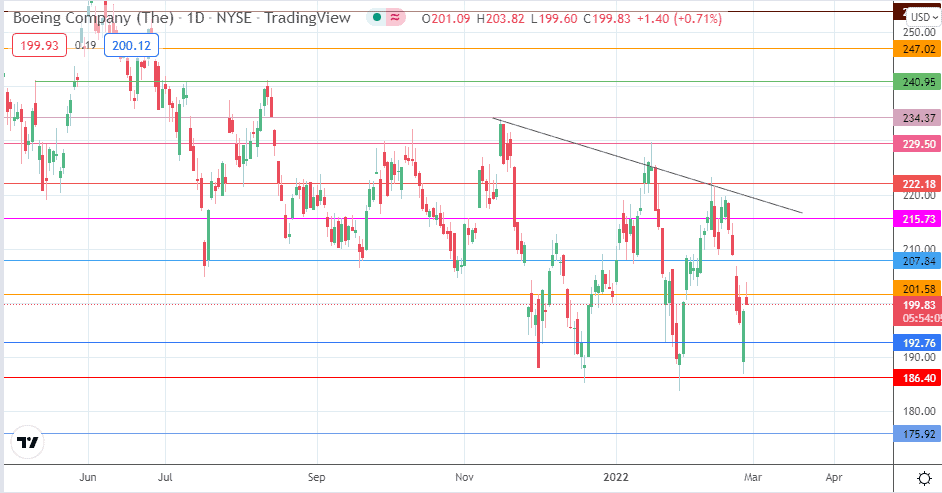 Follow Eno on Twitter.