Salesforce (NYSE: CRM), a perennial underperformer will be the stock to watch on Monday after new reports emerged of a major activist acquisition by Elliot Management. The CRM stock price has languished in the past few years and lagged the performance of the Dow Jones and other giant SAAS companies like Microsoft, Adobe, and Autodesk. It closed at $151 on Friday, about 51% below its highest point in 2021.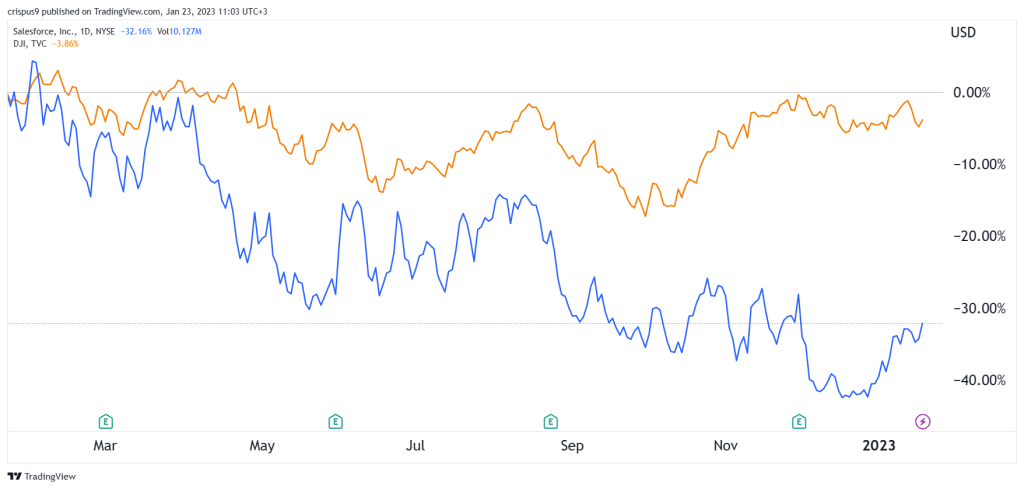 Growth through acquisitions model fails
Salesforce stock price will be in focus after the WSJ reported that Elliot Management had taken a large stake in the company. This is an important thing since Elliot is one of the most prominent activist investors in the industry. It tends to invest in quality companies that have lost their way. Some of its most prominent activist activities are in companies like PayPal, Pinterest, and GlaxoSmithKline. Starboard Value, another activist, also took a stake in Salesforce.
It is still unclear what Elliot will press Salesforce on. However, a likely challenge is that Salesforce model of growth through acquisition has failed. The company spent $27.7 billion to acquire Slack, the communications company. It was later revealed that the firm had buyer's remorse on the acquisition. Since then, similar stocks have plunged, signaling that Salesforce overpaid.
Before Slack, Salesforce acquired Tableau for $15.7 billion and Mulesoft for $6.7 billion. Other prominent acquisitions are companies like Quip, DemandWare, ExactTarget, and Vlocity. Growth via acquisitions is expected to supercharge a company's performance. And to some extent, Salesforce has done that since its revenue has risen from $10.5 billion in 2018 to $30.2 billion in ttm.
However, the buying binge has nothing much to show in terms of profitability. Its annual profits dropped from $4 billion in 2020 to $1.44 billion in 2021. Its long-term debt moved from $695 million in $695 million in 2018 to over $9.4 billion.
Therefore, Elliot Management could make several proposals. A hanging fruit would be for the company to start rewarding its shareholders by paying a dividend in addition to its buyback program. The company is already buying back $10 billion worth of stock. In my view, share buybacks without a dividend is not a good use of resources.
Elliot could also press for more cuts. Salesforce announced that it will slash its labor force by 10%, equaling to over 8,000 workers. Sadly, the company could do more to save costs. For one, its net income per employee is $3,780 compared to SAP's $27,814 and Intuit's $108,554.
Salesforce stock price forecast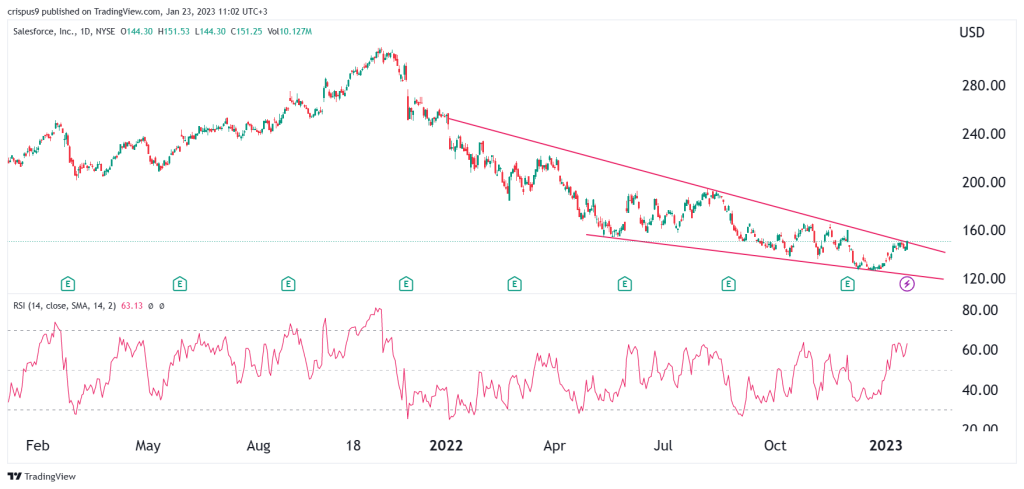 The main reason why I believe that Salesforce share price is not even Elliot Management's stake. It is based on technical analysis. As shown above, the stock has been forming a falling wedge pattern, which is usually a bullish sign. This wedge is now nearing its confluence level. At the same time, the Relative Strength Index (RSI) has formed a bullish divergence pattern.
Therefore, I suspect that the CRM share price will continue soaring, with the next psychological level to watch being at $200. On the flip side, a drop below the year-to-date low of $127 will signal that there are still more sellers left in the market to push it below $100.