The Dow Jones index has had a terrible performance in 2022. It has plunged by more than 10%, making it one of the worst years in almost a decade. The index has dropped in the past five straight days as investors react to the latest interest rate decision by the Fed. It crashed to a low of $32,605, which was the lowest level on November 10. Here are the best and worst-performing Dow Jones constituent companies of 2022.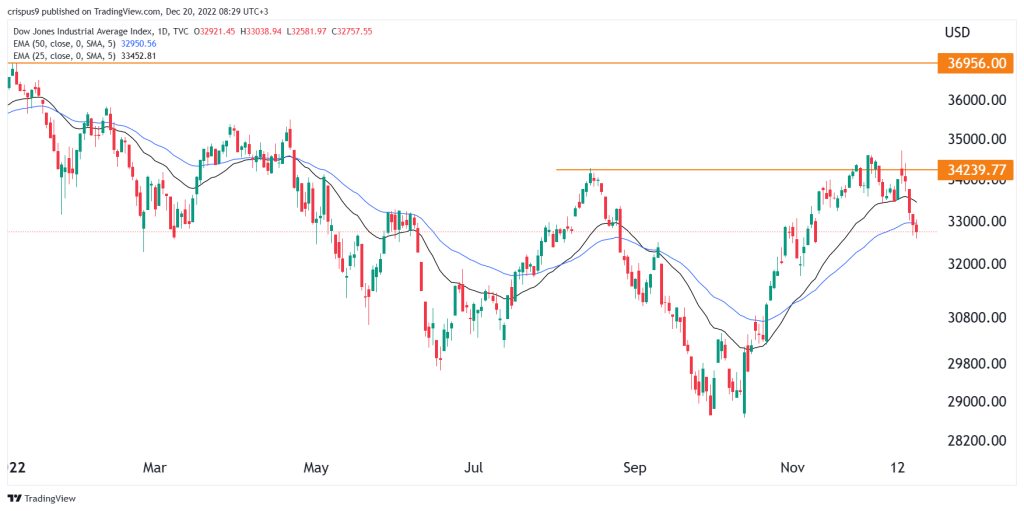 Salesforce stock price (-50%)
The Salesforce share price collapsed by almost 50% in 2022 as investors reacted to the company's weak growth. There was buyers remorse after the company's acquisition of Slack for over $20 billion. Integrating the two companies has proven difficult.
Analysts believe that the company's growth through the acquisitions model was not working. Also, corporate customers experienced slow growth as inflation surged. Most recently, the decision by the company's co-CEO to resign did not inspire confidence in the company.
Intel stock price (-47%)
Intel stock price plunged by 47% in 2022, becoming the second-worst-performing companies in the Dow Jones index. Other chip stocks like AMD and Nvidia also plunged as PC sales crashed and data center growth slowed. At the same time, Intel suffered from higher inventory levels as supply chain situation worsened.
Intel stock price also dropped because of the ongoing China and US challenges and the rising investments. The US has barred chip companies from selling some of their products to Chinese companies.
Intel: Don't catch a falling knife
Disney stock price (-45%)
Disney share price nosedived by more than 44% after the company's business struggles continued. The main catalyst for the sell-off was that its Disney+ continued to suffer significant losses. Further, the company's stand on the don't say gay bill led to negative publicity. Investors have doubts whether Bob Iger will turn around the company.
Will Bob Iger wake up the sleeping Disney stock?
Nike share price (-38%)
Nike stock price crashed by 38%, becoming the fourth-worst performer in the Dow Jones index. The company's performance worsened despite the World Cup boost. This performance happened as inflation reduced demand for its products. Lockdowns in China also impacted its growth.
Other worst-performing Dow Jones constituents were 3M, Verizon, Microsoft, Apple, Cisco, and Walgreens among others.
Top Dow Jones stocks 2022
On the other hand, the best-performing Dow Jones constituents were companies like Chevron, Merck, Amgen, Travelers, Caterpillar, and Coca-Cola. IBM stock price jumped by 4%, becoming the only tech company in the green. Chevron stock price surged by 44% as investors cheered the rise of crude oil and gas prices.