IBM stock price popped this week as investors cheered the company's solid earnings. The shares rose to a high of $129.38, which was the highest level since September 13. It has surged by more than 16% from its lowest level this month, bringing its total market cap to over $111 billion. IBM has also outperformed other big-tech companies like Apple, Netflix, and Meta Platforms.
IBM earnings review
IBM published its results earlier this week. The company's revenue rose to $14.1 billion while its pre-tax income rose to about $2 billion while income margin rose to almost 14%. Software revenue rose by 14% while consulting rose by 16%. Infrastructure revenue, on the other hand, rose by 23% while Red Hat rose by 18%. Automation revenue rose by 3% while data and AI revenue jumped by 4%.
Meanwhile, IBM said that its free cash flow rose to $4.1 billion, which was about $900 million from what it generated in the same period in 2021. The company has also spent $1 billion in acquisitions and returns nearly $4.5 billion in dividends.
IBM stock price also rose even as analysts lowered their targets for the company. Analysts at UBS, Credit Suisse, Bank of America, Stifel, Morgan Stanley, and Societe Generale decided to lower their targets. Only analysts at Evercore boosted their forecast to $135.
IBM is also a great payer of dividends. It has a forward dividend yield of 5.39%, which is higher than that of Infosys, Wipro, and Accenture. The stock is also relatively cheap, considering that it has a PE ratio of 19.75 and a forward multiple of 13.20. As shown below, a DCF calculation shows that the stock is about 20% below its fair value.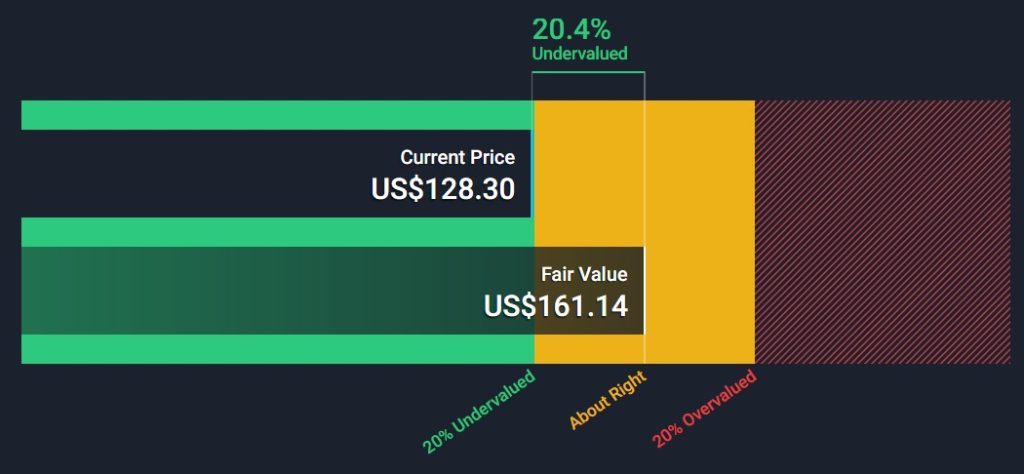 IBM stock price forecast
On the daily chart, we see that the IBM share price formed an ascending wedge pattern, which is usually a bearish sign. This explains why the stock moved below the important support at $132, which was the lower side of the wedge.
Recently, the stock has jumped and moved above the 25-day and 50-day moving averages while the MACD has tilted upwards. Therefore, the stock will likely continue rising as bulls target the lower side of the wedge at $136. A drop below the support at $122 will invalidate the bullish view.