Do you have £10,000 to spare? A question we hear often is how to invest £10,000 or even  £1k in the UK. Fortunately, while the UK economy is facing significant headwinds, the stock market is doing pretty well. As I wrote on Monday, the FTSE 100 and FTSE 250 indices have crashed their American counterparts like the Dow Jones and Nasdaq 100. They are sitting pretty at their all-time highs. So, here are the best FTSE 100 stocks to buy with £10,000.
Rolls-Royce Holdings
Rolls-Royce Holdings (LON: RR) has been a terrible investment over the years. In fact, the Rolls-Royce share price has plunged by ~50% in the past 3 years. However, as I wrote in this article, I believe that the company is facing numerous tailwinds going forward that could push the shares much higher. Demand for aviation is rising, pushing the average flight hours to the highest point since the pandemic started.
Further, the company is about to test the ultrafan engine, which could change the aviation industry. The engine, which is the largest one in the world, uses sustainable aviation fuel (SAF), which is greener than the current fuel type. Another bullish factor is that its other businesses like defence and power are doing well.
Rolls-Royce has also emerged from the pandemic being a leaner organization after the management laid off 9k people. Its balance sheet is also clean, having spent 2 billion pounds to pay its debt. As such, we could see a dividend return soon. Therefore, the RR share price could rise by about 50% in the coming years.
Burberry
Burberry (LON: BRBY) is another stock to consider when you want to invest £10,000 in the UK. My view is that the share price is incredibly cheap, which could trigger a buyout offer from an American private equity (PE) company or a French giant like LVMG. LVMH, in particular, is a likely buyout because it is swimming in cash while concerns about its business growth continues.
Burberry share price has been in a strong recovery starting from May last year and has gained by 60% since then. It has moved to the highest level on record, making it one of the best FTSE 100 stock. The stock has more room to run as China reopens and as demand for its products, especially bags rise. Burberry also has a dividend yield of about 2.4%.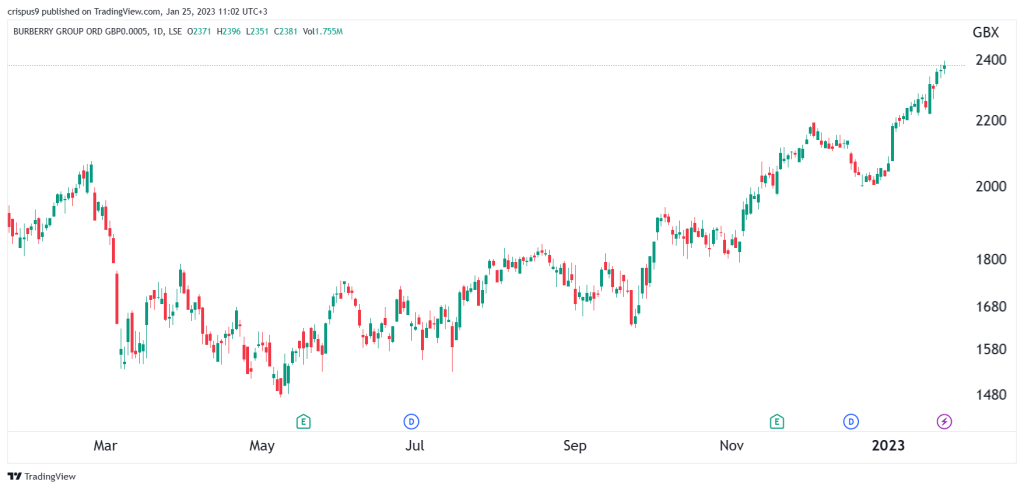 Glencore
Glencore (LON: GLEN) is my favorite mining stock in the UK. And I am not the only one. The company, which has its evil side, is so good that Elon Musk wanted to buy it in 2022. If you have £10,000 to invest, then Glencore has multiple catalysts to make you rich.
First, the company is the biggest player in the thermal coal industry. Despite what government officials and activists are saying, coal is here to stay. It is simply impossible to run the world economy on wind and solar. In fact, a recent report by Bloomberg noted that windmills were collapsing all over the place. Therefore, I believe that coal prices will be a key driver for the Glencore share price in the long term.
Second, if you hate coal, I have some good news for you. Glencore is also the leading producer of metals that are essential for the EV industry. It has a substantial market share in key metals like nickel, lithium, and cobalt. Glencore is also a great dividend payer with a yield of about 4%. I recently called it an unethical mess in this article.
HSBC
I don't like HSBC (LON: HSBA) as a bank but I love it as an investment. It's hard to love a bank that has funded drug cartels and money laundering. But which bank hasn't done all that? I am also a believer in redemption. And HSBC is working to redeem its image.
HSBC share price has risen by 15% in 2023, making it the best bank stocks in the FTSE 100. It has outperformed the likes of Lloyds, Barclays, and Virgin Money. The company is a good place to store your £10k because of its access to the recovering Chinese economy. Also, the management is slashing costs and exciting some of its least profitable countries. And for your £10,000, it will earn a 4% return in dividends alone.