The ancient Greek philosopher Aristotle coined the famous phrase that "the whole is greater than the sum of its parts". However, one wonders if he was thinking about blockchain when he came up with this theory because few ecosystems today are more fragmented than the sprawling mass of crypto networks.
As more innovative projects and deployments enter the blockchain space, the need for highly specialised chains with greater scalability becomes more apparent. This has led to the birth of hundreds of different chains, with Bitcoin, Ethereum, Solana, Tezos and many more having their strengths and weaknesses. For example, Bitcoin is untouched by decentralisation, while Ethereum is home to what is far and away from the biggest ecosystem of decentralised apps. However, networks such as Solana and Tezos can process transactions much faster than either platform.
But what Aristotle said holds true, and there has been growing recognition in the blockchain industry that interoperability will drive greater utility than is possible with standalone networks.
Interoperability is perhaps the most important area of focus for blockchain developers today. Of the many solutions, Cosmos and its "internet of blockchains" looks to be one of the most viable. Cosmos has created a network of blockchains that can communicate with one another decentralised, using the Inter-Blockchain Communication (IBC) protocol. The way IBC works is pretty complex, and we won't dive into that here, but suffice to say, it enables tokens and data to be transferred seamlessly between a growing number of blockchains.
IBC has emerged as the most frictionless way of establishing blockchain interoperability. In contrast, most other cross-chain bridge solutions vary dramatically from chain to chain and are at various stages of maturity, resulting in an inconsistent experience. Meanwhile, IBC standardises blockchain compatibility, sending data via a dedicated channel using a trustless relayer, with the information authenticated when it reaches its destination.
The success of IBC is apparent in its adoption, with some of the most recognisable blockchain projects adopting the standard. Some of the most prominent include Terra, Cosmos Hub, Cronos, Akash, Crypto.org, Osmosis, Juno and Secret.
Scaling Interoperability
One of the most advanced IBC projects is the Cronos blockchain, which is already connected to Terra, Crypto.org, the exchange platform that created Cronos, and the entire Cosmos ecosystem. This interconnectedness means Cronos has secure bridges to send and receive tokens from all of those chains. So users on Cronos can send and receive LUNA, ATOM and CRO tokens to and from any application on Terra, Crypto.org and Cosmos.
Crucially, Cronos is also EVM-compatible, meaning it can communicate with any other EVM-compatible blockchain, including Avalanche, Binance Chain, Polygon and, of course, Ethereum itself. That gives Cronos a distinct advantage, as it is the only blockchain in the entire industry compatible with Ethereum's enormous DeFi ecosystem and the Cosmos network.
This is a key point as it means dApps built on Cronos are in a unique position, being able to tap the massive amounts of liquidity and user base on Ethereum while also reaching the fast-growing number of Cosmos-based assets. Furthermore, it means it's possible to take any asset created on an EVM- or IBC-compatible chain and use it to borrow, lend, trade, earn, vote or stake using a dApp built on the Cronos blockchain.
Cronos is already the leading project in terms of blockchain interoperability. However, it certainly isn't standing still, as it has plans to expand its range of IBC connections to yet more IBC-enabled chains before the year is out. This will ensure yet more assets are brought into the Cronos ecosystem.
Cronos is also planning to introduce new interoperability functionality with features like Interchain Accounts. This is a new capability that will allow accounts created on Cronos to control an account created on an IBC-compatible blockchain securely, sending and receiving transactions on its behalf. A second new feature, Relayer Incentives, will allow IBC bridge operators to charge end-users flexibly, enhancing the economic viability of that bridge. In addition, Cronos plans to support the transfer of NFTs across IBC-compatible chains. It will also enable interaction with proxies of smart contracts that live on EVM-compatible chains. When these new capabilities go live, Cronos will be able to position itself as one of the most scalable platforms.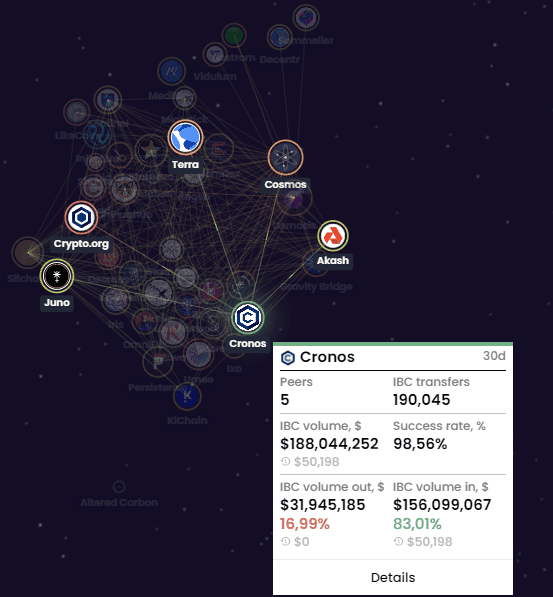 Cronos in the IBC Ecosystem. Source: Mapofzone.com
Interoperability Means Scale
As the blockchain industry innovates and grows, the more important the need for interoperability will become. Blockchain promises to revolutionise everything from finance and supply chains to healthcare and aviation, and so no single network will be able to cater to all of these industries. Instead, we'll see multiple networks operating side-by-side when people and enterprises have become more dependent on collaboration and interaction than they ever have before. The more those networks can communicate, the faster they will scale.
Therefore, the compatibility will almost certainly be the spark that allows blockchain's revolutionary fire to spread and take hold. A giant, interconnected mass of blockchains will come together to rule the world.