The Fantom price continues to slide from last week's $1.9900 high, losing ground in three of the last four days. Despite this, Fantom (FTM/USD) is still 740% higher today than it was on the 20th of July, which means it can get a lot cheaper in the near term.
Smart contract platform Fantom has been one of the crypto market' star-performers this year. Until a week ago, its native FTM token had rallied almost 17,000% since the start of 2021. Even in light of the recent correction, the Fantom price has increased around 10,600%. As a result, FTM has a market cap of $3.2 billion at the time of writing, making it the 49th most valuable cryptocurrency, ahead of Waves (WAVES/USD).
Although the recent performance has been impressive, it's tough to justify the appreciation rate over such a short space of time. The likeliest reason for the vertical uplift is retail traders chasing the rally higher. And for that reason alone, the Fantom price is ripe to drop even more.
FTM Coin Price Forecast
The daily chart shows that after FTM cleared the former all-time high at $0.9827, the buying accelerated, causing the price to double to $1.9900 within three days. This extreme price action lifted the Relative Strength Index to 89.40, deep into overbought territory. Subsequently, the rally faded, and a sharp reversal kicked in. So far, FTM is down around 37% from last week's high and changing hands at $1.2850.
An obvious support level is the former ATH that sits just below $1.00. I expect FTM to test this psychological and technical barrier in the days ahead. Although, the price will undoubtedly encounter dip-buying should the move play put.
I maintain this bearish view as long as FTM stays below $2.00. This doesn't provide an attractive risk/reward short trade. However, an opportunity may arise to accumulate if the price does pull back considerably.
Fantom Price Chart (daily)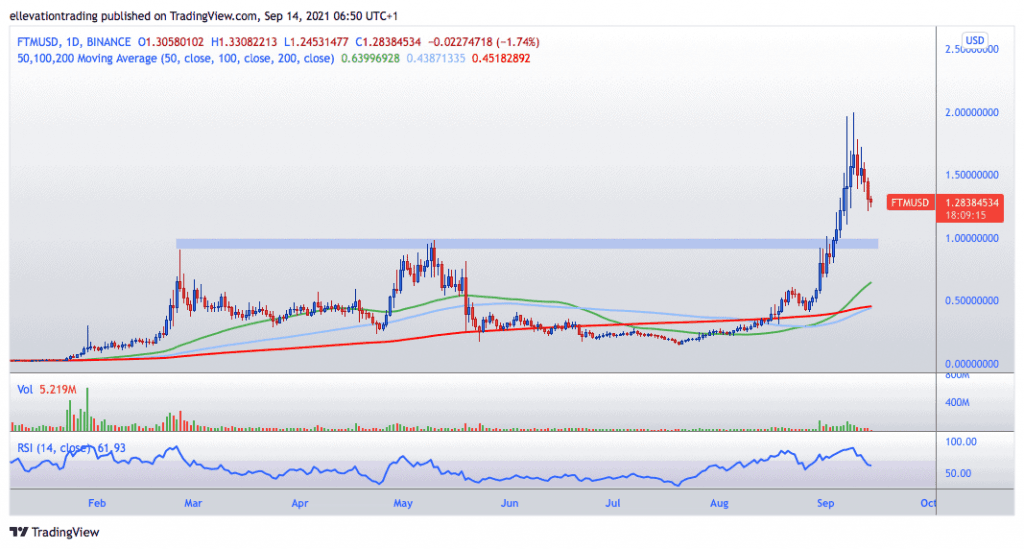 For more market insights, follow Elliott on Twitter.