US stocks continued their deep dive yesterday. The Dow Jones, Nasdaq 100, and S&P 500 indices dropped by 2.25%, 2.78%, and 4.11%, respectively. This decline is continuing in the futures market, where futures tied to the Dow and S&P 500 are down by 0.40% and 0.20%. Those tied to the Nasdaq are up by 0.30%. At the same time, the dollar index (DXY) is up for the fifth straight day.
In Asia and Europe, indices have followed into the footsteps of Wall Street. In Hong Kong, the Hang Seng index has fallen by more than 1.12% while in Japan, the Nikkei 225 index has fallen by more than 1%. A notable company that has dropped sharply is Softbank, the telecommunication and investment company.
The firm's shares have dropped by as much as 7%, continuing a rout that started on Monday. Investors are continuing to worry about the company's options that helped push US tech companies sharply in recent months. The decline of the stock is also because of the fact that the stocks of the companies it accumulated have dropped sharply in recent days. In Europe, futures tied to the DAX index, FTSE 100, and CAC 40 are also in the red.
Elsewhere, crude oil price has continued to drop as traders assess the demand and supply dynamics. The price of Brent and WTI has dropped by more than 10% in the past week. The two are now trading at $39.52 and $36.50, respectively. Later today, the price will react to the EIA short-term energy outlook. Gold and silver price has also dropped partly because of a stronger US dollar. Similarly, cryptocurrencies like Bitcoin and Ethereum have dropped by 2% and 4.30% in the past 24 hours.
In the currencies market, the euro (EURUSD) and the Canadian dollar (USDCAD) have dropped ahead of the central bank decisions. The Bank of Canada will release its decision today while the ECB is expected to leave rates unchanged tomorrow.
Dow Jones technical forecast
That said, let us look at how we expect the Dow Jones will trade today. As you can see in the daily chart below, the Dow Jones has dropped from last month's high of $29,000 to a low of $27,195. The price has managed to move below the ascending trendline that is shown in black. It also formed a bearish engulfing pattern on September 3. The price has also moved below the 25-day exponential moving averages and is now along the 50-day EMA.
Therefore, it seems like bears have prevailed, which means that the index will continue falling. With the fear and greed index being neutral at 54, I expect that the sell-off will remain as fear returns.
Fear and greed index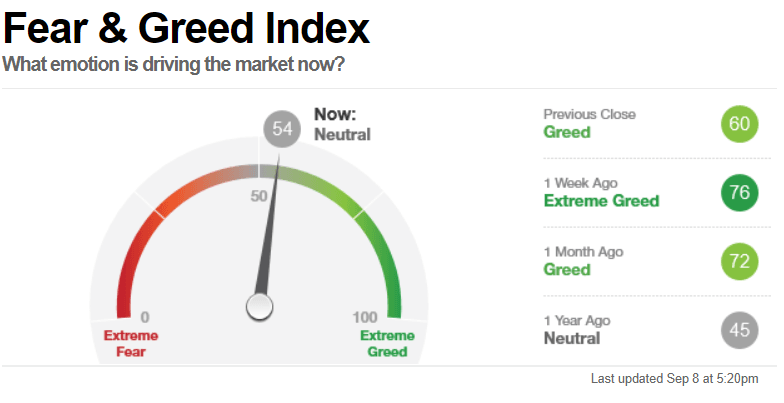 Don't miss a beat! Follow us on Telegram and Twitter.
Dow Jones Daily Chart
More content