The blockchain market data analysis site DappRadar and the blockchain gaming industry's BGA Game have jointly published a report in May 2022 examining the performance of the blockchain gaming industry. The report indicates that the total value of the cryptocurrency industry has dropped below $1 trillion for the first time since the year 2020. Also,  Dapp activity dropped to 2.22 million daily Unique Active Wallets(UAW) , the lowest level since September last year. In May, despite the weak market, 1.15 million UAW played blockchain games everyday on average, a 5% drop from April.
Splinterlands leading the defiance against the bear market
As of May, Splinterlands had 350,000 daily UAW, which is a 4% decrease from April's totals. Splinterlands' dynamic trading card mechanisms have dominated the gaming world for eight consecutive months. By selling SPS node licenses and undertaking significant decentralization moves, Splinterlands was able to withstand a bad market.
A Delegated Proof of Stake (DPoS) consensus process will be used to authorize all transactions in the future Splinterlands ecosystem, which will require SPS node licenses. The future of Splinterlands' DAO will be shaped by a governance vote among SPS holders. 2,000 validators node licenses sold out in less than 15 minutes on May 26, burning 14.5 million SPS and distributing roughly $4 million to the game's DAO.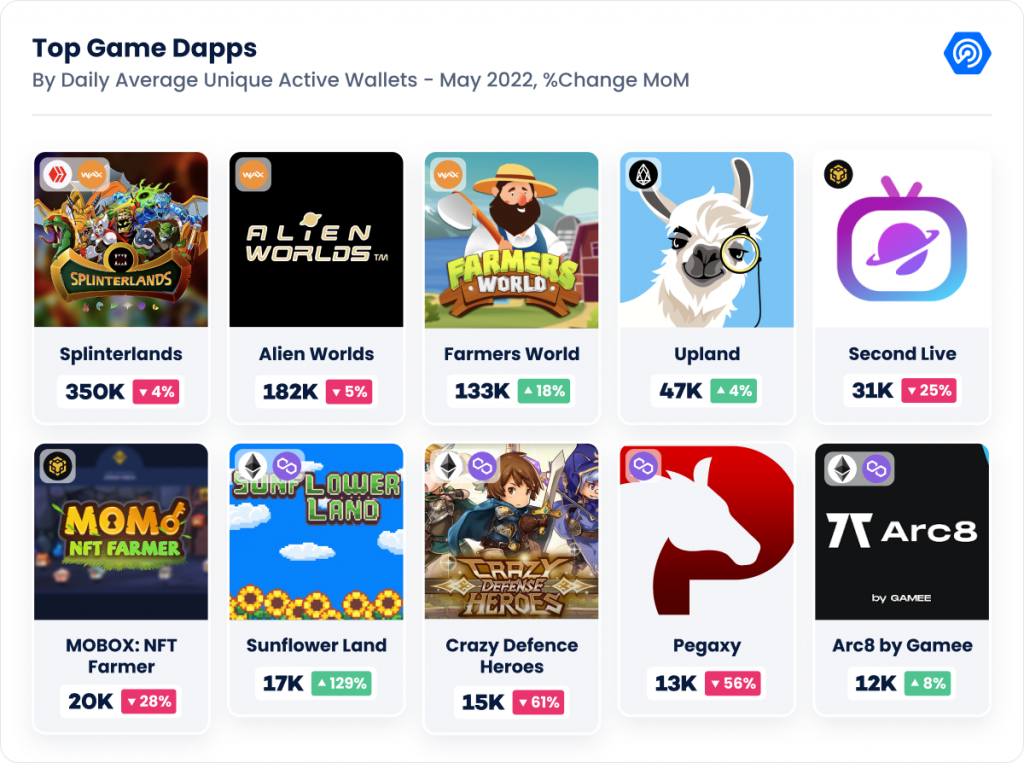 Farmers World was another company that prospered. In May, the game's player base increased by 18%, going past 133,000 UAWs each day. Upland, an EOS-based game, has also seen significant gains over the past few months. In May, the number of Upland on-chain gamers surpassed 47,000 daily UAW, a gain of 5%. Since May 2021, Upland's player population has nearly doubled, growing by 90%.
In spite of the bear season, Polygon's Sunflower Land and Arc8 both saw an increase in player numbers. After the initial edition of the game went bust earlier this year, Sunflower Land has completed its turnaround. The Arc8 football and basketball updates, which have received good feedback, keep adding small games to the Arc8 portfolio.
Increased financial support for blockchain-based entertainment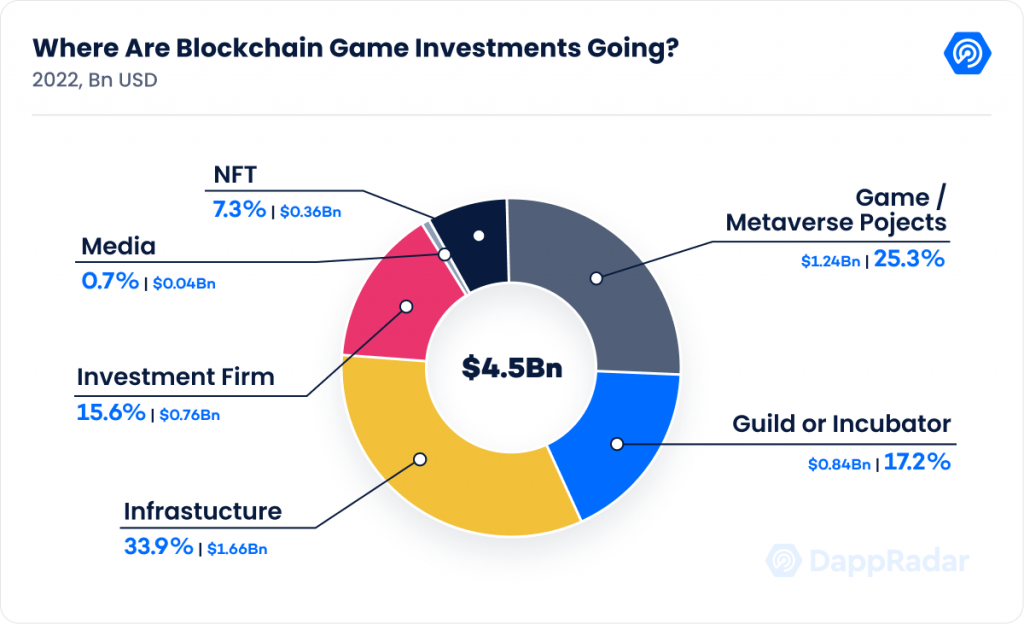 Consistent funding for blockchain gaming and metaverse initiatives has been another positive factor. Despite the current market turbulence, $1.4 billion has been invested in blockchain gaming since May, which is a promising indicator.
Blockchain infrastructure, guilds, and incubators will all get $4.9 billion in gaming and metaverse investments by 2022. A16z has pledged $600 million to creating the Games Fund One, a subsidiary that will focus on supporting games studios and infrastructure, although this figure doesn't include that amount.
The Dapper Labs investment of $725 million to extend the Flow ecosystem was also notable. Flow has worked with some of the greatest sports IP brands, including NBA, NFL, La Liga, and UFC, and is the site of the popular CryptoKitties game.
Axie Infinity at the helm of losing games
After the Ronin's bridge hack, Axie Infinity is still reeling. The on-chain activity of Axie has decreased by 39% since April, although it is still 55% higher than in May 2021. With the introduction of the Origin mobile test version, Axie Infinity hopes to make the game more available to a broader demographic.
There were also losses for DeFi Kingdoms (-41%) and Crazy Defense Heroes (-61%) from Harmony and Polygon, respectively. On-chain activity in these games has dropped precipitously since the token crashes of JEWEL and TOWER. Since April, JEWEL has lost 99 percent of its value, while TOWER has lost 92 percent.
Illuvium's groundbreaking land sale
Despite the challenging market conditions, Illuvium, one of the most eagerly awaited blockchain games, sold out of its first land plots. The open world role-playing game built on Ethereum was able to successfully sell 20,000 land plots between June 2 and June 4, resulting in the generation of 4,018 ETH, which had a value of $72 million at the time of the sale. Owners of land in Illuvium will have direct access to fuel, which is the most crucial resource needed to play.
For the first time ever, a major AAA blockchain game has made a land sale. Even more importantly, it provides an ideal pattern for how blockchain gaming transactions should be hosted by scaling solutions like L2 and sidechains.
Watch out for Avalanche
The DeFi feature of Avalanche's network has made it a household name. Since Crabada is leading the GameFi movement on the blockchain, the gaming industry is mainly untouched at this time. Crabada drew 5,250 UAW in the last 30 days, a decrease of 50% from the same period last year. However, the Ava Labs network's gaming future looks bright. In the world of blockchain gaming, it will be intriguing to see if Avalanche can build on its DeFi success.