The Chainlink price has encountered solid overhead resistance at the 200-day moving average this month, which has so far proved unscalable. Despite Bitcoin closing in on an all-time and Ethereum nudging $4k, Chainlink (LINK/USD) continues to grind sideways, trapped between the long-term indicator and a rising trend line. However, at some stage, one will dominate the other and dictate the price action.
The LINK token surged in the third quarter as the cryptocurrency market recovered from the July lows. The Chainlink price surged 170%, from $13.45 to $36.35 between the 21st of July and the 6th of September. However, on the 7th of September, Chainlink suffered heavy losses when the Evergrande default sparked a global risk-off. Chainlink slid lower on the 21st when the Peoples Bank of China revealed enhanced measures against cryptocurrencies despite a stunted recovery in the following two weeks. In October, the market as a whole has recovered. The combined cryptocurrency market cap is around $2.5 trillion this morning, close to May's record. Despite this, Chainlink is 37% below the September high and half the price during the May bull run. Furthermore, there are indications that LINK may get cheaper still.
LINK Price Forecast
The daily chart shows the Chainlink price of $26.45 id below the 50-Day Moving Average at $26.90 and the 200-day at $27.53. Until LINK clears the 200 DMA, it remains vulnerable to liquidation. Below the price, a rising trend line provides support at $25.05. below the trend, the 100-DMA at $24.53 reinforces the support.
To gain traction on the upside, Chainlink needs to clear the 200 DMA. Successful uncapping of the average will open the door to the September high, around 37% above the latest price. However, if LINK loses the trend support and the 100-DMA, a return to the September low at $20.81 is probable. On balance, either scenario is possible, and a price prediction is unclear until the Chainlink price clears resistance or losses support. On that basis, traders should wait for the technicals to deliver a signal in either direction.
Chainlink Price Chart (daily)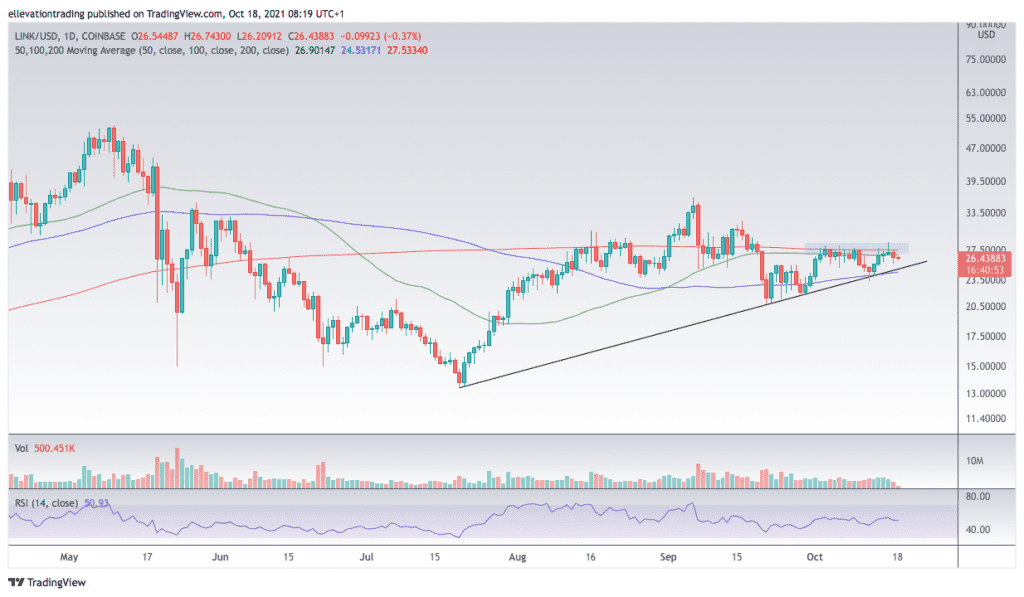 For more market insights, follow Elliott on Twitter.