One of the most lucrative investments of the past decade has been Apple stock. The company's portfolio includes some of the most innovative tech products that include the iPhone, iPad, Mac Book, and Apple Watch. The company has sold its products to hundreds of millions of users and has become the most valuable company in the world.
Apple Inc is currently the biggest company in the world in terms of market capitalization. The current stock price of $179.58 puts it at a market capitalization of $2.84 Trillion. Despite the deteriorating macroeconomic conditions, Apple stock price prediction is looking very bullish.
What is apple stock?
Apple is the biggest corporate company in terms of market cap. Its stock is listed on NASDAQ stock exchange in the United States. The ticker symbol of Apple stock is AAPL. The current price of AAPL is $179.5, which has been down 1.81% since yesterday.
Apple Latest news
As per the most recent Apple news, the company unveiled its Vision Pro AR headset in June 2023. This makes the first major hardware release by the company in almost a decade. Apple stock price kept surging before the launch event and hit a new all-time high. The AR headset is set to be released in the US later this year.
Apple chart
To get a better understanding, let's analyze the AAPL chart on weekly timeframe. Each candle on this chart indicates the open, close, high, and low of every week. The chart shows that the price hit its all-time high of $182.88 in January 2022. This was followed by a strong sell-off throughout 2022 as the price dropped to $124. In 2023, Apple stock price made a strong comeback.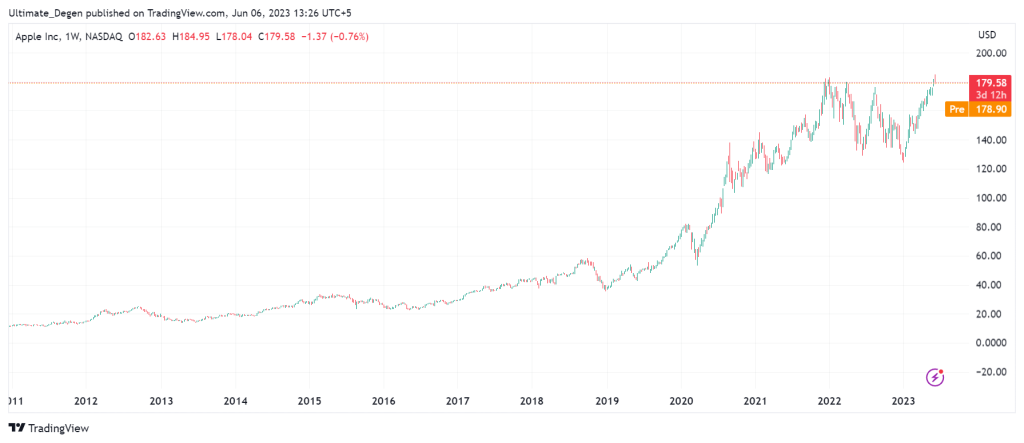 Apple stock forecast today
Apple share price has been up 38% since the start of 2023. In June 2023, NASDAQ: AAPL became the second major tech stock after Nvidia (NVDA) to hit a new all-time high since the bull run of 2021. Most of this positive price action was driven due to the release of its AR headset. However, there is a chance of a double top formation if the price doesn't gain strength above its 2021 all-time high of $182.88.
Apple stock forecast 2023
In 2023, Apple shares appreciated 38% in value. This has made Apple one of the best-performing tech stocks. The ongoing uptrend in equity is due to the upcoming pause in rate hikes. However, it is still unclear for how long the Fed will keep the rates high. Apple Stock broke above its 2022 all-time high on June 5, 2023.
Apple price prediction 2023 will become extremely bullish if the shares gain strength above $180. Many analysts also suspect that the rally could be already over, and the price may form a double top reversal pattern soon.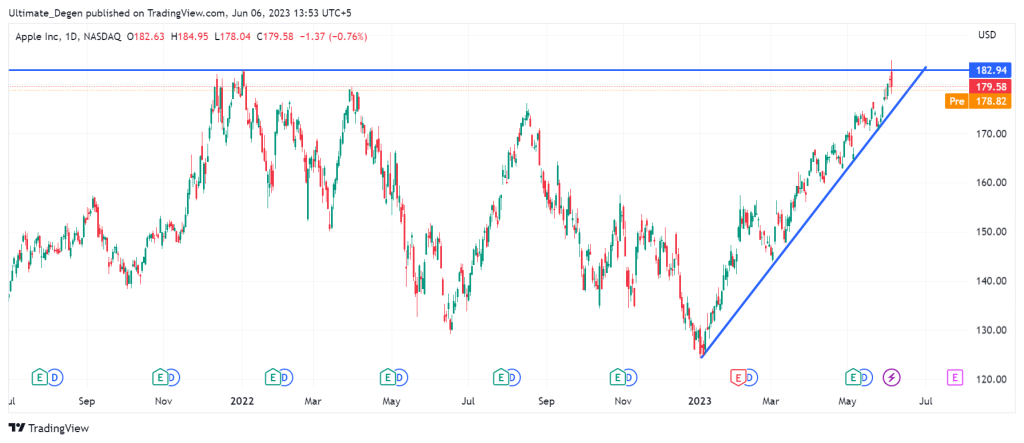 Apple stock forecast 2025
Notable sites like Walletinvestor are putting Apple stock price at around $135. Considering the current state of the global economy, I also expect a sideways price action by AAPL for the next couple of years.
I'll keep updating my AAPL price forecast in my free Telegram group, which you're welcome to join.
Apple stock forecast 2030
If Apple keeps delivering the most innovative products, then its stock price should see an organic increase till 2030. This is if the demand for flagship Apple products also increases considerably in the next few years. If the Fed starts to decrease interest rates in 2024, then Apple can reach a new all-time high by 2025. By 2030, the Apple share price prediction can be as high as $600.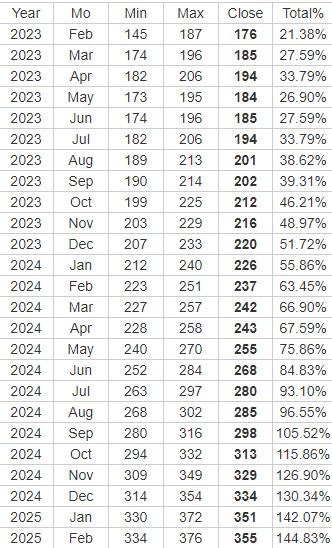 Apple stock forecast 2040
Stock price of any company 10 years from now is anybody's guess. Nevertheless, we can still use the price history to take a shot at Apple stock forecast 2040. Considering the exponential run of Apple price in the past decade, $1000 per share seems to be a quite conservative price target.
Is Apple a good investment?
Despite relatively low earnings in Q4 2022, the price remains in an uptrend. This exhibits the forward-looking mindset of the market. If you're buying Apple Inc. stock for long term then current prices are not that shabby at all.
How to buy Apple stock?
As mentioned earlier, Apple stock is listed on US Exchange Nasdaq, which is the second largest stock exchange in the world. Apart from Nasdaq, you can also invest in AAPL by online retail brokers like Exness, eToro, Robinhood, Fidelity, etc. Personally, I trade on Exness where the signup is free from any hassle.
Should I buy apple stock?
Investing in equities is one of the riskiest financial practices. Therefore one must assess their own risk appetite before investing in stocks. Nevertheless, considering the past returns of the US equities and tech stocks, it seems quite logical to maintain some Apple exposure in your long-term portfolio.
When did apple stock split?
A stock split is simply an increase in the number of shares of a company while its market cap remains the same. As the name suggests, each share splits into multiple depending on the splitting factor. The last Apple stock split occurred in 2020. The reasons of this action include managing stock-based compensation for Apple employees and share repurchase programs.
How many times has apple stock split?
In all of its price history, Apple stock has split a total of 5 times. These splits occurred on June 16 1987, June 21 2000, February 28, 2005, June 9 2014 and August 28, 2020. It has been observed that investor interest in stock increased every time after the announcement of a stock split.
Why is apple stock so cheap?
When compared to the price of many Fortune 500 stocks, Apple stock price appears to be low. It must be noted here that the number of outstanding shares of every company is different. Therefore a market cap of a company is a better depiction of its worth than its stock price.