The Amazon stock price has bounced back in the past few days as investors cheered the company's quarterly results. AMZN shares are trading at $3,180, about 16.80% above the lowest level this month. As a result, it has become the third best-performing FAANG stock this year after Alphabet and Apple.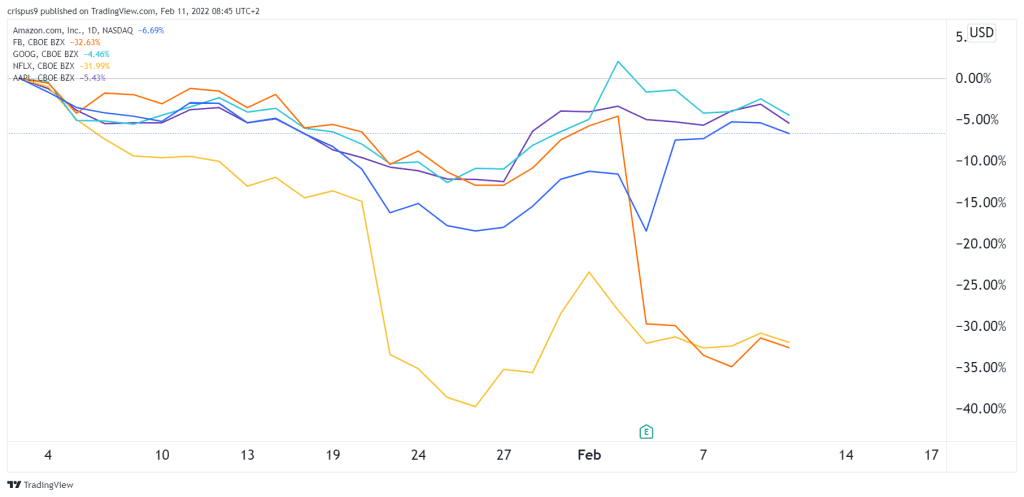 Intersection of value and growth
A shift from growth stocks to value ones has been happening this year. A quick look at many growth and momentum stocks like Teladoc, Spotify, PayPal, and Roku shows that most have crashed by double-digits.
This trend is mostly because of the Federal Reserve, which is expected to remain extremely hawkish this year. With the labour market being hot and inflation even hotter, the bank is expected to hike interest rates in the next few weeks.
Therefore, most growth stocks tend to lag in a period of high-interest rates. Besides, they did well when the Fed embraced an expansive policy.
Therefore, the Amazon stock price has outperformed the Nasdaq 100 and Invesco QQQ ETF because the company is at the intersection of growth and value. While its e-commerce business is growing at a slower pace, its cloud segment is seeing impressive double-digit growth.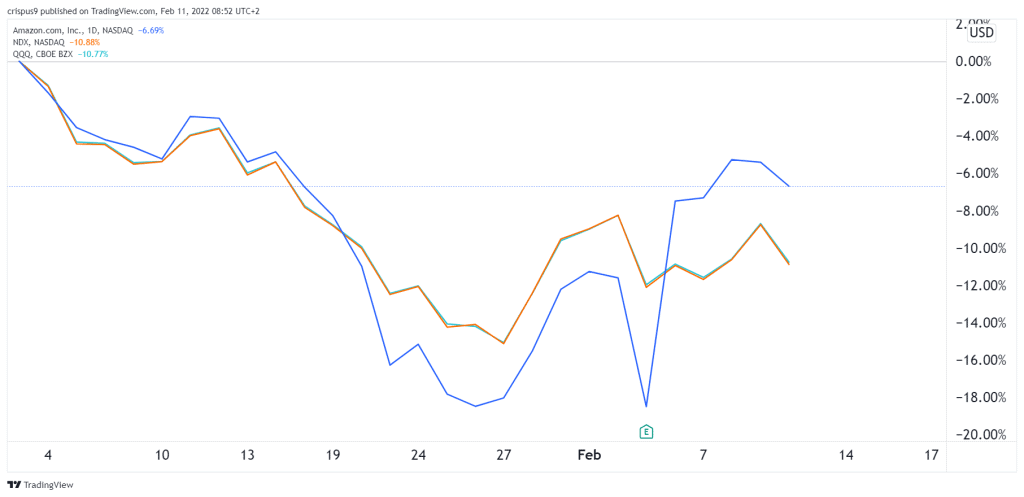 Amazon earnings review
Amazon stock has jumped in the past few days because of the company's strong quarterly results. In February, the firm's results showed that it generated $137 billion in annual revenue, a 10% increase from the same period a year earlier. In addition, its net sales jumped to $469 billion, with most of the revenue coming from North America.
However, the company continued to suffer from the rising cost of doing business. As a result, the company's operating income declined to $3.4 billion in the fourth quarter. In the same quarter in 2020, the company had an operating income of more than $6.8 billion. Its net income, nonetheless, rose to $14 billion.
AWS, its well-known cloud computing business, had net sales of more than $14 billion while its operating income jumped to $5.2 billion.
Is Amazon a good investment?
Amazon is one of the biggest companies in the world, with its market capitalization being $1.62 trillion. This makes it the fourth-biggest American firm after Apple, Microsoft, and Alphabet. That valuation happened considering that the Amazon stock price has soared by 280% in the past five years and by more than 200,000% since it went public in 1997.
There are several reasons why Amazon is a good investment. First, the company has a strong market share in its core e-commerce and cloud markets. For example, its market share in the e-commerce industry has surged to more than 50%, and Amazon Prime has more than 150 million customers. In other words, almost half of Americans pay more than $100 per year. In its most recent results, Amazon announced that it would boost that price from $12.99 per month to $14.99 or from $119 to $113.
Second, Amazon is a major player in the fast-growing cloud computing business. As shown below, the company has a market share of about 33%, while Microsoft has a share of 21%. Therefore, while the market share is narrowing, the reality is that there is more room to grow in the future. Moreover, the company will keep generating strong earnings in the future.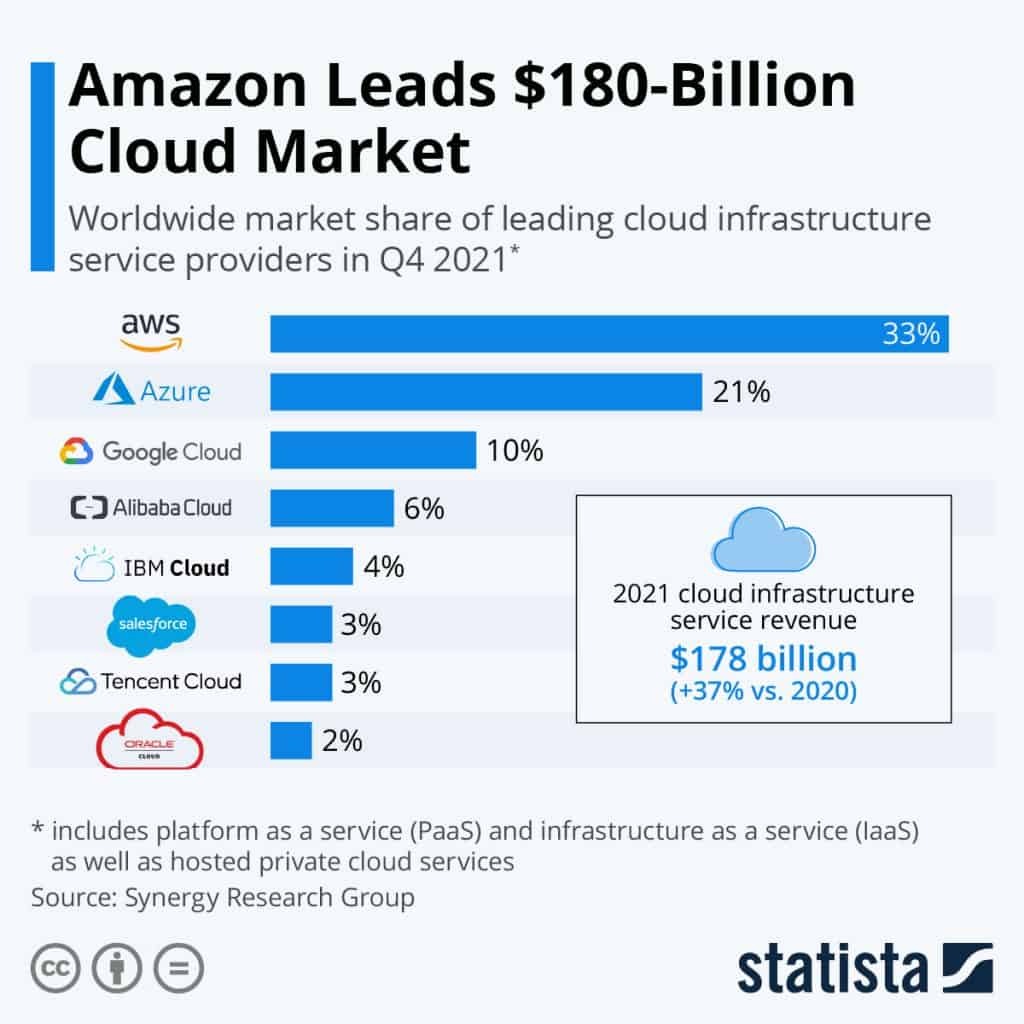 Third, Amazon has a presence in some of the fast-growing industries in the world like artificial intelligence, electric vehicles (it is a major investor in Rivian), streaming, and machine learning. Therefore, it will continue doing well in the future.
Fourth, Amazon stock is an ideal stock because the company is an all-weather firm that will keep doing well in all conditions. For example, it generated significant profits during the Covid pandemic. And finally, it is one of the most profitable firms globally. It had an annual profit of over $33 billion in 2021.
Amazon valuation
The strong performance of the Amazon stock price has pushed its valuation to record highs. However, this does not mean that the company is overvalued. For example, it has a price-to-sales ratio of about 3.4x.
The firm has a PE ratio of 49 and a forward multiple of 66. These numbers mean that the company is highly valued when considering its PE multiple. The S&P 500 index has a forward multiple of less than 25.
Nonetheless, good quality companies that combine both value and growth always trade at a premium valuation. Therefore, the stock could keep rising as long as the company maintains its growth.
Some valuation metrics even consider that the stock is even undervalued. For example, as shown below, a DCF valuation shows that the firm is trading at a major discount.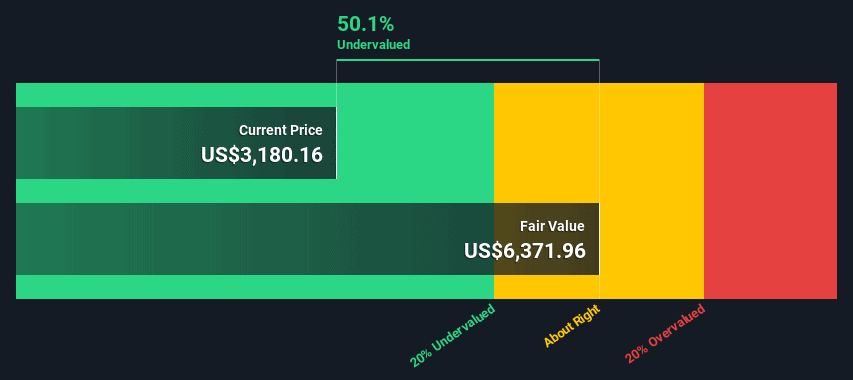 AMZN analysts estimates
Wall Street analysts are relatively bullish on the Amazon share price. According to Marketbeat, the average target for the stock is at $4,124, which is substantially higher than where it is trading at.
Recently, analysts at Wolfe Research, MKM, Credit Suisse, Barclays, Raymond James, and Goldman Sachs upgraded their outlook. The upgrade happened after the company published its earnings. However, those at Canaccord Genuity lowered their target, as shown below.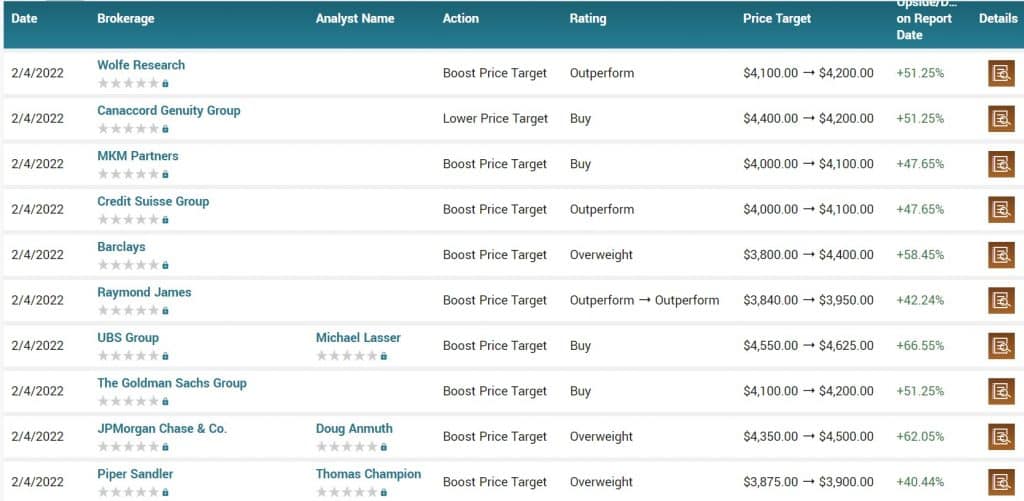 Meanwhile, another report by Tipranks shows that all the 32 analysts who track the company have a bullish sentiment on the stock. They expect that the AMZN stock price will soar to $4,189. The highest target is $5,000, while the most pessimistic has a target of $3,600.

Amazon stock price forecast 2022
The daily chart shows that the AMZN stock price formed a double-top pattern at about $3,760. The chin of this pattern was at $3,177. The shares sell-off accelerated when it moved below that chin and fell to a low of $2,706. It then bounced back after earnings and formed a break and retest pattern. Also, the stock remains below the 50-day and 100-day moving averages.
A closer look shows that the stock has already crashed to its target point of $2,700. The price matches the distance between the double-top and the chin. Therefore, there is a likelihood that the stock will continue the bullish trend later this year. If this happens, it will likely retest the all-time high of $3,760. The support will be at $2,700.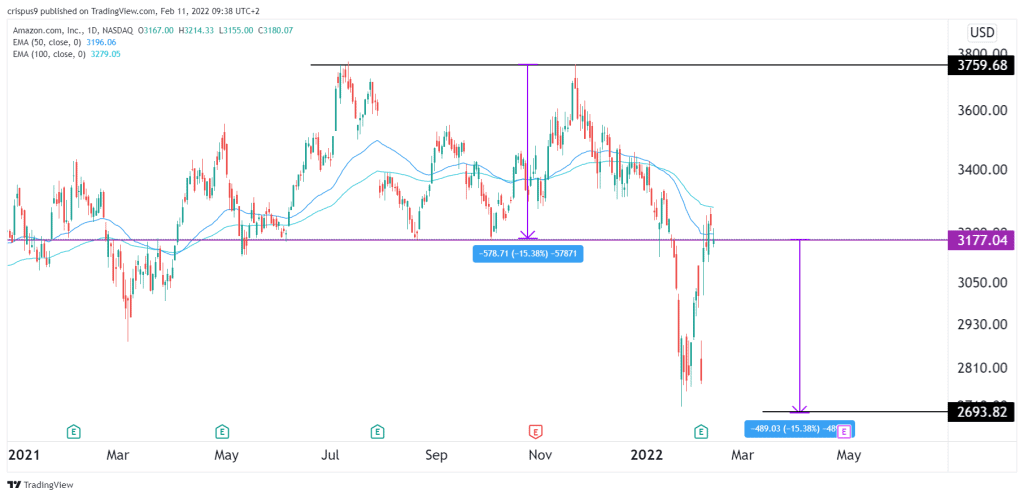 Summary
The AMZN stock price has done well after its spectacular earnings. In this article, we have highlighted some reasons why Amazon is a good investment. We have also noted that analysts expect the shares to keep rising in 2022.