AITX stock forecast indicates the current lack of volatility in the stock is likely to continue. The strong bearish move that started in Late 2018 is also poised to continue.
AITX strong fundamentals
Artificial Intelligence Technology Solutions (AITX) operates in one of the most competitive technology niches in the world. The Company engages in providing artificial intelligence (AI) solutions with a major focus on multi-use AI-driven hardware technologies.
In financial reports released late last year in November, the company indicated they had revenue of $373,000 and a net income of -$7 million in the third quarter of 2021. The company also indicated that it had an operating income of -$4.69 million and incurred a net profit margin of -1897 percent.
This year, the company has made efforts to increase its revenue, with reports indicating they had signed Apex3 Systems as their new dealer. The company has also received orders to supply 10 Responsive Observation Security Agent (ROSA ) stationery robots through Robotic Assistance Devices Inc. (RAD), a subsidiary company AITX fully owns.
AITX Stock Forecast
When using technical analysis and price charts to do an AITX stock forecast, it is important to look at the full picture of where the prices have been. This will offer a fuller picture of where we should expect the prices. For example, although the prices today are trading at $0.016, on August 29, the AITX stock prices were trading at over $5000.
AITX Stock Price Chart Capturing AITX Trading at over $5000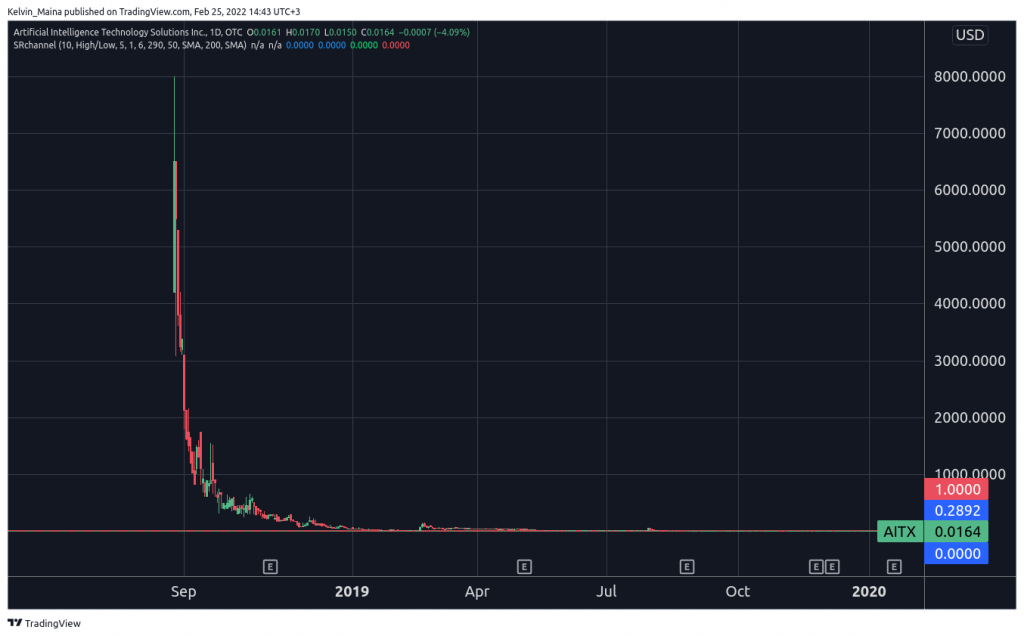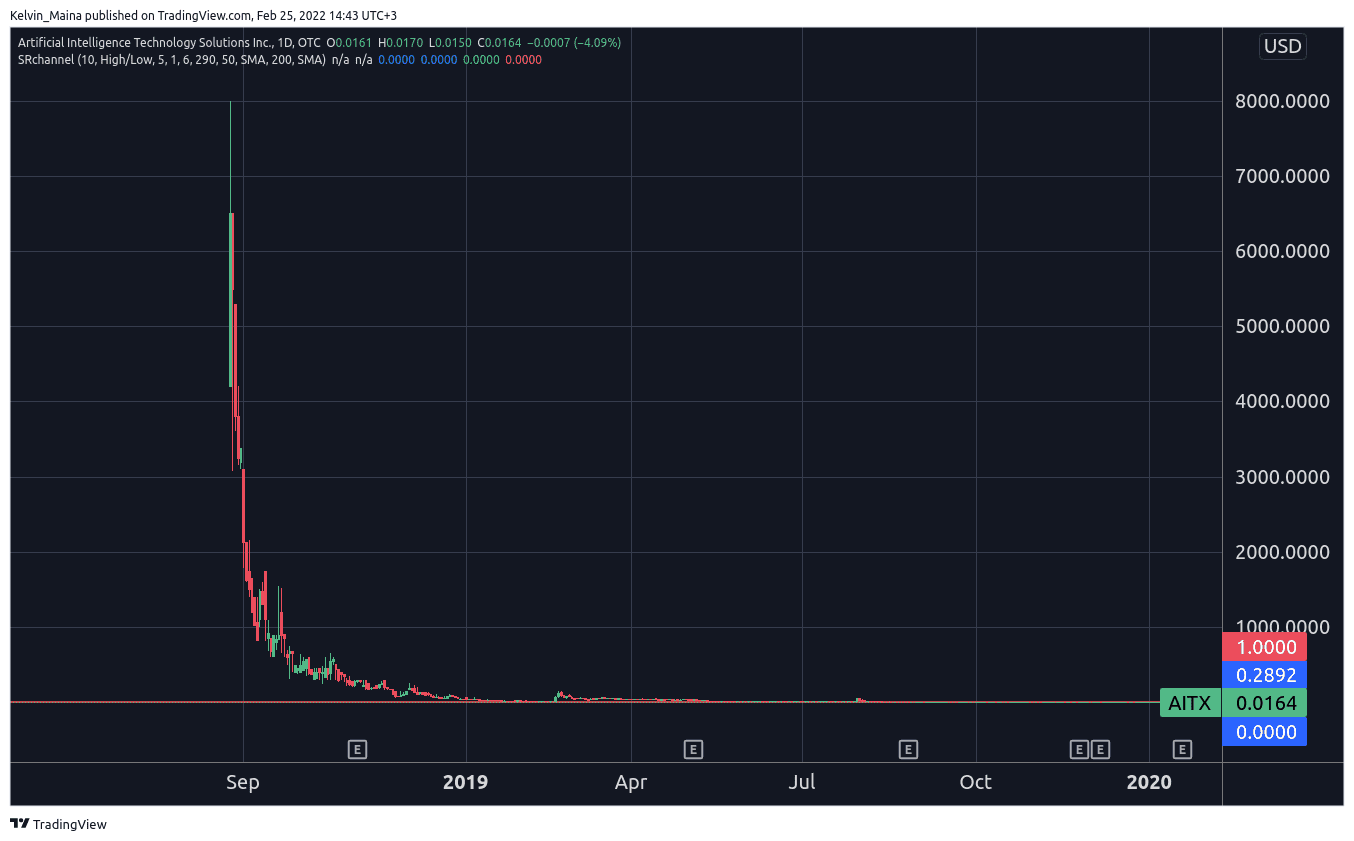 Today, the daily price chart shows a completely different story after years of stock prices collapsing. The AITX stock market currently trades at below $0.1, and it is currently on a strong bearish move that started in February last year.
On the daily price chart below, AITX is currently trading within support and resistance levels of $0.001 and $0.28. The prices have also been in an aggressive long-term bearish move. However, the AITX seems to have lost momentum and the prices are currently trading sideways. Looking at the daily chart, it is clear that the prices are poised to continue dropping further. The current prices are also more than 99 percent below what the stock was trading in 2018.
Is AITX a Good Investment?
AITX stock has already lost more than 99 percent of its value in just a few years. The shares are also trading below $0.1. In the past few months, the prices of AITX have also been dropping aggressively. Therefore, based on both technical and fundamental analysis, I am of the opinion that AITX is not a good investment.
AITX Daily Price Chart