Intro
PLTR is the stock symbol for Palantir Technologies Inc. Palantir is a provider of software and technology products for big data analytics. To this end, Palantir has several platforms it offers its clients: Gotham, Apollo and Foundry.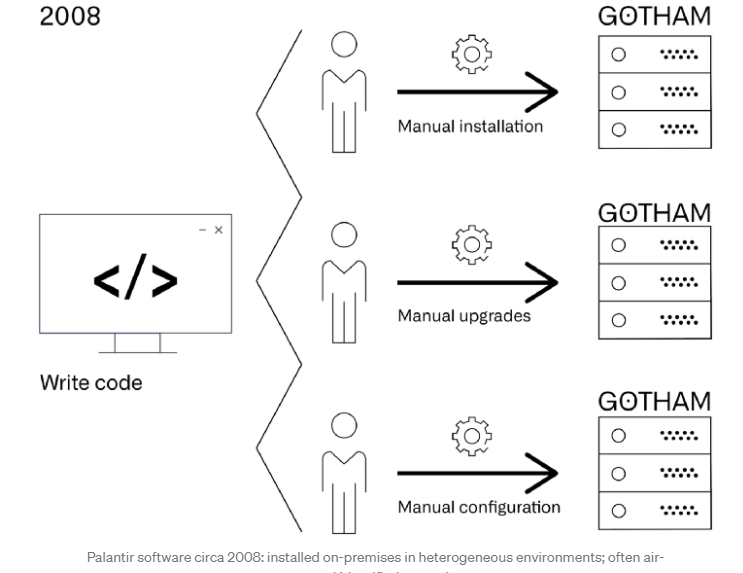 A major client of this company is the US intelligence services, which use its analytics software for its counter-terrorism work. As a company that provides services to several US government agencies, there are feelers in the investment community that the stock is heavily undervalued and should be seeing more bullish Palantir stock forecasts.
Palantir Stock News
The latest Palantir stock news is that the company has signed a five-year partnership deal with Satellogic. This partnership will allow Satellogic to use Palantir's Foundry platform to provide artificial intelligence model training and integrate enterprise data. This partnership will ultimately deliver better decision-making by existing technology using improved artificial intelligence models.
This new partnership adds to several existing partnerships which Palantir Technologies has entered into down the years. Will this lead to a bullish Palantir stock forecast for 2022 or 2025? More information is provided later in the article.
Will Palantir Stock Go Up?
The Palantir stock price today currently trades below the $13 mark. Will the Palantir stock price go up in the short term? The answer to this question will lie in how the market views the upcoming 4th quarter 2021 earnings release, which comes up on 17 February 2022. This is a premarket release, which means that investors can react to the information as the US markets open.
In the medium to long term, Palantir stock has a good chance of going up as the dividends of its partnerships start to pay off. The hammering of meme stocks in the last three quarters of 2021 has ensured that the Palantir stock price is now at levels that can be considered cheap relative to its pre-2021 price action. With the Fed gearing up to start tightening monetary policy, earnings from tech companies that are on the upside are expected to provide some tailwind for stocks like Palantir, which put out products and services that benefit from a risk-on investment environment.
Both sides have hailed the recent deal between Satellogic and Palantir as a strategic partnership that will take both companies forward, especially as Satellogic just listed on the Nasdaq in January 2022.
Palantir Stock Forecast 2022
What is the Palantir stock forecast 2022 outlook?
Palantir is a stock that has good prospects for medium-term and long-term investment. It is essential to remove the cloak of the "meme stock" which was cast on Palantir in early 2021 and focus on its fundamentals.
Patronage by governments, the only entity in any ecosystem to never run out of funds in an economic crisis, is an excellent advantage to any company. Palantir has several long-term contracts with government agencies, which will guarantee positive cash flow for several years to come. Palantir has secured more than $500m in US government contracts since it moved its headquarters to Denver, Colorado in 2020.
Palantir secured an extension with the US Army's Program Executive Office for Enterprise Information Systems for its Army Vantage program in a deal worth $113.8m. The total value for this contract for the base year and an additional three extension option years (one year of extension option has been exercised) is $458m.
Palantir has a running $89.9m contract with the National Nuclear Security Administration.
The US FDA's Center for Drug Evaluation and Research also awarded Palantir a $44.4m contract to enhance drug reviews and inspections.
There is also an existing $111m contract Palantir has with the US Special Operations Command (USSOCOM).
In 2021, Palantir announced that Japanese insurer SOMPO Holdings would invest $500m into its business.
A $32.5m contract with the US Air Force and US Space Force.
These contracts are just a few of Palantir Technologies Inc.'s several with various government institutions. These contracts will generate positive cash flow for the company for some time to come.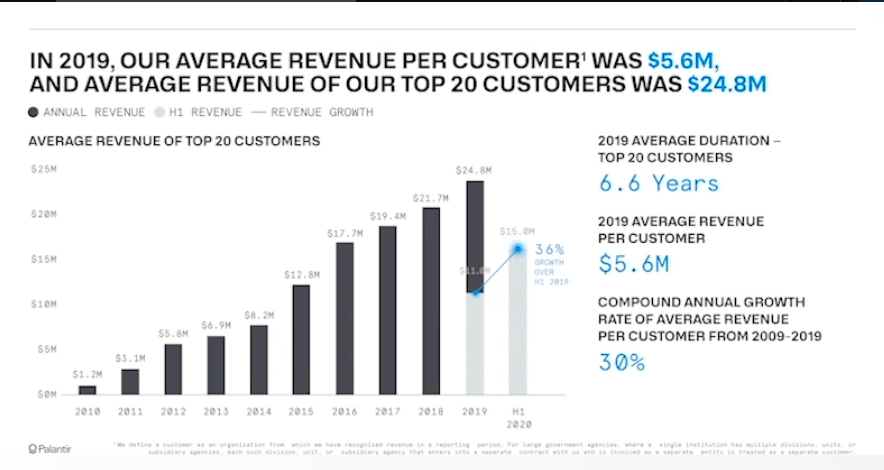 Palantir has been building software and developing its AI algorithms for nearly 20 years now, giving it a significant headstart over any potential competition. Also, Palantir has a unique approach to AI development. It seeks to use AI to augment human capacity, making its technology more relevant in the present. It, therefore, stands in a better position to monetize its products than companies that are building AI technology as a replacement for humans.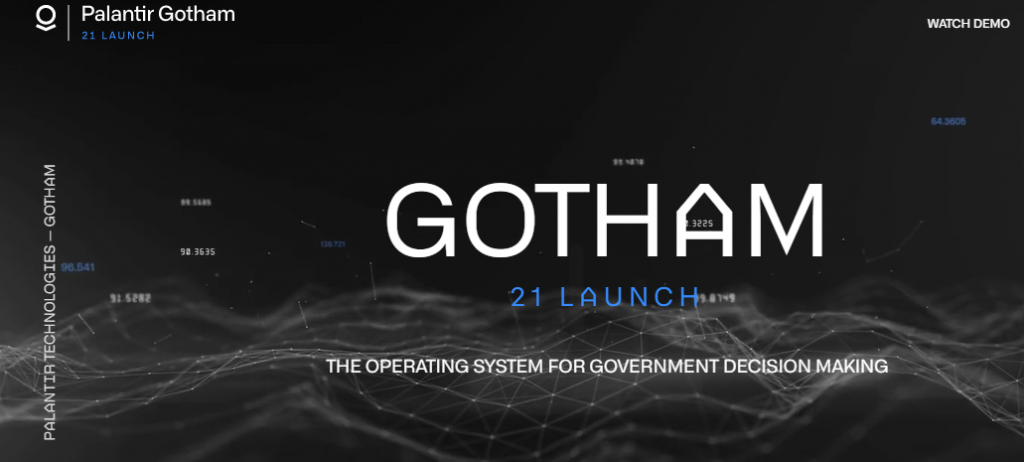 The upcoming earnings release and the fact that prices have dropped nearly 75% from the 2021 highs could trigger a bullish Palantir stock forecast 2022 outlook.
Palantir Stock Forecast 2025
Building on the stock forecast for 2022, we look at the weekly chart for Palantir, which provides a medium-term outlook for the stock.
Presently, the 9 November 2020 low at 13.17 forms the resistance that has capped the recent recovery attempt staged last week by Palantir. This keeps the price at an attractive buy level for more aggressive traders. More conservative entrants may decide to wait for a potential rejection at current levels, which takes PLTR towards the 11.09 support. This support may be more attractive to such buyers, or they could still wait for a potential bounce at 9.09.
There are several barriers to price recovery at 17.16, 18.00, 19.52, and 20.79. There are also additional barriers at 24.26, 26.24, and 27.50. Whatever the case, a break of the 13.17 resistance could usher in new demand, driving the stock towards 14.90.
The bullish sentiment for the Palantir stock forecast 2025 kicks off if the price takes out 30.03. Despite the prospects for the Palantir stock forecast 2025, there is a lot for the bulls to do to achieve the upside potential for this stock. Positive earnings reports in the future will help this cause.
Is Palantir a Good Stock to Buy?
Based on some analyzed metrics, Palantir is a good stock to buy. However, those buying Palantir stock must have a medium-term to long-term investment focus. The market needs to adjust to the Fed's rate-hiking cycle (which will dry up cheaper sources of investment capital), and this could at best lead to a range-bound situation for Palantir before the impact of its partnerships is felt the stock price.
Summary
The meme-stock mania of early 2021 brought Palantir into the consciousness of the stock markets. The Palantir stock forecast looks favourable with great fundamentals going forward and a product suite with ever-increasing enterprise-level demand.
PLTR: Weekly Chart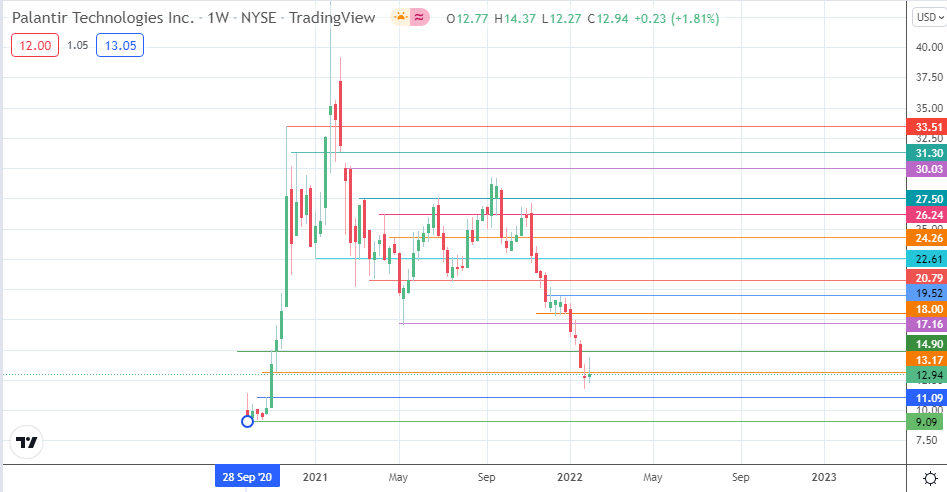 Follow Eno on Twitter.