The USD/CHF price moved sideways on Thursday morning ahead of the upcoming Swiss National Bank (SNB) decision. It was trading at 0.9660, where it has been in the past few days. On the other hand, the EUR/CHF price crashed to 0.9480, which was the lowest level on record.
USD/CHF forecast
The USD/CHF price held steady after the Federal Reserve delivered another rate jumbo rate hike. In a statement, the bank decided to hike interest rates by 0.75% for the third straight month and pointed to more rate hikes in the coming months. As a result, American bond yields continued rising, with the 2-year yield soaring to 4% for the first time since 2008.
The next key catalyst for the USD/CHF and EUR/CHF will be the upcoming interest rate decision by the SNB. Economists expect that the SNB will also deliver another 50 basis point rate hike as Swiss inflation jumps. Still, the SNB has a well-known track record of catching investors by surprise. As such, the bank could decide to end its rate hikes and even slash since the Swiss franc has soared recently.
The four-hour chart shows that the USD/CHF price has been in a tight range in the past few days. Along the way, the pair has managed to move above the 25-day and 50-day moving averages. It has also formed an ascending channel that is shown in blue.
Therefore, the pair will likely have a bearish breakout as sellers attempt to move to this month's low of 0.9480. A move above the key resistance point at 0.9700 will invalidate the bullish view.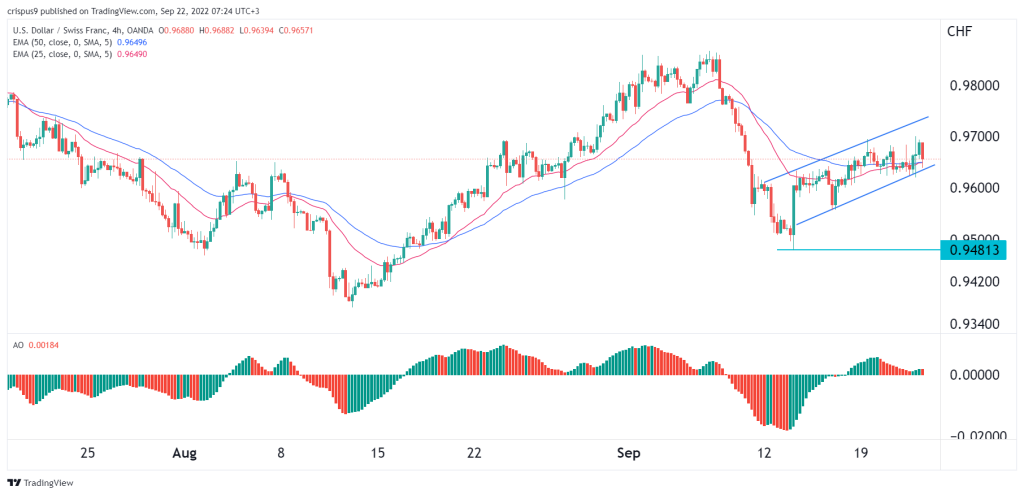 EUR/CHF forecast
The four-hour chart shows that the EUR/CHF pair has been in a deep downward trend in the past few weeks. This week, it managed to move below the key support level at 0.9555, which was the lowest level on August 23rd. It also moved below the 25-day moving average while oscillators have continued slipping. Therefore, the pair will likely continue falling as sellers target the next key support at 0.9400.