Uniswap price is at an all-time high as the rally of Decentralized Finance (DeFi) projects continues. The UNI price has risen by more than 140% this year, making it one of the best-performing digital currencies in the world. It has rallied by more than 325% since its inception.
The background: Uniswap is the fourth-largest DeFi project in the world with more than $2.93 billion locked in it. The UNI coin has a market value of more than $2.6 billion, making it the 17th largest cryptocurrency in the world.
For starters, Uniswap is a product that offers a fully decentralized protocol for token exchange using liquidity pool. It differs from other such products that use order books. As such, you can easily swap between ETH and any Ethereum token.
Uniswap also offers analytics, token lists, Unisocks, Sybil, and Unipig. In a tweet sent yesterday, the company's creator, Hayden Adams said that about $500 million worth of UNi had been vested to the governance community.
Total value locked in Uniswap has been soaring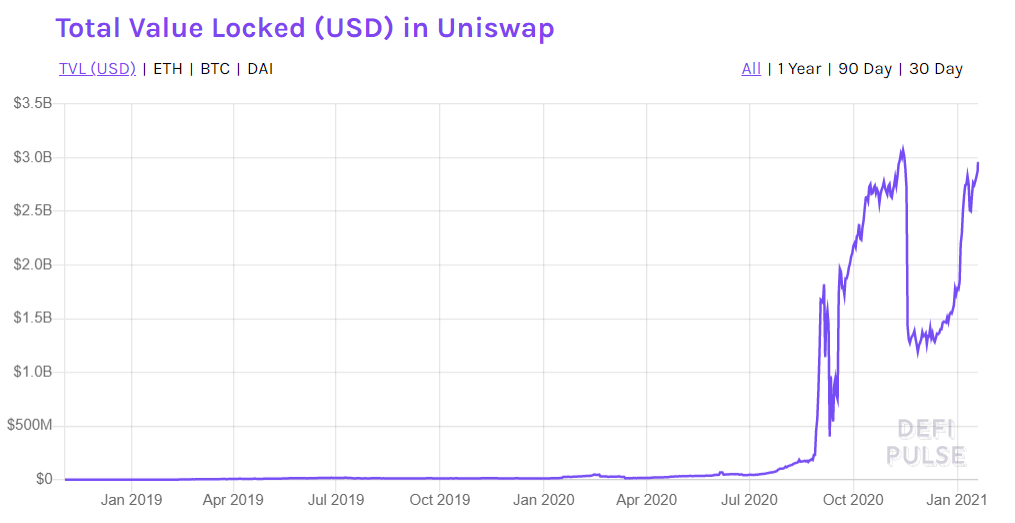 Uniswap price technical outlook
Looking at the daily chart below, we see that Uniswap price has risen in the past eight consecutive days and is now slightly below $10. The currency is above all the moving averages while the Relative Strength Index has risen to 80.
While this is a sign of it being overbought, it also means that bulls are currently in the drivers seat. As such, I suspect that it will continue rising in the near term. However, there's a possibility that it will have a pullback when it reaches $10.
Don't miss a beat! Follow us on Telegram and Twitter.
Uniswap Price Chart
More content