The Bitcoin Price may have done too much, too soon, according to Mark Yusko of Morgan Creek Capital, who expects to see profit-taking on BTC. The Morgan Creek Capital CIO told CNBC that although he thinks Bitcoin will be worth $250,000 in five years, the current level may not be sustainable in the short term.
The Bitcoin price has surged more than 50% in the last three weeks, driven by several bullish developments as predicted in our special Bitcoin report on September 30th. "The second scenario is an immediate agreement to raise or suspend the debt ceiling combined with an ETF approval. In this event, the Bitcoin price is likely to break higher." However, Yusko sees growing signs of over-exuberance, which may lead to a period of consolidation for BTC: "A pause that refreshes given how overbought we are right now wouldn't surprise me,"
Nonetheless, Bitcoin is soldering on, and this morning is trading at $62,250, closing in on Thursday's $62,910 high. Furthermore, BTC is just 3.70% shy of May's record $64,899. The recent euphoria follows the almost certainty that an exchange-traded Bitcoin-based ETF will get regulatory approval in the net 24 hours. However, some market analysts are sceptical the futures-backed products will have widespread investor appeal. Despite growing calls for a potential 'buy the rumour, sell the fact' scenario, Bulls are piling in, which is constructive. However, As aYusko correctly pointed out, the Bitcoin price is overbought, leaving it vulnerable to a sharp correction.
BTC Technical Analysis
The daily chart shows BTC is showing strong bullish momentum. On Thursday, the price accelerated higher, out of a rising trend channel, clearing the former all-time high at $61,778. As a result, $61,778 is the first support, followed by the upper edge of the channel at $59,900. The all-time high of $64,889 is the apparent upside target. If the bitcoin price exceeds the ATH, new capital will likely chase the momentum, driving BTC towards $70k.
However, the Relative Strength Index Reading of 73.63, and the scale of the recent rally, are warning signs for bulls. Whilst the near-term outlook is bullish, the immediate danger for bulls is if BTC drops below $60k. In that event, September 7th, high at $52,800, is achievable for the bears.
Bitcoin Price Chart (Daily)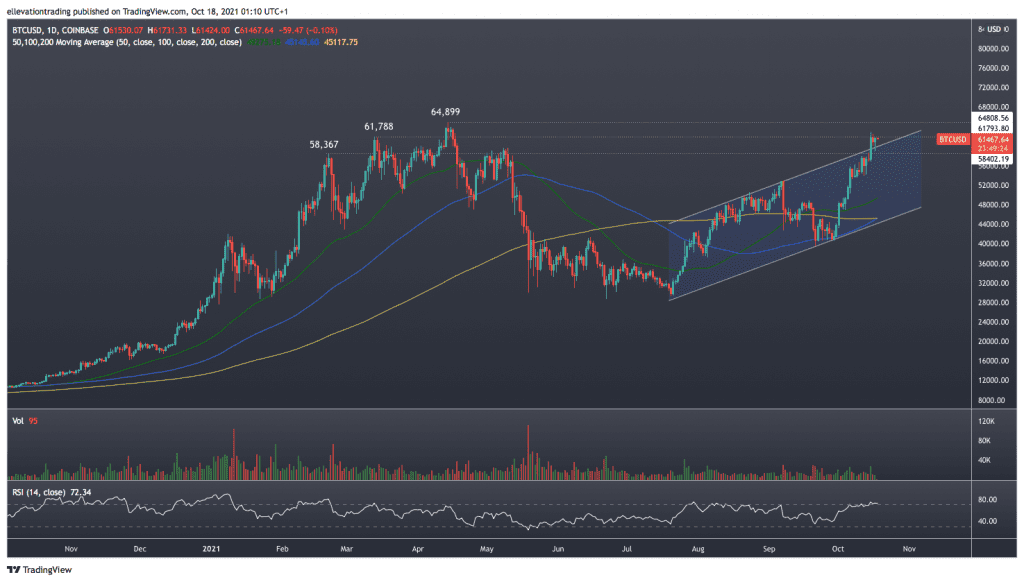 For more market insights, follow Elliott on Twitter.