A somber mood engulfed the meme coin industry as more details of the upcoming Twitter Coin emerged. Shiba Inu price collapsed to a low of $0.0000084, which was the lowest level since November 22. It has plunged by about 15% below the highest level this month. Other meme coins like Tamadoge and Dogecoin also came under pressure.
Latest Shiba Inu news
The main catalyst for the Shiba Inu price during the weekend were the rumors about the upcoming Twitter Coin. According to social media users, the company is working on a new cryptocurrency that will power its payments ecosystem. Twitter and Elon Musk have not confirmed these rumors yet.
The fact that Twitter, under the new management, could be working on a cryptocurrency is not surprising. For one, Elon Musk has been one of the biggest supporters of cryptocurrencies in the past few months. His endorsement of Dogecoin helped to propel it to the top of the cryptocurrency ranking list. It also played a part in the launch of other meme tokens like Floki Inu and Dogelon Mars. 
The other important Shiba Inu news is the fact that the ShibaSwap total value locked (TVL) has continued crashing in the past few days. After peaking at over $100 million a few months ago, it currently stands at about $18.5 million. This is a sign that demand for the DeFi ecosystem has waned.
Shiba Inu vs Twitter Coin
So, what will be the best buy between Shiba Inu vs Twitter Coin? First, as mentioned, it is too early to determine whether Twitter Coin will actually happen. If it is launched, Twitter will likely use it to handle transactions in the ecosystem. Still, there is a likelihood that it will not happen because of the collapse of the crypto market and the regulatory scrutiny it will have.
If Twitter Coin is actually launched, I believe that it will outperform SHIB because of its strong name recognition. Also, it seems like Shiba Inu price peaked during last year's surge.
SHIB price prediction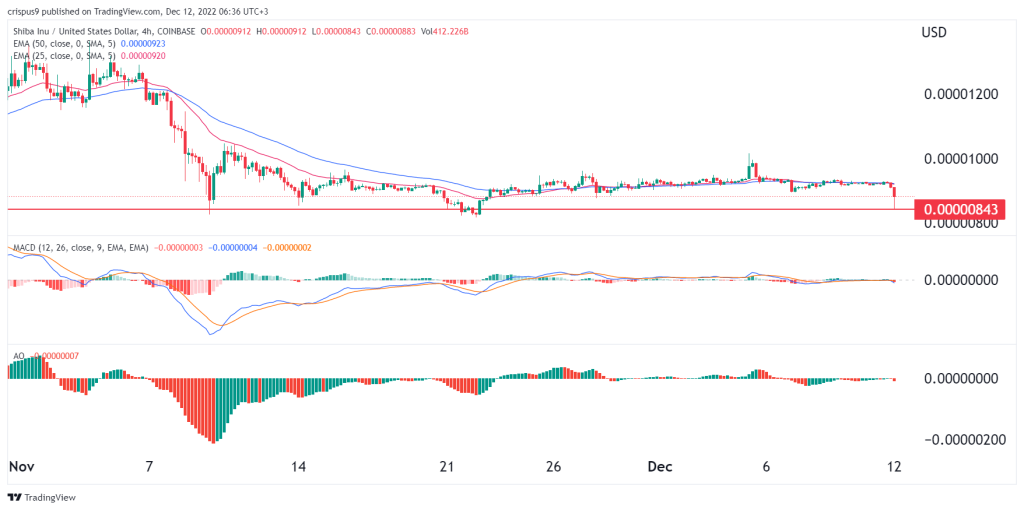 The 4H chart shows that the Shiba Inu price collapsed to a low of $0.0000084, which was the lowest level on November 22. As it slipped, it moved below all moving averages while volume remains under pressure. The MACD and Awesome Oscillator have moved below the neutral point.
Therefore, with the Fed decision coming up, there is a likelihood that Shiba Inu price will continue falling in the coming days. The next key support level to watch will be at $0.0000080.