The Sandbox (SAND) and Decentraland (MANA) prices have jumped sharply in the past 24 hours even as other cryptocurrency prices have slumped. MANA is trading at $3.23 while SAND has jumped by 26% in the past 24 hours to $3.28. So, let us look at what the two coins are and identify the better buy.
Sandbox vs Decentraland
Metaverse has become one of the most-talked-about innovations in the past few weeks. The discussion was elevated when Facebook launched Meta, its new holding company.
For starters, metaverse is an industry that enables people to create and live in a virtual environment. One can make friends, communicate, and even do commerce in this industry.
There are pros and cons to the industry. For example, a pro is that people will be able to hold virtual meetings that feel real. One will also be able to take a virtual journey and explore the universe.
The disadvantage of this industry will be online security and the fact that people will spend a lot of time in their virtual universe. There are also concerns that it will encourage antisocial behaviours.
Decentraland and Sandbox have become two of the most popular metaverse cryptocurrencies. The two have a market cap of $5.9 billion and $2.3 billion. They are both built using Ethereum's technology.
Their platform's goal is relatively the same. In Decentraland, you can buy a piece of land and build your virtual home. Similarly, in The Sandbox, you can create your own universe. In both platforms, you can even create additional products and sell them using the native tokens for this land.
The Sandbox price prediction
On the four-hour chart, we see that the SAND price has been in a strong bullish trend recently. Notably, we see that the price has formed what looks like a cup and handle pattern. Indeed, it has retested the upper side of this cup at about $3.40. It remains being above the 25-day and 50-day moving averages. Therefore, the price will likely break out higher as bulls target the key resistance at $5.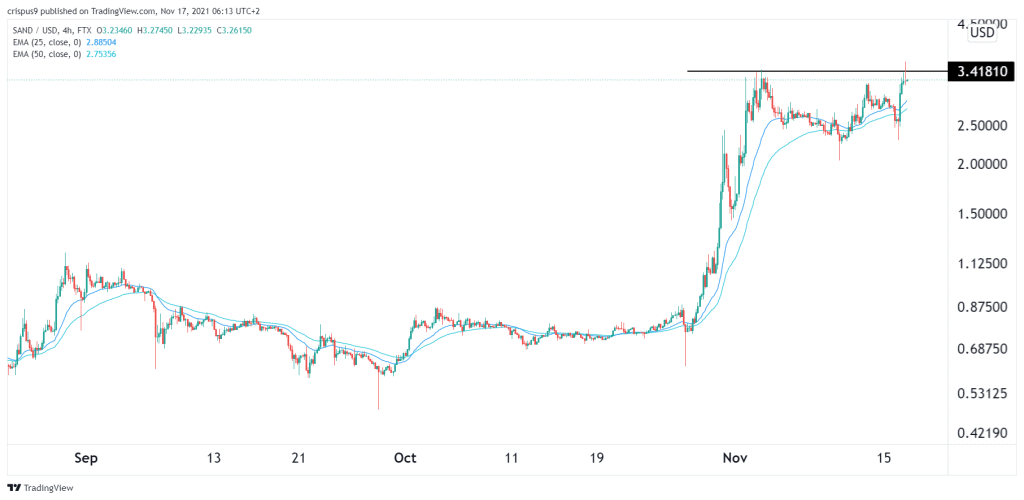 Decentraland price prediction
On the four-hour chart, we see that the MANA price has also been in a strong bullish trend. It has even jumped by more than 400% from its lowest level in October. Along the way, it has moved above the moving averages.
But a closer look shows that the bullish momentum has faded and that the price is now moving sideways. Therefore, while a bullish breakout is possible, there is a likelihood that the price will remain in this range for a while. In this case, The Sandbox seems like a better buy than Decentraland.