The Royal Mail share price has seen a period of price recovery following the heavy dip in the first half of 2021. But with strong demand for its delivery services boosting investor demand in the last two months, JP Morgan Cazenove has upgraded the stock.
JP Morgan Cazenove has set a price target of 777p for the stock, which shows an upside potential of 35% from the current stock price of 509p. This upgrade comes two days after Barclays also affirmed the positioning of Royal Mail to benefit from the increasing demand for its parcel delivery services. New testing guidance that requires more rapid lateral flow tests before entering "high-risk" venues is also set to increase demand for the parcel-delivered testing kits. 
The Royal Mail share price is up 0.08% on the day.
Royal Mail Share Price Outlook
The evolving bullish flag on the 4-hour chart points to a potential for an upside breakout, which could target completion of the measured move at 584.8. This move would need to take out barriers at 520.2, 538.0 and 566.4 to be attained. This brings the price in tandem with Barclays' price upgrade.
Conversely, a breakdown of the flag followed by a dip towards 490.6 invalidates the pattern. This would then favour a correction towards 471.2, with 452.6 and 443.0 also serving as potential price pivots to the south.  
Royal Mail: 4-Hour Chart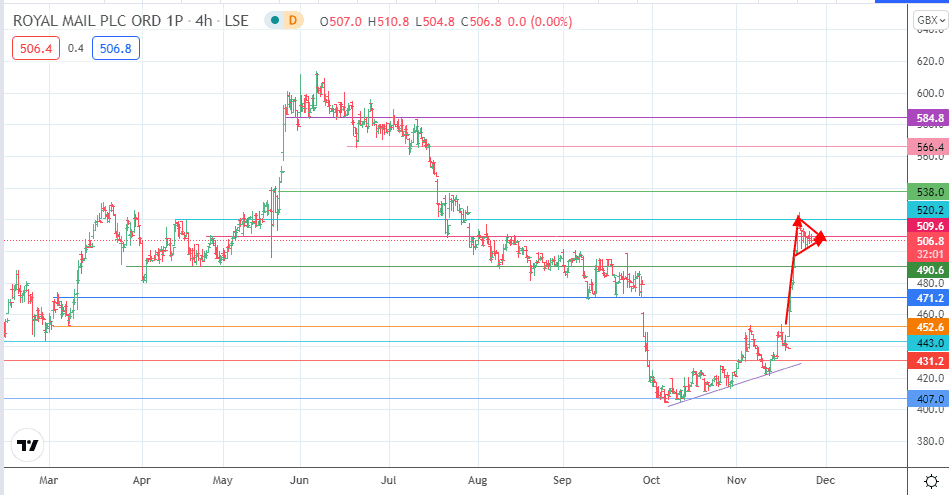 Follow Eno on Twitter.