The QNT price has largely ignored the spectacular altcoin rally in October and spent the last month fluctuating on either side of $300. This morning Quant (QNT) is unchanged at $291.30 and up just 0.32% in October, but a whopping 190% since July. There are currently 12.07 million QNT tokens in circulation, with a total value of $4.25 billion, ranking Quant the 49th most valuable crypto project behind IOTA (MIOTA).
The altcoin market has surged over the last week as capital rotates from Bitcoin (BTC) back into lower value assets. BTC's run to a new high last week sucked money from alts as investors rushed to take advantage of the ProShares ETF listing. However, after topping out at $66,999, Bitcoin's trajectory has slowed, and as a result, its dominance is slipping, and smaller rivals are closing the gap. Several altcoins have exploded to the upside in the last week, and some like Ethereum (ETH) and Fantom (FTM) have made new highs. Unfortunately for Quant holders, the QNT price is lagging. However, the technicals support a bullish argument and may encourage dip-buying.
Quant Price Analysis
The 4-hour chart shows that the QNT price is trading sideways in a narrowing wedge pattern. The rising lower edge of the formation currently supports the price at $278. Conversely, the top of the wedge offers resistance at $326. Quant has respected the pattern for the last week, and I expect it will continue to do so in the immediate future.
On that basis, considering the price is closer to the lower edge, it may offer longs a low risk vs high reward entry point. Buyers at the current level could place a stop-loss order below the rising support at $278, aiming to take profit towards $326. However, considering the altcoin markets' positive momentum, QNT may overshoot resistance and extend towards $400. Therefore, the current setup looks appealing. The bullish view, of course, relies on trend support holding and becomes invalid if Quant trades below $276.
QNT Price Chart (4-hour)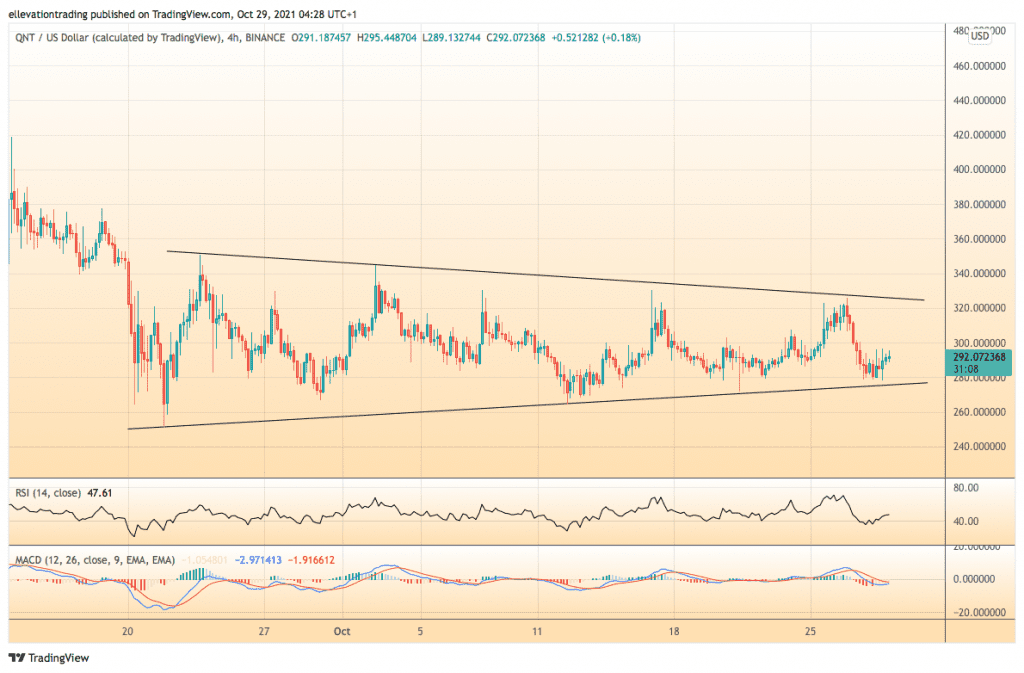 For more market insights, follow Elliott on Twitter.