The resurgence of new COVID-19 infections in China and the restrictions implemented by the Chinese government to curb its spread have disrupted its suppliers' operations, according to a statement by Nio on Saturday. The company has been forced to "halt car production" and postpone vehicle deliveries to users. It says it is working with its suppliers to achieve quick resumption while complying with lockdown measures at the same time.
China is struggling to contain a re-emergent Omicron strain in Shanghai and Jilin provinces, where the majority of the plants of Chinese carmakers and spare parts suppliers are based. The situation is likely to impact vehicle delivery numbers in the second quarter. Other EV companies which have stopped production due to the curbs include Tesla and VW. How will this situation impact future Nio stock price forecasts? Here is some insight.
Nio Stock Price Forecast
The 17.87 support level (intraday low) is not out of the woods yet. If there is a rejection at the 19.48 resistance followed by a pullback, we could have a retest of 17.87. If the support bows to bearish pressure, the 15.88 support level (11 March low) becomes the new downside target. 14.31 comes next if the decline continues, while the 31 July 2020 low at 11.83 and the 24 July 2020 low at 10.91 form additional short-term downside targets for the bears.
On the flip side, the bulls need to break the resistance at 19,48 to secure clear skies for a potential move towards 22.26 (23 February/2 March highs). Above this level, additional resistance is seen at 24.96 (1 February high), while 26.26 (12/17 February highs) and 28.04 round off other price targets to the north.
Nio: 4-hour Chart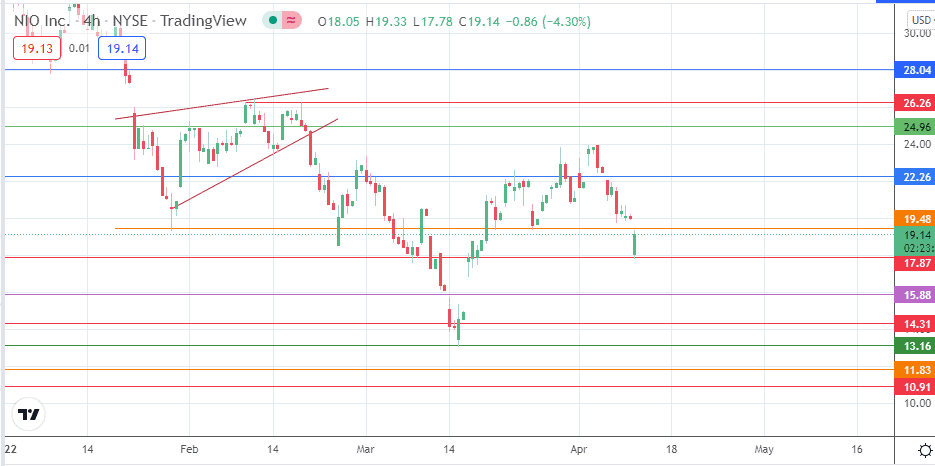 Follow Eno on Twitter.