The Litecoin price is starting to notice what's happening to the cryptocurrency market, which could present an attractive opportunity. Litecoin (LTC) is trading at $244 (+6.85%), +27% so far in November, and +96% year-to-date. LTC's market cap is currently $16.77 billion, ranking it the 14th-biggest cryptocurrency behind Avalanche (AVAX).
The combined value of all cryptocurrencies reached a record $3 trillion this morning, spurring many altcoins to break out on the upside. Luckily for HODL'ers, Litecoin has finally joined the party, gaining over 20% in the last two days. As a result, Litecoin has cleared the high it made in September following the 'fake news' that Walmart was planning to accept LCT as a payment method, encouraging momentum traders to chase the breakout.
LTC Price Analysis
The daily chart shows, the Litecoin price is trading at its highest level since the May crypto crash. However, despite the recent rally, LTC is around 40% below the pre-crash peak of $417.16. As long as LTC ends the day above the September high, I expect it to embark on a prolonged bullish streak. A logical upside target on an over-extension is the April high of $338.
However, the spike has lifted the Relative Index (RSI) to an overbought reading of 72.93, which could prove pivotal. Even the parabolic Litecoin price rally in May reversed when the RSI reached 77.0. Therefore, the current reading could be a cause for concern.
Nonetheless, the immediate outlook is constructive and remains so above the September high ($239.10). On that basis, I am bullish on LTC with a potential $3368 price target. However, a close below $239.10 invalidates the immediate bullish call.
Litecoin Price Chart (daily)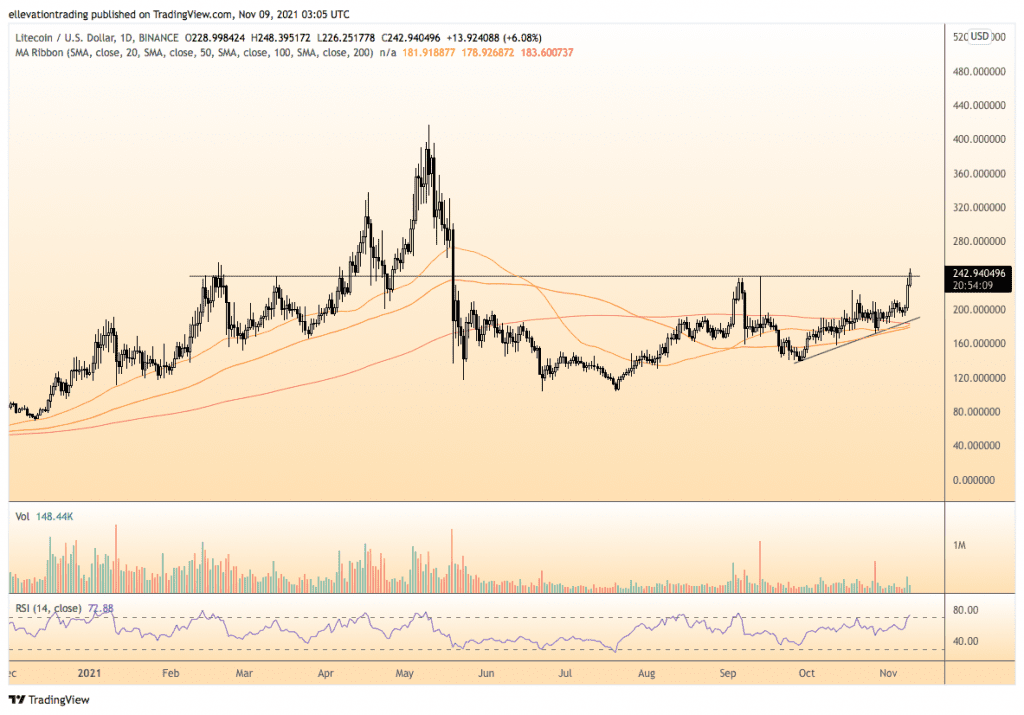 For more market insights, follow Elliott on Twitter.