The IAG share price continues its flying start to the week on the back of some positive news from its cargo division. IAG Cargo, the airline's cargo unit, says it has partnered with Cargo.one to take the cargo services of IAG Cargo to the digital space.
With this massive partnership, IAG Cargo is now listed on Cargo.one's digital air cargo booking platform gives the company access to a hefty user base of potential clients, including small and medium-scale businesses and freight forwarding agents. IAG Cargo's Managing Director David Shepherd says the company is delighted to be partnering with Cargo.one in a move that will transform the way the company does business.
In other news, IAG Cargo has reopened its lucrative Heathrow-Sydney route after this pathway was closed due to COVID-19 restrictions. Australia only recently opened its borders minimally after shutting itself out from all global aviation for two years.
With the reopening of this route, IAG Cargo can once again participate in Australia's trade relationship with the UK and Europe via air cargo. This route reopened on 27 March and will allow IAG Cargo's customers to export and import vital goods daily using a Boeing 787-9 aircraft with a carriage capacity of 13 tonnes.  
The double dose of positive news has pleased investors, who continue to snap up the IAG stock for the third day running. This Tuesday, the 4.29% uptick in the IAG share price has sent it to the 4th position on the gainers' chart on the FTSE 100 index. The march towards a third straight day of gains appears to be on course.
IAG Share Price Outlook
The intraday violation of the 143.94 resistance (24 February low and 22 March high) needs to end with a 3% penetration close above that resistance to confirm the breakout. This scenario makes the 149.72 resistance a valid immediate target. Above this level, additional price advances could target 156.40 (20 August/26 October 2021 and 23 February low), leaving 167.54 (6 January and 21 February highs) and 177.46 as potential northbound targets.
On the flip side, rejection at 149.72 truncates the upside move and could favour a retest of the 143.94 support level. A breakdown of this support leads the way towards 136.64 (16 September/9 December 2021 low) before 124.48 and 110.26 become viable downside targets on further price deterioration.
IAG: Daily Chart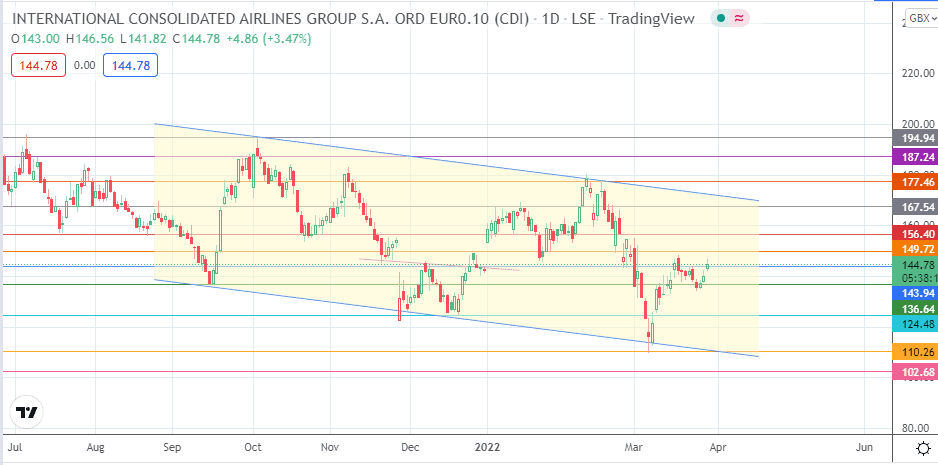 Follow Eno on Twitter.