Gold price staged a strong comeback in November after the US published encouraging inflation data. The XAU/USD pair soared to a high of 1,782, which was the highest point since November 16. It has jumped by almost 10% from its lowest level this year and it remains about 14% below its highest point in March this year. So, in this article, we will look at what to expect in 2022 and beyond.
Market sentiment
The fear and greed index is an important tool that measures sentiment in the financial market. It achieves that by looking at several gauges, including the VIX, safe-haven demand, market momentum, and put and call options.
After falling to the extreme fear zone earlier in 2022, the index has recovered modestly to the greed area of 70. Historically, gold prices tend to do well at a time when the fear and greed index is at the green area.
Gold news
Gold price tends to react to actions by the Federal Reserve. That's because, unlike other industrial metals, its price is usually not impacted by demand and supply dynamics. Instead, gold prices react to Fed actions like interest rate hikes and cuts.
In 2022, the Federal Reserve increased interest rates by 400 basis points in its bid to fight the soaring inflation. Inflation peaked at 9.1% as gasoline prices surged to the highest level on record. Recently, however, improvements in supply chains, coupled with stable gas prices have led to an ease of inflation.
In all, prices have fallen to 7.7% this year, pushing the Fed to start adjusting its rate forecasts. After hiking four straight 75 basis points increases, the bank has hinted that it will increase by 0.50% in its December meeting. As a result, bond yields have retreated while stocks and commodities have surged. The US dollar index, which has an inverse correlation with gold has also erased most of its gains.
Gold price history
In August 2020, gold price rallied to an all-time high of $2,072.85; surpassing the previous record high of $1,924.77 it hit nine years before. With the subsequent decline, the psychologically crucial zone of $2,000 has remained evasive. However, it has remained above $1,600 since rising above it at the peak of the coronavirus pandemic in April 2020.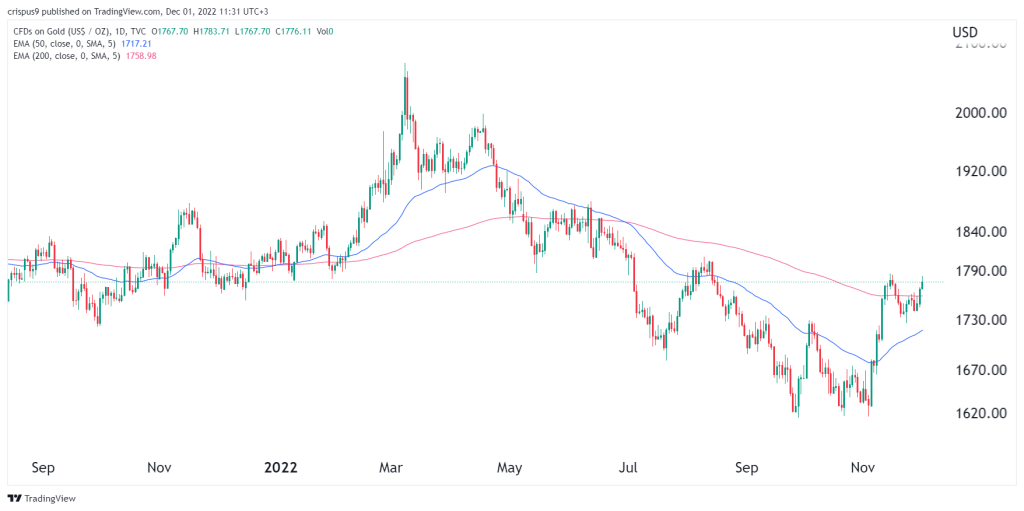 Gold price forecast 2022
Heightened volatility has impacted the stock market since the beginning of 2022. In comparison, gold price movements have been rather subtle. Nevertheless, it is still on an uptrend that began in August 2018.
Inflation is at the core of the gold price forecast for 2022. US inflation is at its highest level in four decades. The metal's status as a hedge against inflation is expected to boost its prices; giving the bulls an opportunity to retest June 2021's high of $1,916.23.
On the flip side, high volatility among risk-on assets may weigh the gold price in the coming months. If that happens, the bearish gold price forecast 2022 may place September's low of $1,720 at a feasible level.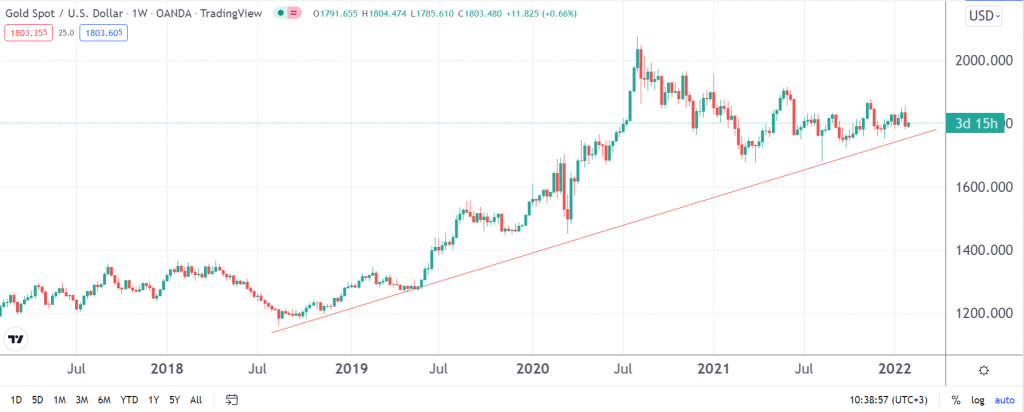 Gold price forecast 2025
Gold price forecast 2025 is largely an extrapolation of the influential factors in the current year. At the beginning of the year, Goldman Sachs indicated that the commodities bull market observed in the past year will likely continue into the current year and beyond. Indeed, the investment bank holds that the commodities supercycle will last for about 10 years.
The precious metal may reach a new all-time high of $2,200 an ounce based on this narrative. In addition, aIn addition, a tighter Fed policy and subsequent decline in economic growth will likely boost its performance as a risk-on asset.
However, even with the bullish gold price forecast 2025, competition from Bitcoin as a store of value may limit its upward potential.
Gold price forecast 2030
A feasible gold price forecast 2030 is founded on US dollar movements due to the existing inverse correlation. In the event of geopolitical tensions, gold may find some support in its status as a safe haven. However, its upward momentum may be limited by a rise in the demand for the greenback.
Over the past eight years, gold price has risen by about 60%. However, an assumption that the bull market will continue over the next eight years makes a surge of 50% viable. In that case, the gold price forecast for 2030 will be for the precious metal to hit a high of about $2,700 an ounce.
How to invest in gold
One of the viable ways to invest in gold is by buying bullion. It may be in coins or bars, certified with purity and weighthaves. Then, one can purchase or sell the physical gold to a reputable dealer. However, security reasons often lead some investors to embrace the route of futures and options.
Gold futures
Futures are a contract in which one agrees to buy or sell the financial asset at the agreed upon price before the expiry of the contract. For options, the investor has a chance and not an obligation to buy or sell the underlying instrument for as long as the contract is valid. To invest in gold via futures and options, one needs an account with a reputable financial broker. It is possible to trade in gold for a commission through the brokerage account.
Gold ETFs
ETFs and mutual funds are yet another viable way to invest in gold. A share of this financial instrument represents a specific amount of gold. One needs a brokerage account to trade in gold ETFs or mutual funds, like in futures and options.
In addition to the aforementioned ways of investing in gold, an investor can consider buying stocks of gold mining companies like Barrick Gold Corp. (GOLD) or Newmont Corp. (NEM). While the share price is usually correlated to gold price, the firm's fundamentals are also influential.
Summary
As was the case in 2021, gold's relation with inflation has mixed. In the 2022, the trend will likely continue as inflationary pressures continue to boost the precious metal. Nonetheless, an environment of higher interest rates may curb its upward potential.