EasyJet share price has collapsed in the past few weeks as demand for airline stocks ease. The stock plunged to a low of 353p, the lowest level since November 22. It has retreated by more than 17% from its highest level in November. On the other hand, Wizz Air share price has dropped by over 16.5% from its December high. In this EasyJet vs Wizz Air article, I will explain the better stock to buy.
EasyJet vs Wizz Air performance
Wizz Air and EasyJet are some of the biggest regional airlines in Europe with a market cap of £2.66 billion and £2.2 billion, respectively. The two firms have a similar operating model in that they provide their services affordably. In 2021, Wizz Air, which is now smaller, made a bid to acquire EasyJet in a move that would have created a bigger competitor to Ryanair, the biggest airline in Europe.
In terms of share price performance, EasyJet and Wizz Air have a close correlation as shown in the chart below. In 2022, EasyJet stock price pulled back by about 42% while Wizz Air dropped by more than 50%. This performance was mostly because EasyJet has minimal exposure to Eastern Europe, where a war in Ukraine is still taking place.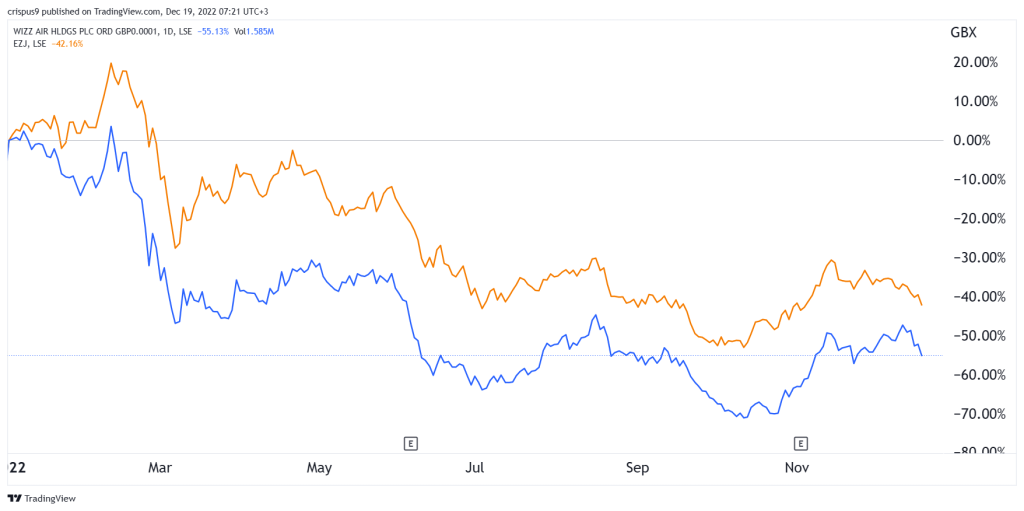 Going back in the past five years, Wizz Air has been a better performer than EasyJet. Still, like all airlines, the two companies have seen their share prices collapse by more than 40% in this period. This decline happened mostly because of the Covid-19 pandemic.
Fun fact
Wizz Air made a bid for EasyJet in 2021 in a bid to grow its western European business and cut costs. EasyJet investors have seen the value of their shares crash by over 50% since then. Had the two companies merged, their would have been going concern issues because of the significant debr load.
Strong recovery in 2022
Like other airlines, EasyJet and Wizz Air have had a remarkable performance in 2022 as the aviation demand has returned. The biggest challenge was the flight cancellations during summer and the elevated jet fuel prices.
It seems like EasyJet had a faster recovery than Wizz Air because it has minimal operations in Eastern Europe. Wizz saw its revenue for the six months to September jump by 112% to 2.1 billion euros. Passenger count rose to 26.5 million while the load factor rose to 86.9%. EasyJet had a load factor of 85.5% in its financial year.
Wizz Air lost 384 million euros in the half year while EasyJet narrowed its loss to 208 million pounds in its full year.
EasyJet vs Wizz Air: better buy
EasyJet and Wizz Air are well-known brands in Europe. The two companies are expected to do modestly well in 2023 as the aviation industry continues to recover and the cost of jet fuel. Economists expect that tourism demand will remain at an elevated level.
Still, historically, airline stocks tend to be money losers for investors. For example, the JETS ETF price has had double-digit declines in the past few years. Still, I believe that EasyJet is a better stock to invest in in 2023 than Wizz Air.