Disney stock price has had a very disappointing 2023 so far. The stock of the entertainment giant has immensely underperformed the benchmark S&P 500 index. At a time when the benchmark index of the US stock market is up 14% from its yearly open, Disney shares are still down 5% on a YTD basis.
At one point, Disney share price was up more than 32% at the start of this year. However, the Q4 2022 earnings report reversed the bullish price action, and the stock lost all of its gains in a matter of weeks. As a result, the stock is now trading 28% below its yearly highs and it has failed to show any strength.
What Is Disney Stock?
Disney is a common name for the American multinational entertainment conglomerate which is known as The Walt Disney Company. The mass media company is headquartered at the Walt Disney Studios complex in California. It is a publicly listed company whose stock has been trading since 1957.
Disney stock is trading on the biggest bourse in the world known as the New York Stock Exchange with the ticker NYSE: DIS. The current stock price is $84.47 which puts the company at a market capitalization of $154.84 billion.
Related Stocks Analysis
Disney Latest News
Disney is set to release its third quarterly earnings report. These earnings will be very crucial for the price action during the rest of this year. The stock price is showing minor gains before earnings which is an indicator that the investors are expecting somewhat positive results.
The US Federal Reserve seems to have done with rate hikes as the central bank avoided a rate hike for the second consecutive FOMC meeting. This resulted in a major bounce in US equities, which were facing headwinds from the rising bond yields. However, Disney stock underperformed its Dow Jones peers once again.
Disney Chart And Price History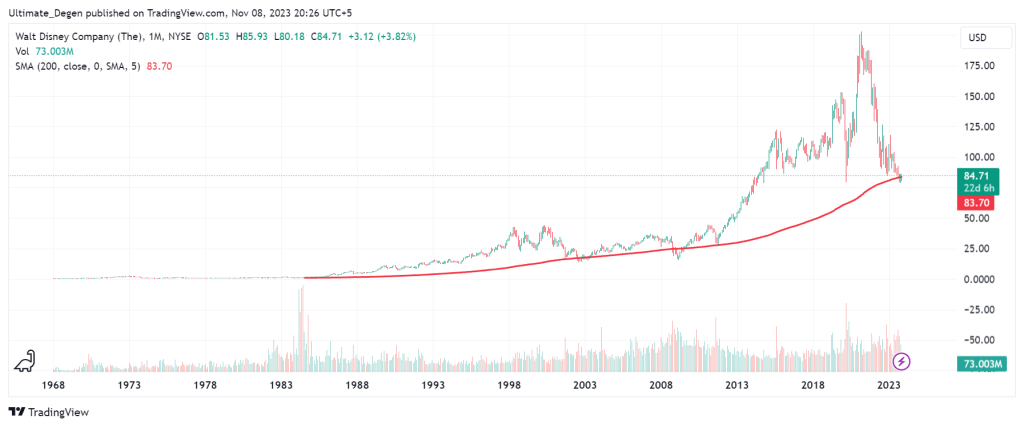 Disney Stock Forecast Today
On a shorter timeframe, the NYSE: DIS chart is not looking very bullish. Nevertheless, the bulls are trying extremely hard to defend the $78 to $86 demand zone. This demand zone has been acting as a very strong support for the past few years.
A breakdown below this zone may result in a strong bearish acceleration as this would result in the capitulation of many bulls. A lot depends on the policies of the US Federal Reserve which seems to be done by its rate hike measures in the current monetary cycle.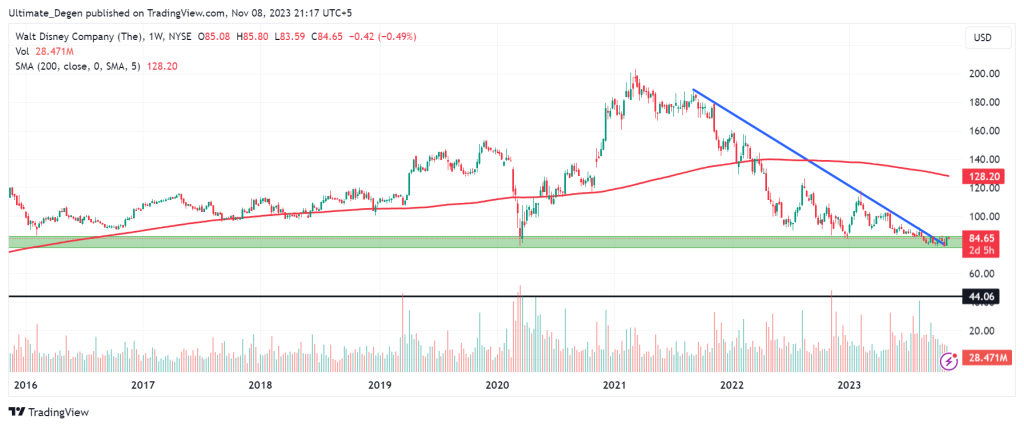 Disney Stock Price Prediction 2023
As explained earlier, Disney stock price has been disappointing in 2023, to say the least. In fact, the stock is currently trading at the same levels as in 2014. This is a very poor performance from the stock of a company that was once considered a blue chip.
Technical analysis on a very high timeframe shows that the stock has closed two consecutive months below the 200-monthly moving average which lies at $83.7.
Disney Stock Price Prediction 2025
Although Disney shares are currently trading above their 200-monthly moving average, they still have to close a month above this key level. A breakout above this MA can be considered a strong bullish reversal signal, but the stock price is currently lacking strength.
If the US Fed starts to cut interest rates before the second half of 2024, the US stocks may enter another bull run. However, in case of a strong recession, the markets may enter a prolonged slump till 2025.
Disney Stock Price Prediction 2030
It is very difficult to accurately predict the price action of any equity with a time horizon of more than 1 year. This is because the geopolitical and macroeconomic landscape could be completely different by 2030.
Any price prediction made right now will be on the basis of the current market conditions. Nevertheless, if Disney adds some new income streams to boost its revenue in the coming years, its stock may see a new all-time high before the end of this decade.
How To Buy Disney Stock?
Hundreds of online brokers allow you to directly or indirectly invest in Disney stock from the comfort of your homes. IG Prime, TD Ameritrade, Robinhood and Interactive Brokers are some of the most prominent names in the industry. You can simply make an account on these brokers and start investing right away.
How Many Times Has Disney Stock Split?
Disney has been ruling the entertainment industry for decades. Its stock has split 7 times since it began trading publicly. The first stock split occurred in 1956 and the most recent occurred in 1998. The other splits happened in 1967, 1971, 1973, 1986, 1992.
Where Will Disney Stock Price Be In 10 Years?
While the current outlook on Disney stock is not very bullish, it still appears to have a bright future. This is because the company has established itself as a household name in the past decades. Considering its price history, there is a strong chance that the price will make a comeback in the coming years.
Conclusion
Before investing in Disney you need to determine the time horizon for your investment. While Disney stock price may seem very attractive right now there could be a huge downside if the stock breaks below $78 level. Therefore, a sane approach is to wait for the price to gain some strength before taking any longterm position.
For real time analysis of Disney and other US stocks you can follow me on Twitter, where I also share my personal trades.