Nvidia (NASDAQ: NVDA) stock has become the hottest equities of 2023 due to the ongoing AI hype. Nvidia share price has outperformed most of the blue-chip tech companies this year, including the likes of Apple and Microsoft. Consequently, the stock soared to its highest level in history.
The Q2 2023 earnings report of Nvidia once again beat Wall Street expectations and took the price above the key psychological level of $500. However, the euphoria was short-lived, and the price started to have a pullback. After a major price rally this year fueled by the Ai hype, many analysts believe that the top could be already in for the chipmaker's stock.
What Is Nvidia Stock?
Nvidia is an American multinational fabless chips manufacturer that specializes in the production of graphical processing units (GPU), data science APIs, and system-on-a-chip (SoCs) units. The high-tech company is also a dominant supplier of Artificial Intelligence (AI) hardware.
Nvidia was founded in 1993 to address the computational constraints of that era with a completely different approach. The company was listed on Nasdaq stock exchange on January 22, 1999. Nvidia stock trades on the exchange with the ticker NVDA and is one of the major tech companies in the world.
Nvidia Stock Latest News
Nvidia CEO Sells $127M Worth Of Stock
According to the latest news, Nvidia CEO Jensen Huang has recently sold Nvidia shares. After his $27 million sale on 14th September, the CEO has now sold $127 million worth of Nvidia stock in the past few days. Many analysts are calling it to be a single of a local top.
Nvidia Earnings
Nvidia recently released its Q2 financial results, which revealed a revenue increase of 88% from the previous quarter. The second quarter revenue for the AI chip maker was $13.51 billion, a 101% increase from a year ago. Nvidia stock surged above $500 in the after-market, hours but the gains were lost the next day as investors took profits.
In other news, Nvidia has partnered with Google. The partnerships between the two tech giants would enable Nvidia to distribute and expand its artificial intelligence chips by leveraging Google cloud's technology.
Nvidia Chart
As visible in the following chart, after a massive pullback in 2022, Nvidia stock had a V shape recovery. Since its bottom in October 2022, the stock has soared more than 306%. This makes it one of the best stocks to hold in 2023.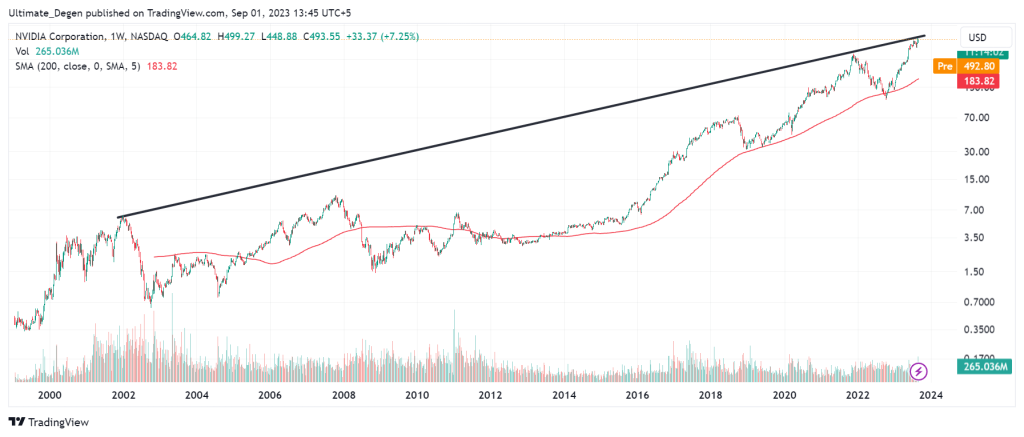 Nvidia Stock Forecast Today
Nvidia share price has been experiencing very high volatility ahead of its Q2 earnings release. After retracing from the $502.66 level, the shares are having a major pullback. Bulls need to gain strength above the key psychological level of $500 to aim for more upside.
Nvidia Stock Price Prediction 2023
The latest analysis reveals that NASDAQ: NVDA bulls are losing momentum after a record-breaking rally. NVDA stock price prediction 2023 is not looking very bullish as the shares have already surged 205% this year.
Analysts are now expecting the Federal Reserve to keep interest rates high till the mid of 2024. These economic conditions won't be supportive for the stock market. Therefore, Nvidia stock price forecast is not looking very bullish due to the limited upside. The recent liquidations from the CEO further support this argument.
You are also welcome to follow me on Twitter, where I'll keep sharing my updated outlook on Nvidia and my personal trades on the US stocks.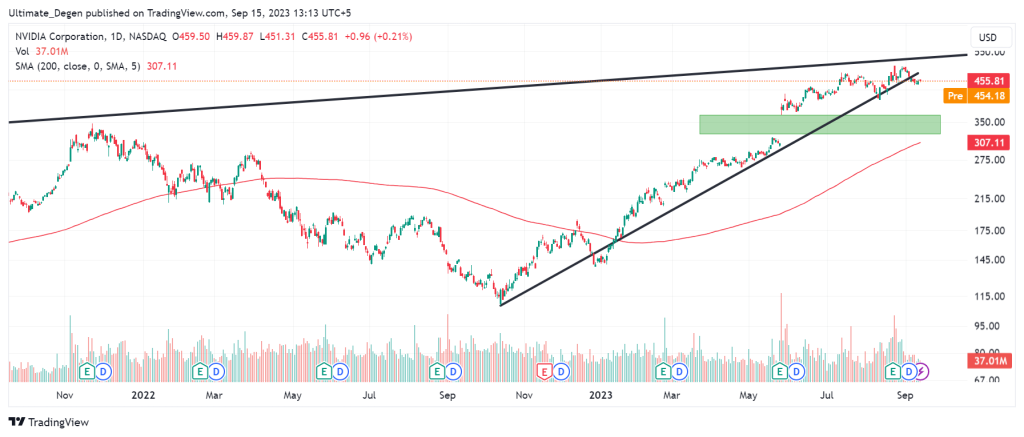 Nvidia Stock Price Prediction 2025
Due to multiple fundamental variables involved, Nvidia stock price prediction 2025 is anybody's guess. However, still we can use some advanced technical analysis to take a shot at this difficult task. A pitchfork analysis on higher timeframe is a very good indicator of a longterm trend. Performing it on the Nvidia chart, gives us a price range of $240-$528 by 2025.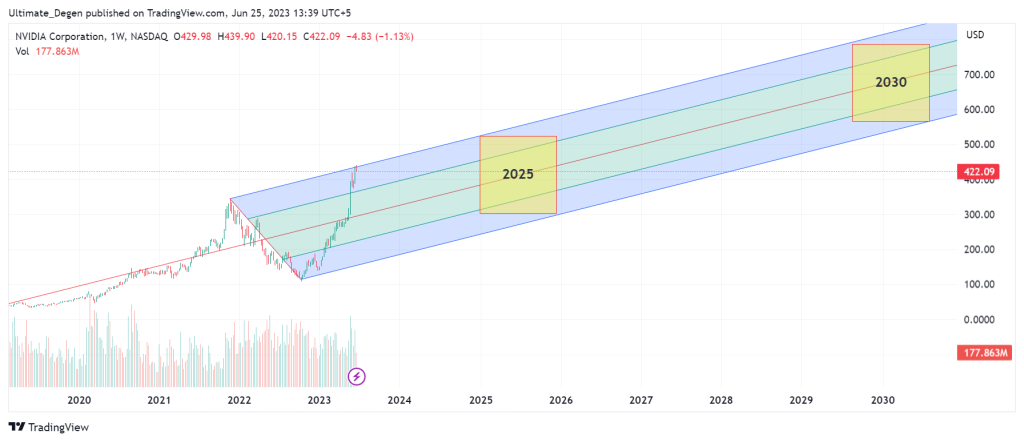 Nvidia Stock Price Prediction 2030
The same pithcafork analysis performed above, also gives us a projected Nvidia stock price forecast 2030 of $534-$818. If the AI gets a mainstream adoption by that time, then the stock could be easily above $1,000 as well. However, the macroeconomic conditions and the growing competition must also be taken into account.
Where Will Nvidia Stock Be In 5 years?
While in the midterm I expect a major correction in Nvidia shares, in the long term I'm very bullish. After a correction in 2024, I expect the stock of the chip-making giant to perform well beyond 2025.
How Much Will Nvidia Stock Be Worth In 10 years?
Considering the longterm uptrend on Nvidia stock chart, the stock could be trading at $1000. A more conservative price target will be $700. Both of these price targets are 30-60% above current price level. However, the global economic conditions and the shortage of semiconductors will remain key challenges for the company and must be taken into account.
Why Is Nvidia Stock Dropping?
After hitting an all-time high of $437, NVDA stock is currently having a pullback. The bearish divergence on the Relative Strength Index (RSI) was already predicting this move. The rally which began after the Q1 earnings report appears to be losing momentum after posting 43% gains.
When Does Nvidia Stock Split?
Since getting listed on NASDAQ stock exchange in 1999, Nvidia stock has split five times. The most recent stock split occurred in July 2021 when the stock split 4-to-1. The other four splits happened in 2000, 2001, 2006 and 2007.
How To Buy Nvidia Stock?
You may invest in Nvidia stock in multiple ways. There are many online brokers where you can sign up and buy Nvidia stock within a few minutes. A few big names in the brokerage industry include, Fidelity, Interactive Brokers, Robinhood, IG Prime etc.
How Much Did Nvidia Stock Increase This Year?
Since the start of 2023, NVDA stock has surged by more than 183%. This makes Nvidia stock, one of the best performing tech stock of this year. The latest financial report of Q1 2023, triggered an exponential run which took the price to its new all-time high.
Conclusion
Even though NASDAQ: NVDA is surging like there's no tomorrow, NVIDIA stock price prediction for this year is not looking very bullish. I expect at least a pullback to fil the $306-$366 gap in the coming months. If you are looking to invest in Nvidia for a long term, there could be much better entry points in later this year.
I'll keep sharing updated Nvidia forecast and my personal trades on Twitter where you are welcome to follow me.