Pi Network has come up with a totally different approach to launching a cryptocurrency project. Unlike other projects, Pi coin won't launch via an ICO, IDO, launchpad, or an airdrop. Instead, the coins can be mined right now via Pi Network app without any mining equipment.
Pi coin holders are getting anxious as Pi Network remains in an enclosed mainnet. Many users can be seen criticizing the project on social media. However, the team maintains the stance that the enclosed mainnet is necessary to eliminate all the shortcomings before the public launch.
What Is The Current Price Of Pi Coin?
The Pi coin was created by a team of Stanford graduates and was launched in 2019 on Pi Day, 14 March. A free Pi mining app was also provided during the launch, which enabled users to mine the crypto on their phones. Till now Pi coin value is not known as the network hasn't launched any coin yet.
By June 2019, the crypto had already amassed more than 100,000 active users. By February 2020, the user base had grown to over 3.5 million active users. Today, the network has over 29 million active users, more than double its number of users in March 2021.
To protect its scarcity, the crypto undergoes halving, which is the number of coins awarded for processing a transaction. For instance, the Pi network halved from  1.6 π when it reached 100,000 active users. The process repeated when it reached another milestone of 1 million active users and again when it reached 10 million users. It will continue with the halving process until it reaches zero, when the number of active users will be 1 billion.
Pi Network Mainnet Keeps Getting Delayed
The holders of Piocoin, also known as Pioneers, are anxiously waiting for the launch of the full mainnet. The much-anticipated blockchain was expected to go live in 2022, but it remains in its closed mainnet as of September 2023. This situation has resulted in a major backlash from the community with many holders selling their coins in the unofficial P2P markets.
Pioneers can now view the transactions on the Pi Testnet and Pi Mainnet blockchain via Pi Block Explorer. The explorer lists all the transactions occurring on both networks in real-time. In addition, users can also check for a particular transaction or an account balance by using the in-built search function.
Millions of Pi enthusiasts have been mining Pi coin for years. These users are eagerly waiting for the full launch of Pi mainnet, which will add a lot of value to the Pi ecosystem. To accelerate the development, the team is supporting the upcoming projects that want to launch on the new Pi Network blockchain.
When Will Pi Coin Be Listed On Exchanges?
Since its launch, users have been constantly mining Pi coins on their mobile phones. After accumulating thousands of coins, many such holders are looking for ways to cash out. However, this won't be possible until the launch of the Pi mainnet, which may take a lot of time. The exchange listing of Pi coin derivatives has further confused these holders.
However, there are still ways to gain exposure to the future price of the Pi coin. Recently, some exchanges have listed derivatives known as IOU contracts. These contracts allow the traders to speculate on the Pi coin price. However, it is worth mentioning here that the real price of Pi coin is not known yet and these pairs don't provide the ownership of the real tokens.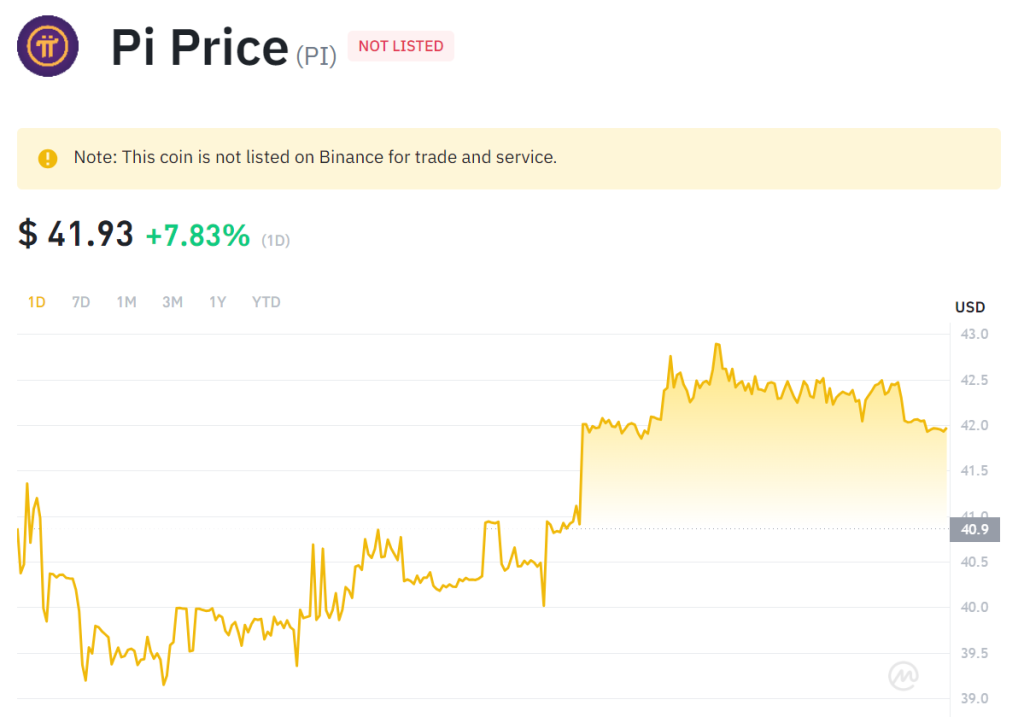 How Can You Sell Pi Coin?
As mentioned earlier, the Pi coin is not tradable yet. Due to the huge hype about the project, many crypto exchanges are waiting for the full mainnet release to list Pi Network. Currently, it is up to the project team when to launch the full version of their blockchain. However, many users are still selling their coins via different P2P methods.
It seems that the team is deliberately delaying the full mainnet release. Many industry analysts believe that the project is already generating very good revenue from the daily traffic on Pi Network app. A launch of the mainnet may divert all this traffic to the blockchain, depriving the project of significant ad revenue.
If you are eagerly waiting to sell your Pi coins, then I'll let you know when your coins are tradable. For this, you are welcome to join my free Telegram, where I post daily updates on cryptocurrencies and stocks.
In other news, Pi Network has announced a prize of 10,000 Pi for the winners of the recently concluded hackathon. The announcement was made via a Twitter post. The names of the winners have already been shared on Twitter.
Pi Network Latest News
Pi Network is working to expand its ecosystem. The project has recently come up with the Developer Ambassador Program. The program rewards anyone with 1000 Pi coins for onboarding new developers to the Pi mainnet. This initiative may accelerate the development in the coming months.
The base mining rates have adjusted once again in August 2023. The mining rate adjusts at the start of every month, reducing the mining rewards of Pi coin. However, there are several other tools by which Pioneers may still enhance their daily rewards.
In other news, the e-commerce platform on Pi Network, known as Pi Chain Mall, has become the media partner for the Hong Kong Web 3 festival. The festival will feature 10,000 participants and a diverse set of speakers from the whole industry. The project has also partnered with EduGPT, which is a powerful AI bot for academia.
Pi Network was recently offered a Blockchain & Crypto track at the HankNSUT event in India. The event featured students and professionals from over 350 universities. In the hackathon, students coded in Blockchain, Finance, and AI themes.
The project was launched four years ago on Pi day. Just recently, Pi Network celebrated its 4th anniversary on 14th March 2023. On this occasion, the cofounder, Nicholas Kokkalis, shared product releases and some other ways by which the community can contribute to the project's success.
Adoption
Currently, Pi Network is one of the biggest crypto communities on Twitter. The project is supported by a loyal community of enthusiasts who are eagerly waiting for the full release of the mainnet. The project has attained more than 2.5 million followers on Twitter/X. The number of network participants has hit 47 million.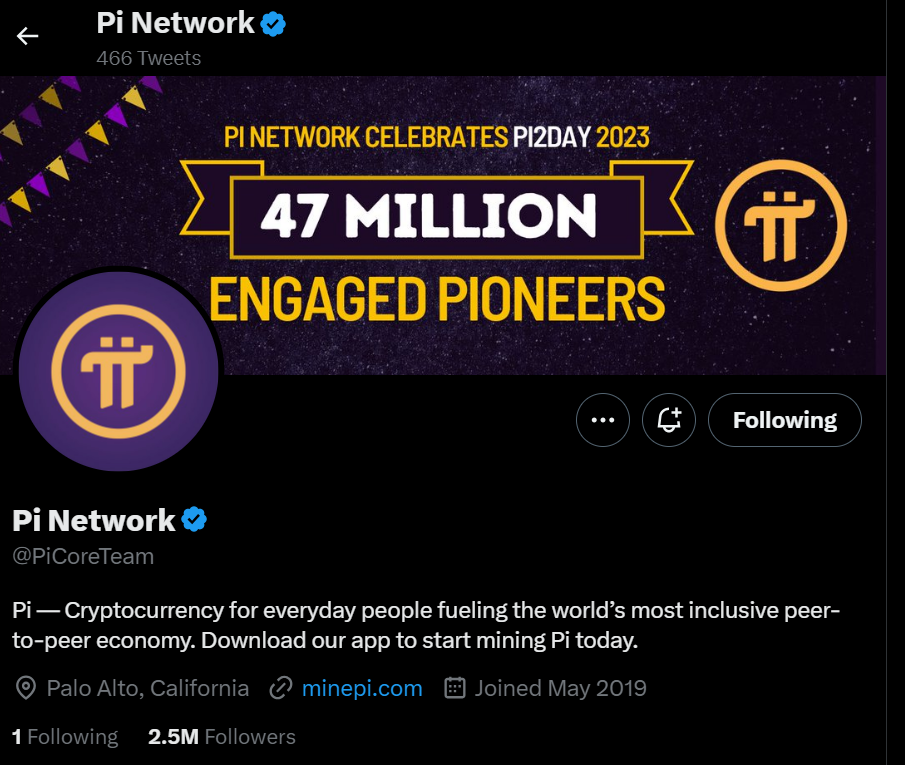 Similarly, its main app has been downloaded by more than 50 million people, making it one of the most popular apps in the crypto industry. The Twi

The social media following is the backbone of any crypto project. Pi Network is currently followed by 4.7 million across different social media platforms. Such a big community can be attributed to the project's great referral system and good marketing.
Mining Pi Coin is pretty simple and can be done by using any mobile phone. Users just need to download the Pi network app and tap on the screen every day to receive their rewards. This is very different from Bitcoin mining, which requires sophisticated equipment to provide hash power to the network.
What consensus mechanism does pi coin use?
Pi Network uses the Stellar Consensus Protocol (SCP). This Consensus Protocol is different than the widely used proof-of-work (PoW) and has also been a major selling point to its users. The consensus mechanism allows transaction validation on a distributed ledger to be executed by order, increasing its scalability and rate of transactions per second.
Another cryptocurrency called Stellar Lumens already uses Stellar Consensus Protocol (SCP). In Stellar Lumens network, most of the nodes are being run by big organizations like IBM. However, in Pi Network, all the nodes will be run by individual users.
Users would be able to use their devices like mobile phones, laptops, and tablets to run a Pi Network node. This can theoretically create a much more robust and decentralized network while also ensuring high scalability.
Pi-USD 4H Chart – Houbi Exchange
Houbi was one of the first crypto exchanges that launched Pi coin IOU contracts in December 2022. After an initial surge to $264, the pair has been in a tailspin since then. The current price of $34.27 also seems to be overvalued considering the huge circulating supply of Pi coin.
It is quite evident from the following chart that the Pi/USD pair has been in a downward spiral since its listing on Houbi. Currently, the pair is trading at 38.19 which is far from reality. Considering the fact that millions of users are currently holding Pi coins, such a high price is unlikely to be achieved once the real coins start trading.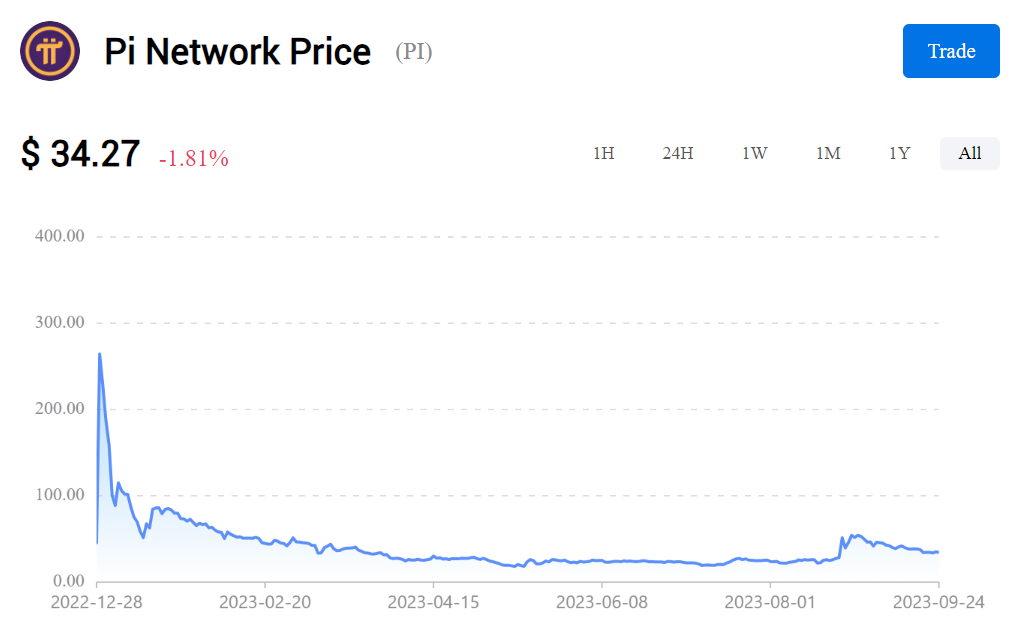 Pi Coin Price Prediction 2023
The Pi coin is expected to launch its mainnet soon, which will mark a significant milestone in getting listed in decentralized exchanges.
Many experts predict that Pi coin will be listed on several decentralized exchanges by the second half of this year, allowing traders and holders to convert their coins to cash.
But what will be the price of Pi coin when it finally launches? To answer the price of Pi coin when it starts to trade this year and my general Pi price prediction for 2023, I will use several concepts that help explain why cryptos increase or reduce in price.
The first concept I will use is supply and demand; regardless of whether you are dealing with the Fiat currency or cryptocurrency, oversupply of currency results in depreciation in prices. Therefore, assuming that the supply will be billions at the launch of Pi coin, the resulting prices of the cryptocurrency will be worth pennies. This puts all the dubious price speculations above $1 to rest. Pi Coin price of more than a few pennies would make it extremely overvalued due to its very high circulation.
Pi Network Usecase
The second concept determining how much Pi coin will be worth is its long-term usability. Today, most cryptocurrencies have a premise of solving real-world problems, which has led to people using these cryptos. For example, take the case of Ethereum, which promises to decentralize the financial institution. But, again, these are real-world problems that are getting real-world solutions.
However, this is not the case, as seen with some cryptocurrencies such as Shiba Inu and Dogecoin, which were created as jokes and serve no purpose at their core. Instead, these types of cryptos rely on influencers and high-profile people to market them for them to gain prices. Although Pi network team has mentioned a lot of use cases for the coin, most of them are yet to see the light of day. Therefore, only time will determine the true usability of this new cryptocurrency.
The third and last concept I will use for my Pi Coin price prediction for 2023 is how the combination of the previous two factors interact, how the supply and demand and the crypto usability affect clients' willingness to invest in the project. For instance, the project may have high usability but still fail to launch at a higher price because of oversupply or lack of demand.
With all these factors in mind, my Pi coin price prediction for 2022 is the crypto will launch below a dollar. Based on observations of other similar cryptos, I estimate that the prices will launch at around $0.2 to $0.5.
Pi Coin Price Prediction 2025
As stated in my Pi coin price prediction for 2023, I expect the crypto to launch in the second half of 2022 at around $0.2 to $0.5.
Based on the implementation of technologies such as The Pi Network's use of Stellar Consensus Protocol (SCP) and millions of users already using the coin, my Pi price prediction for 2025 indicates that the coin will be bullish from 2023 to 2025. As a result, I estimate that the crypto will be trading at above a dollar by 2025. Of course, this is a conservative estimate, but based on my experience with other similar crypto's, I expect it to at least range from $1 to 1.5 by 2025.
Pi Coin Price Prediction 2030
While true that it is almost impossible to predict what will happen to the Pi coin in 2030 since it has not yet started trading, we can still speculate its value during that time.
My Pi coin price prediction for 2030 is based on factors listed in my previous prediction. My conservative estimate is the crypto will be trading at around $5. By this time, the halving cycles will have made it harder for the new Pi coins to be mined, but billions will still be available. Therefore, I don't expect the crypto to be above $5 by 2030.
IS PI Coin a Scam?
One of the questions that come up a lot by investors looking to invest in Pi coin is whether the crypto is a scam.
To be fair, it is a very genuine question that needs to be asked because, unlike other cryptocurrencies, Pi coin is currently not exchangeable anywhere. There is also the question of why the project has been delayed so much before getting launched on exchanges.
Today, many investors of the Pi coin have no tangible benefits (for now), and the value attached to the crypto is more speculative than objective.
However, based on my observation of the project, I am of the opinion that PI coin is a genuine project. This is because creators have already promised to release it in decentralized markets by the second half of this year.
The project also has one of the biggest communities today. Its creators have never shied away from answering these community members, indicating a willingness to move the project forward.
In its short years of existence, the project has also not displayed signs of being a scam. This is an indication that the PI coin is a genuine project.
Is Pi Coin a Good Investment?
Investing in Pi coin, for now, is purely based on speculative analysis and not the usual fundamental and technical analysis.
Although my analysis is super bullish, speculative analysis is highly risky, and there is a high probability that the prices will not pun out as predicted in my analysis. Therefore, investing in Pi coin comes with huge returns on investment and can also result in huge losses that wipe your investment.