Mullen Automotive (NASDAQ: MULN) stock price has been in a strong bearish trend in the past few years. The shares plunged to an all-time low of $0.182 in 2022, which was over 70% below its all-time high. It has underperformed other EV stocks like Tesla and Nio in 2023 as the stock has plunged by over 32% from its YTD high.
What is Mullen Automotive?
The automobile industry is changing rapidly. One area that is being disrupted is in the types of vehicles sold. Data shows that 10% of all new vehicles sold in 2022 in the United States were electric vehicles. Another change is in China, where domestic brands have gained a substantial market share in the past few years.
Mullen Automotive is one of the many EV companies that seeks to become a better alternative to Tesla and other EV companies. It is building its vehicles in California. It is also doing research on solid-state battery technology that will produce better batteries if successful. Mullen also runs CarHub, a platform for buying and selling cars.
Further, Mullen Automotive has also been relatively been acquisitive. In 2022, the company acquired Electric Last Mile Solutions (ELMS) in a $240 million deal. It also bought a 605 stake in Bollinger Motors, a company that manufactures electric trucks.
Mullen is building several cars, including Mullen FIVE, Mullen FIVE RS, Mullen Class 1 van, Mullen Class 3., Bollinger B1 and B2, Bollinger I-GO, and Bollinger B4 platform
Latest MULN news
The most recent Mullen Automotive news was that the company received a major order from Randy Marion Isuzu. The order, which is worth about $200 million, will be for its Class 1-3 cargo van and for Bollinger Motors Class 4-6 chassis products. It will be fulfilled from the company's plant in Mississippi.
Meanwhile, the company made key hires in a bid to strengthen its business. They include individuals like Jerry Hu, who will become the company's president of commercial vehicles and Raj Pai, the chief engineer of commercial vehicles. In a statement, the company said:
"Strategically, we have been adding very strong expertise coming from tier 1 suppliers, traditional OEMs and other EV start-ups. It's very encouraging to see so many strong candidates reach out to us, looking to join the Mullen team."
Another important Mullen Automotive news was that the company announced a partnership with Loop. Loop is an EV charging company that aims to build thousands of charging points in the US. It will support level 2 and level 3 DC fast charging. As part of the deal, Loop will provide up to $300 million in financing.
Further, in November, the company reached a deal with Newgate Motor Group, an Ireland -based company. The agreement will see Newgate become the company's marketing, sales, and servicing agent in Ireland and the UK.
Why did Mullen stock crash?
There are several reasons why the Mullen stock price plunged in 2022. First, the decline was in line with that of other companies that went public through a SPAC model. A SPAC is a blank-cheque company that merges with an existing company. It is an ideal way to bypass traditional IPOs and direct listing. Most companies that followed this model, including Virgin Galactic, SoFi, OpenDoor, and Clover Health crashed.
Second, Mullen Automotive stock price plunged after a famous short-seller published a scathing report on the company. Hindenburg Research warned that Mullen had significant challenges and accused it of being a fraud. Also, the report accused the company of rebadging Chinese vehicles and selling them as its own.
Third, Mullen stock plunged in sync with other EV companies. For example, Tesla stock price plunged by more than 70% in 2022. Other EV stocks like Rivian, Lucid, and Nio all plunged as growth in the industry waned. Tesla as forced to make several price cuts as demand waned. Further, rising interest rates and a broader revaluation of American stocks contributed to the sell-off.
Will Mullen Automotive go bankrupt?
Another concern for the MULN stock price was the rising bankruptcy risks. Besides, we have seen many EV companies fail in the past few years. A key concern is that Mullen is burning cash at a rapid pace. In 2022, the company lost more than $740 million. This was a big increase from the $44 million that it lost in the previous year.
Mullen Automotive has seen its cash dwindle as losses rise and as its acquisitions rise. It now has about $54 million in cash. Therefore, there is an elevated risk that the company will go bankrupt in the next few years as its losses mount. Before that, the company will attempt to raise cash by selling its stock.
Is Mullen Automotive a good investment?
We believe that MULN stock is not a good one to invest in for several reasons. First, the company has no proven technology. This means that investing in it is hoping that it will do well in the future and that its technology will work.
Second, Mullen is a cash incinerator that is burning millions of dollars per month. As mentioned, this means that there is an elevated risk of the company going bankrupt in the coming years. Third, Mullen has a chequered history. For example, the firm initially wanted to build an electric saloon. They then wanted to introduce China's Qiantu K50 to the US. It has now moved to delivery trucks and other vehicles.
Further, as I wrote in my Rivian stock price forecast, I am skeptical about the future of EVs in the US. I believe that Internal Combustion Engine (ICE) cars will continue having a market share. Finally, building an EV company needs billions of dollars because of things like recalls.
MULN stock price forecast 2023
The daily chart shows that the MULN stock price has been in a strong bearish trend in the past few months. The sell-off has waned slightly recently as inflation has eased and after Tesla published strong financial results. It is consolidating at the 25-day and 50-day moving averages. Also, it has moved below the descending trendline that is shown in green. 
Therefore, the Mullen Automotive stock will likely continue falling in 2023 as its cash burn increases. If this happens, the next key support level to watch will be at $0.15. A move above the resistance level at $0.47 will invalidate the bearish view.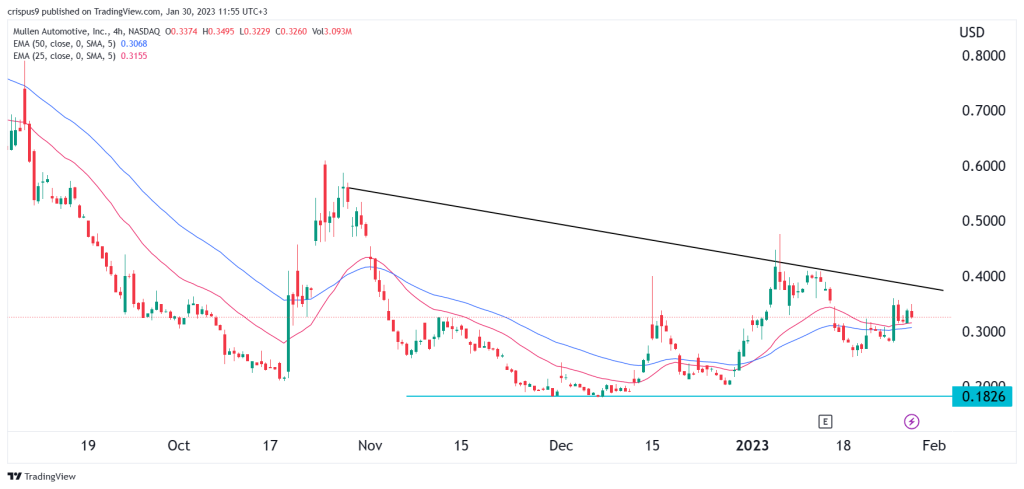 MULN stock price forecast 2025, 2030
As mentioned above, I believe that Mullen Automotive will have gone bankrupt by 2025. The company is burning too much cash at a time when interest rates are rising. If it won't have gone bankrupt, it will have diluted shareholders severely by raising cash. For one, as we have seen with companies like Tesla and Rivian, ramping up production for EV cars is a capital-intensive process. As such, the company will likely need to raise billions of dollars in the coming years.