Since its November 2021 IPO, Rivian stock price has been in a downward spiral. While many analysts are calling it a classic bubble-burst, some still believe in the long-term vision of the company. In this article, we'll take a shot to predict the future price action of Rivian stock and determine if Rivian is a good buy at the current price.
What is Rivian?
Rivian is an American electric vehicle and adventure travel firm that designs and produces electric cars. It was Founded in 2009 and is located in Plymouth, Michigan. Rivian has attracted substantial investment from Amazon and Ford, among others, and aims to become a leader in sustainable transportation.
The production of its initial offerings, the Rivian R1T truck and the Rivian R1S SUV, started in late 2021. In the long run, Rivian intends to provide mobile adventure gear and expand to a global market.
Rivian Stock Symbol
In September 2021, Rivian started delivering its R1T pickup truck. This was a massive moment for the company and an edge over its competitors like Ford and Tesla. It was the first ever completely electric pickup truck. Shortly after this feat, Rivian had a successful IPO in November 2021 at a $66.5 billion valuation. Rivian IPO price was $78, and the stock was listed as an RIVN symbol on Nasdaq.
Rivian Stock Fidelity
In July 2021, Rivian closed its private funding round with a $2.5 billion investment. This round was led by corporate giants like Amazon, Ford, and D1 Capital Partners. Other participants included Fidelity Management & Research Company, along with a few other capital management firms.
Rivian Latest news
According to the latest Rivian news, the company is about to lay off 6% of its employees. The reduction in the workforce comes at a point when the recession seems inevitable. Rivian's strategy is to conserve its cash in a high-inflation environment and lower sales.
Rivian Stock Price Today
RIVN is trading at $19.24 today. Rivian stock price is 4.77% down from yesterday. This is a significant correction from its recent high of $22.09. If you're wondering who owns Rivian, then you should know that the majority of the electric carmaker's stock is owned by institutional investors (62%). The remaining Rivian stock is owned by the company insiders.
Rivian Stock Price Prediction 2023
The price of Rivian stock has recovered slightly since the start of 2023. Nevertheless, RIVN is still trading 53% below its 2022 high of 40.86. The price has lost most to its January 2023 gains after getting rejected from $22.09 level.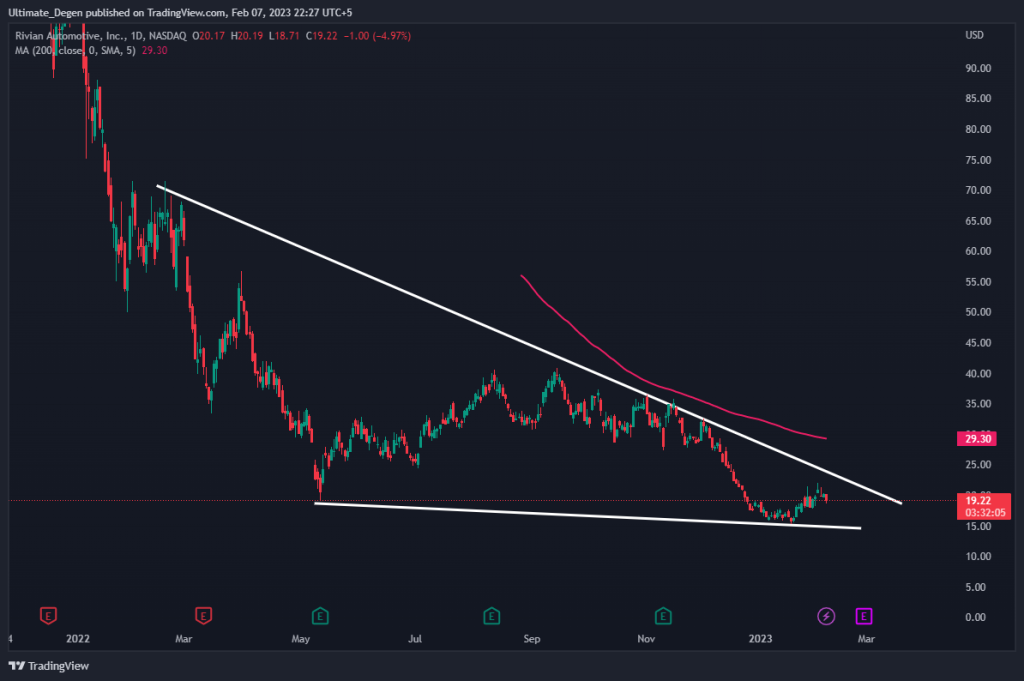 IF the uptrend in equities continues, then our Rivian stock price prediction of $28-$29 seems reasonably achievable. This prediction comes from the confluence of December 2022 high and the 200-day moving average. However, the macroeconomic situation also seems to be favorable. Therefore, a recession in US economy would invalidate this price prediction.
Rivian Stock Price Prediction 2025
After a successful IPO in 2021, Rivian targetted a production of 15000 vehicles by the end of 2022. However, the company fell short of this target and was able to produce only 24,337 vehicles by December 2022. The company still has more than $13 billion in its cash reserves.
With Rivian's latest production capacity, the EV maker will produce slightly more vehicles than last year. I expect the stock to trade sideways til 2025 without any significant price increase.
Rivian Stock Price Prediction 2030
Many analysts expect a new all-time high in US equities by 2030. Although the asset prices in 2030 could be anybody's guess but considering the current growth of Rivian Automotaive, Inc. we can take a shot. If the company keeps adding new vehicle categories in its portfolio, then I expect the Rivian stock price to retest its IPO price of $78 before 2030.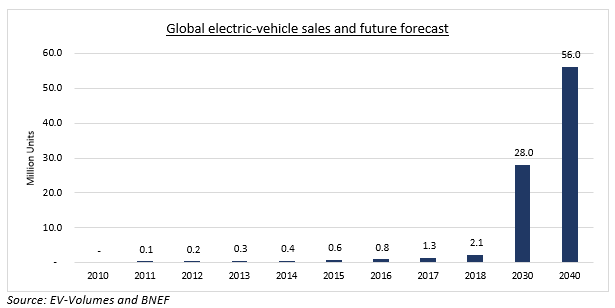 Rivian Stock Price Prediction 2040
A lot can happen in the world till 2040, therefore, it's very difficult to predict RIVN stock price 17 years from now. Wars, famines, recessions, and hyperinflation are like slow poison for any business. If Rivian evades all of them and keeps growing then I expect it to give Tesla a tough time by 2040. Many people are already comparing Rivian R1T with Tesla cyber truck.
Is Rivian a good investment?
Rivian stock has already plunged 90% from its November 2021 peak of $179.47. It is highly unlikely that the price can have a similar downward rally in the near future. Therefore, I consider Rivian a good investment for at least a short term in anticipation of a relief rally.
How to buy Rivian stock?
If you're wondering how to buy Rivian stock, then you should know that it is listed on the Nasdaq stock exchange as RIVN. You can also invest in Rivian stock CFDs and derivatives on different platforms like eToro and Robinhood. The current price presents a good buying opportunity as Rivian was very overvalued at its IPO. Its IPO valuation made it even bigger than Honda and Nissan.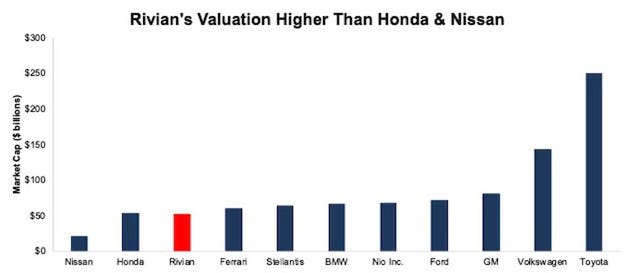 Should I buy Rivian stock?
If you believe in Rivian's vision and consider its technology better than Tesla, then Rivian stock at its current price could be a nice buy. However, the stop loss must be kept under January 2023 low of $15.28. The company will announce its Q4 2022 earnings on 28th Feb. A positive earnings report can send the stock price above $25, however, a significant drop in revenue could make things really ugly.
How much is Rivian stock?
Rivian stock is worth $19.24 right now. Due to the recent correction in US equities and increased interest rates, Rivian price has lost 90% of its value since its all-time high of $179.47. The current market cap of Rivian Automotive, Inc. is 18 billion. At its peak, the company was valued more than $100 billion. The 2022 Rivian R1S adventure model price starts from $78,000 and the base Explore model costs $72,000.
When can I buy Rivian stock?
You can buy Rivian stock at the current price as it has very little downside but massive upside potential. This provides a great risk to reward ratio, which investors often consider before investing in any stock. Tesla's current market cap is $597 billion, therefore, Rivian at $18 billion market cap, seems to be a great buy.
What is Rivian stock trading time?
As mentioned earlier, Rivian stock trades on the NASDAQ stock exchange, which is the second largest exchange in the world. NASDAQ trading hours are 9:30 am to 4:00 pm Eastern Standard Time and no trades take place over the weekend. Rivian is listed on the exchange under the ticker symbol RIVN.