Nio (NYSE: NIO) stock price has remained very volatile since the start of 2023. After a 38% price surge in January, NIO shares reversed and dipped to $8.03 in March 2023. This was the lowest level for the stock price of the Chinese EV maker since June 2020.
After a drop in March, NIO stock (NYSE: NIO) showed a great recovery but couldn't gain strength above the key psychological level of $10. The Chinese EV market is expected to do good this year as the industries open after years of lockdown and restrictions. The ongoing price drop war among the competitors might also give sales a much-needed boost.
Nio vs Tesla
Nio and other EV companies have struggled in the past few months for several reasons. First, there are concerns that the EV industry is getting crowded. There are hundreds of companies in the industry, like Li Auto, BYD, and Xpeng, that are building electric vehicles. As such, investors are worrying about demand in the industry since Nio manufactures premium cars.
Second, there are concerns about Nio pricing power now that well-known brands have started lowering their prices. This means that Nio could be forced to follow the trend in the coming months, which will hit its margins.
In fact, NIO has already started to offer incentives to its customers. However, these incentives have more to do with phasing out the first-generation stock than competing with its rivals in price cuts. The company intends to make the complete transition to its second-generation platform NT 2.0, by accelerating the sales of its old stock.
Nio Stock News
According to the most recent NIO news, the company is planning to stop providing free home charging points to its buyers. Therefore, from June 1, the new buyers will have to pay for home charging points. The top Chinese EV brand also intends to reduce the number of free battery swaps from 6 to 4 per month.
NIO Inc. recently released its unaudited financial results that cover Q4 and the whole of 2022. According to these results, NIO delivered 40,052 vehicles in the Q4 of 2022. This was a quarterly increase of 26.7%. In Q4 2022, the company's revenue surged to RMB 16,063 million, which was 62.2% higher than NIO's 2021 profit during the same quarter. A total of 122,486 vehicles were delivered during 2022, which was a 34% increase from 2021.
In January 2023, NIO delivered a total of 8,506 vehicles. These deliveries included 2,190 SUVs and 6,316 Sedans. As per the latest stats from the company, till January 2023, NIO cumulative deliveries reached 298,062. During the Chinese new year, the company completed 1 million power swaps.
NIO Bets Big On Next-Gen Battery-Swap Stations
As per the latest NIO stock news, the company is accelerating the development of its network of battery swap stations. This is expected to increase the revenue of the Chinese EV maker significantly. The company has rolled out around 10 of its next-generations battery swap stations in China. These charging stations could be ideal for long-distance travelers while also boosting the company's revenue.
It is worth mentioning here that NIO is only one of the few electric vehicle manufacturers betting big on battery-swapping technology. Tesla CEO Elon Musk has already discarded the idea after some consideration. Nevertheless, NIO still remains optimistic about the future of the technology and intends to expand its battery-swap network globally.
NIO Expands In Europe
Nio (NYSE: NIO) is also expanding its business in Europe. It has already opened a battery swap station in Germany, where it expects to gain market share. The company has also launched two swap stations in Norway, one of the biggest EV countries in the industry. The company has established more than 10 NIO battery swap stations in the EU.
By the end of this year, the EV company plans to have 120 power swap stations in the region. By 2025, Nio hopes to have over 4,000 battery swap stations globally, with over 1,000 overseas. It is significant to note here that the power swap idea was discarded by Elon Musk in 2015. Nevertheless, the Chinese EV maker NIO adopted this mechanism which has significantly increased its spending.
NIO Quarterly Financials & Profitability
NIO recently released the financial results for Q4 2022. According to this report, it incurred a net loss of 5,786 million Yuans during the 4th quarter. This was a QoQ increase of 170%. NIO stock price got hit badly by the news as its downtrend intensified. The quarterly financials also showed an adjusted net loss of RMB 5065 million.
In 2023, NIO aims to double its sales. The company will also be increasing its vehicle lineup from six to eight models. The addition will help boost sales amid growing competition. In his recent comments, NIO CFO Steven Feng seemed confident in achieving this year's sales target.
We are very confident to achieve our sales target in 2023,

Steven Feng – NIO CFO
NIO (NYSE: NIO) is also spending a lot on its R&D as compared to its competitors. In 2022, the company's R&D spending remained at 20% of its revenue. However, its notable competitors like XPENG and Li Auto only spend 17.9% and 15.2%, respectively.
Will Nio stock go up?
There are several factors that could drag the Nio stock price lower in the coming months. First, competition in the EV industry is growing rapidly recently. Nio is now competing with more than 400 EV companies in China. Some of the top competitors are BYD, Li Auto, and XPeng. This means that, ultimately, the company's growth will slip in the coming months.
Further, from a technical perspective, the stock has been in a strong sell-off in the past few months. It also managed to crash below the important support level at $11.71, which was the lowest level in May this year. Therefore, it seems like there is a bearish momentum, which will make it difficult for the stock to bounce back any time soon.
Recently, Audi defeated NIO in court over the naming of its vehicles. The court in Munich gave a verdict that the NIO vehicle names were too similar to those of Audi. These names included NIO SUVs ES6 and ES8, which were too similar to Audi's names for S6 and S8 models.
Nio Share Price Technical Analysis
The following NIO (NYSE: NIO) chart reveals key levels of support and resistance that the price has respected in the past. Two of the most critical levels are the $9.6 resistance and the $8.35 support. Recently the stock broke above $10 but failed to gain strength above the major psychological level.
In the near term, I expect a pullback in NIO shares from their current level. However, in event of a reclaim of the $10 level, the next target will be the $13.20 level which is January 2023 high and the next major resistance. If NIO stock breaks below its April low of $8.75, then it may retest the $8.35 level once again.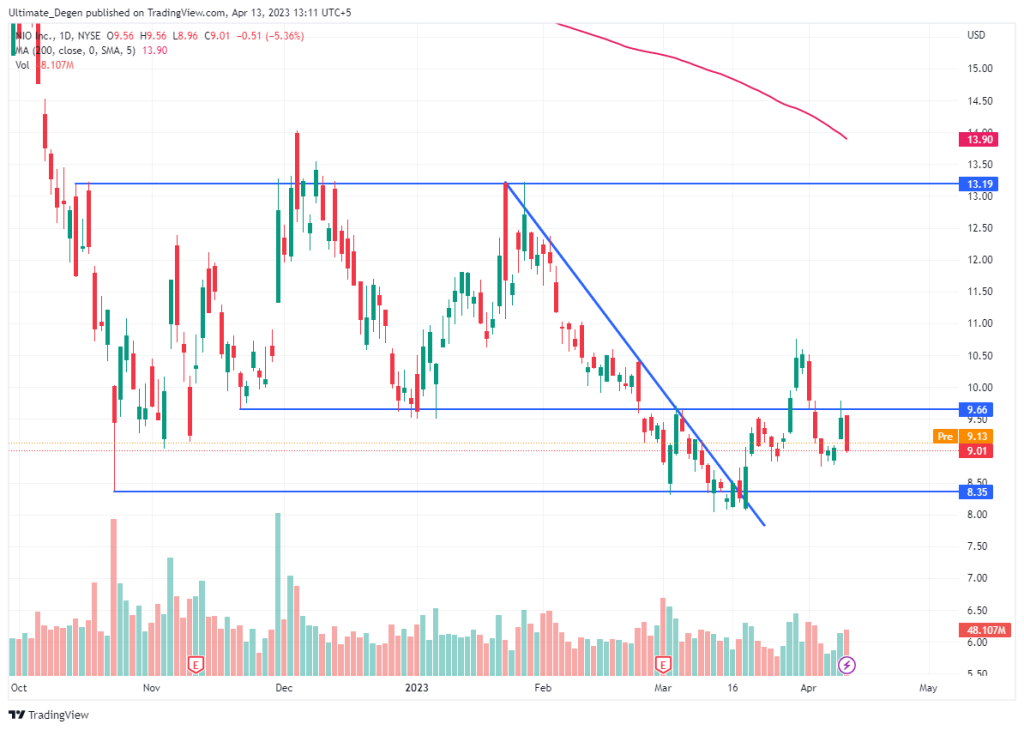 Nio stock price forecast for 2023
2023 has started with a great reset for electric vehicles. Most of them, including Tesla, have seen their share prices slump by double-digits.
Analysts have mixed feelings about the Nio stock price. Data compiled by Marketbeat shows that the average target for the stock is $22, which is substantially higher than the current $9.99.
Some of the analysts bullish on the Nio stock price are from China Renaissance, Mizuho, Jeffries, Deutsche Bank, and UBS. Most of these analysts have a buy or hold rating on the stock.
Another broader look by most analysts shows that most of them are bullish on the stock. In addition, data compiled by Tipranks shows that the target for the stock is $16, which is also higher than the current level.
Meanwhile, according to Long Forecast, the Nio stock price will remain in a tight range in the next few months. They expect the shares to be below $8 at the end of 2023.

Nio stock forecast 2025
It is difficult to predict how a stock will perform in about three years, as history has shown us. The situation is more volatile for Nio because it is a Chinese company that could probably be delisted in the United States.
All factors constant, there is a possibility that the Nio share price will do well by 2025 as electric vehicles go mainstream. As you already know, many countries such as those in Europe and even China have made plans for phasing out combustion engine vehicles.
By 2025, Nio will have perfected its manufacturing process and expanded its business to other countries. According to Long Forecast, the stock will be trading at about $55 in January 2025. If you want to test, you can check the ATFX trading demo account.
Nio analysts forecasts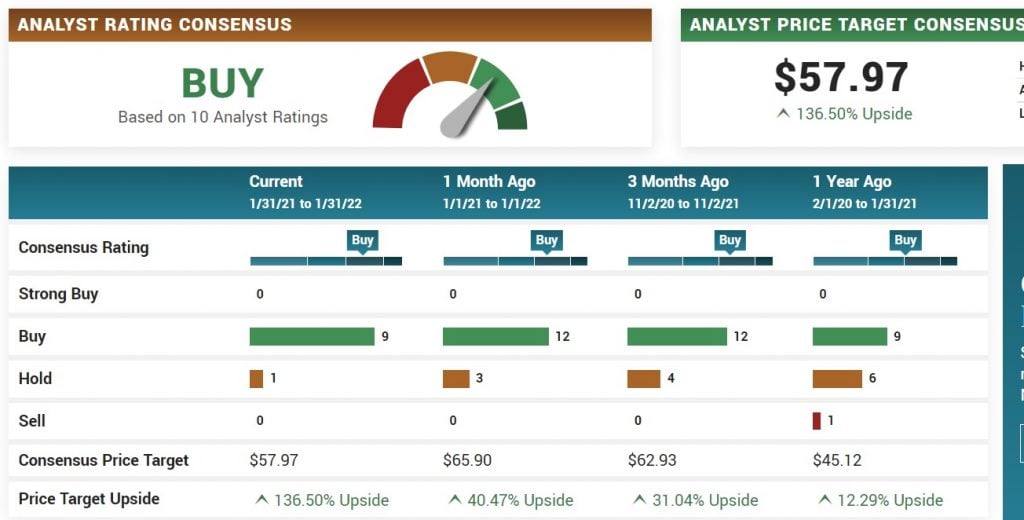 Nio stock forecast 2030
Generally, I am a bit bullish on the Nio stock price in the long term because of the company's rapid growth. Therefore, I believe that the stock will be substantially higher than where it is today. However, based on its historic performance, we can't rule out a situation where the stock rises three times by 2030 to over $70. As Tesla has proven, this is a possible scenario.
Nio stock price history
As shown below, the Nio share price has had a roller-coaster as a public company. The company went public in 2018, and its stock price collapsed to an all-time low of $1.20. At the time, there were concerns about the company's existence as a going concern.
It then started a spectacular rally in November 2019 as the firm geared towards the launch of its products. Since then, it jumped by more than 5,400% and reached an all-time high of $65. Today, the stock is about 65% below its all-time high.
Nio share price history
Is Nio a good buy and hold stock?
While Nio is a good company, it is also highly risky. Being a Chinese company, there are concerns about the accuracy of its financial results. In the past, we have seen Chinese companies publish inaccurate numbers.
Another concern is that the company could be delisted in the US. If this happens, many American investors will be left carrying the bag. Also, there are concerns about rising competition in the EV industry as companies like BYD, Xpeng, Geely, and Zeekr take market share.
Nio stock short interest
Short interest refers to the number of shares held by short-sellers. These are people who bet that a stock will go down. After the Wall Street Bets situation, we have seen the short interest of many companies decline. The current Nio short interest stands at just $1.5 billion, which is the lowest level in more than a year. At its peak, the value of shares held by short-sellers was worth over $4 billion.
Nio short-interest

How many cars has Nio sold?
Nio is a relatively young company that is in the process of ramping up its production. Nio has sold over 238k cars, which is a remarkable number for a company of its age. Analysts expect that it will sell over 500k cars per year in the next five years.
Is the Nio stock overvalued?
Like most EV stocks, Nio is currently overvalued. Besides, this is a loss-making company that makes less than $4 billion in annual revenue that is being valued at almost $35 billion. The company has a price-to-sales ratio of 5.89, making it overvalued. However, this overvaluation can be justified if the company maintains its growth.
Summary
The Nio stock price has done well over the years. In this article, we have explained why it has performed like that. We have also identified potential risks that the company is currently facing.