The Decentraland price surged 30% to a record high of $5.5828 and a staggering $9.8 billion valuation on Wednesday. Decentraland's native token MANA has jumped over 600% since the 28th of October as investors flood Metaverse-related cryptos with capital.
Like The Sandbox and Gala, Decentraland has experienced a rush of buying following Facebook rebranding to Meta. As a result, the MANA token has been one of teh best performing cryptos over the last month. The impressive performance has lifted the virtual reality platform to become the most-valuable Metaverse-focused cryptocurrency. At the current valuation, Decentraland sits just above Axie Infinity as the 24th-largest crypto.
Despite the Metaverse potentially offering some great long-term investment opportunities, there are concerns that the price of gaming cryptos are showing signs of a bubble, considering how early in the cycle we are. Therefore, it's difficult to asses whether the Decentraland price offers an attractive entry point at the current level.
MANA price Forecast
The daily chart shows that MANA is trending higher above a rising trend line at $3.7200. As long as the trend line dictates the price action the token should continue to advance. However, volatility will remain high, which could punish those late to the party.
In my honest opinion, I have no view on whether the current valuation is sustainable in the short-term. My instinct tells me it probably isn't, although in the current environment, the price may continue higher. However, buyers should be prepared for challenging trading conditions and extreme PnL swings. Therefore, only the brave should consider buying decentraland at this price.
Decentraland Price Chart (daily)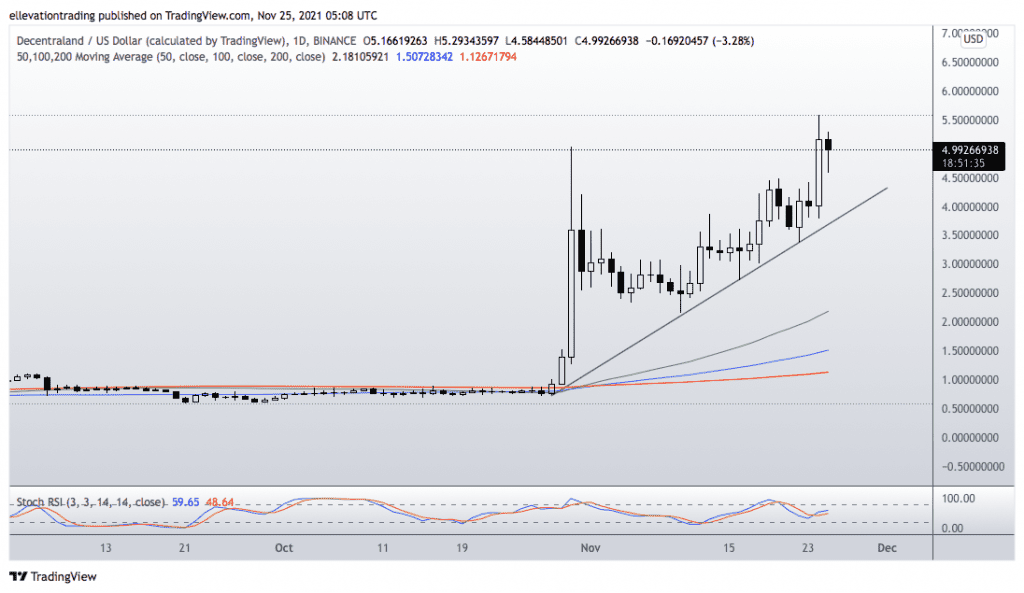 For more market insights, follow Elliott on Twitter.