Chainlink solved a major problem that had plagued blockchain technology by introducing a way to integrate off-chain data required by blockchain smart contracts. By definition, Chainlink is a decentralized oracle network that provides real-world data to smart contracts on the blockchain. What makes it more unique than its other blockchain technology counterparts is its ability to allow other networks to handle its governance.
Chainlink overview
Chainlink was launched in September 2017 by  Sergey Nazarov and Steve Ellis. Together, they authored a white paper introducing chainlink protocol and network to the world by collaborating with Cornell University Professor Ari Juels.However, the development journey is fascinating and took many years before Chainlink was developed.
Its development started in 2014 when Sergy Nazarov and Steve Ellis founded the smart contract company.After its launch in 2017, Chainlink raised $32 million in the form of an initial coin offering from  Andreas Schwartz, Fundamental Labs, George Burke, Limitless Crypto Investments and Nirvana Capital.
The money raised was used for further development of the project and marketing. Fast forward to date, and Chainlink is ranked as one of the biggest cryptocurrencies. It has a market capitalization of over $8.1 billion and currently ranks as the 20th biggest crypto.
Chainlink Price history
After Chainlink was launched in 2017, its Link tokens traded for just above a cent in USD. During that time, its market capitalization was still very low. The crypto also had minimal exposure with the crypto community, and understandably, not many people were excited about the project.
The prices stayed below a dollar for the coming years. It wasn't until mid-2019 when the prices of Chainlink broke the $1 mark and started trading between $1 and $4 per token. However, in 2020, Chainlink picked the steam and started setting new price highs. By the end of 2020, the prices had already reached $14.
The 2021 calendar year also saw the trend continue, where the prices reached their all-time high on May 10, when Chainlink started trading at $52.88. Today, Chainlink has lost some of these gains and is currently trading at $17. The table below shows recent Chainlink price milestones.
| | | |
| --- | --- | --- |
| Date | Milestone | Price |
| May 10, 2021 | All-Time High | $52.70 |
| Nov 29, 2017 | All-Time Low | $0.148183 |
| 52 Week Low | 52 Week Low | $13.42 |
| 52 Week High | 52 Week High | $52.88 |
| Market Cap | Market Cap | $6,281,559,524 |
Chainlink Adoption
More than 1,100 projects have collaborated with Chainlink in one way or another. Chainlink has also taken center stage as the market leader in the DeFi space, with most companies taking part in collaboration coming from the decentralized finance industry.
According to data collected by chainlinkecosystem.com, there are currently 550 Defi project collaborations, 225 NFT collaborations, 274 VRF collaborations and 90 blockchain projects currently collaborating with Chainlink.In 2021, more than 725 projects integrated some of the chainlink technologies into their platforms. That figure was 241 in 2020.
Among projects, Chainlink has found big adoptions are the NFTs and Gaming industries. In NFT, Chainlink is allowing users to distribute rare non-fungible tokens (NFTs) and assign randomized attributes to NFTs. The platform is also providing users with access to auditable evidence that their NFT assets are created and awarded using tamper-proof randomness. This same concept of NFT distribution is also being applied to gaming platforms.
2020 has also seen an increase in the number of new projects integrating Chainlink in their platforms. As of the end of January, there have been 47 projects launched this year that have integrated the chainlink technology into the platforms.
Chainlink Price Prediction 2022
Today's ChainLink trading session opened at $13 and currently trading 8 percent below the opening price.However, Chainlink has lost over 10 percent of its value since the year began, after having opened at $19.5. The crypto has also reached highs of $28 and lows of $13.
In general, 2022 has been a very volatile year for Chainlink, and with only one month gone, there is a lot to anticipate for the year. This is why a Chainlink price prediction for 2022 is appropriate right now.
Looking at the daily chart, Chainlink has developed some support and resistance levels and is currently trading within a long-term channel. Some of these levels include the $$10.3, $17.3, and $13.5 support levels. In addition, there is also the $28 resistance levels and an upper trendline of the channel, which is about $36.
For my chainlink price prediction 2022, I expect the crypto to be generally bullish. However, as the year progresses, the prices may move to test either of the $$10.3, $17.3, and $13.5 support levels before proceeding to test the $28 resistance level set earlier this year.
Therefore, my chainlink price prediction for 2022 is I expect the prices to close the year above the $28 resistance level. My view is, by the end of the year, the prices will have broken the resistance but will still be trading within the channel. Hence, the prices will trade within the brick red color on the chart below throughout the year.
Chainlink Daily Chart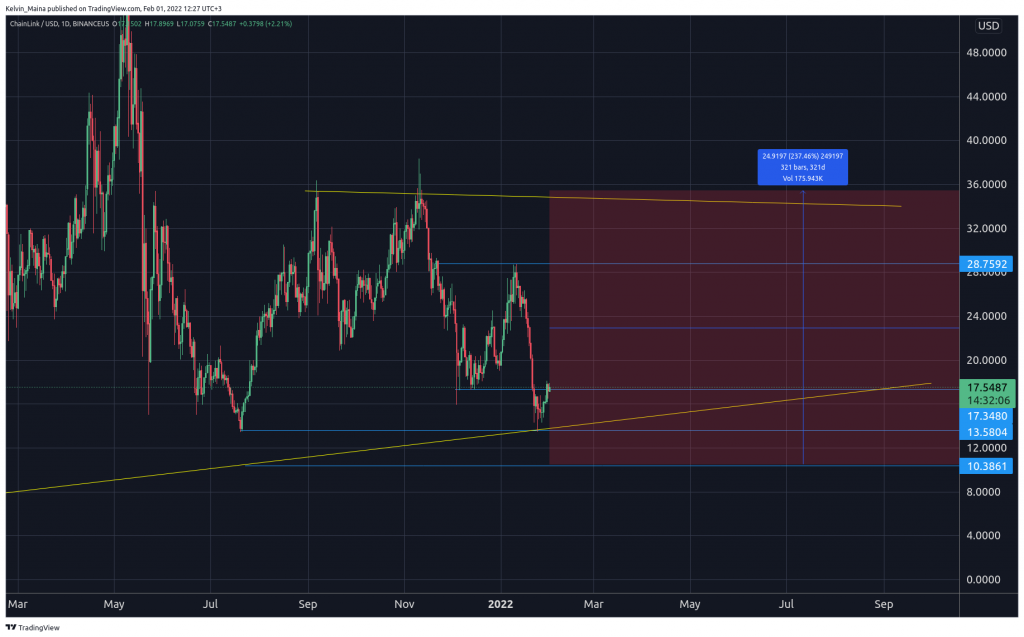 Chainlink Price Prediction 2025
My Chainlink price prediction for 2025 is bullish, although I expect the prices to trade lower than my 2022 predicted closing price. Looking at the weekly ChainLink chart, as expected from my previous Chainlink price prediction of 2022, the price will close above $28 resistance levels. Therefore, the chainlink prices for 2023 will start at above $28 and below the $36 upper limit of the long-term channel.
Between 2023 and 2025, I expect the prices to trade within the yellow region, as shown in the Chainlink weekly chart below. However, although I am very bullish on the future of Chainlink due to the applicability of its underlying technology, my Chainlink price prediction for 2025 are conservative. By the year 2025, the prices will only have slightly closed above the crypto's all-time high of $52.88.
Between $2023 and 2025, I expect Chainlink prices to fall below their 2023 opening prices. I expect them to trade below the $28 resistance level for a considerable amount of time during that period before picking and breaking its all-time highs.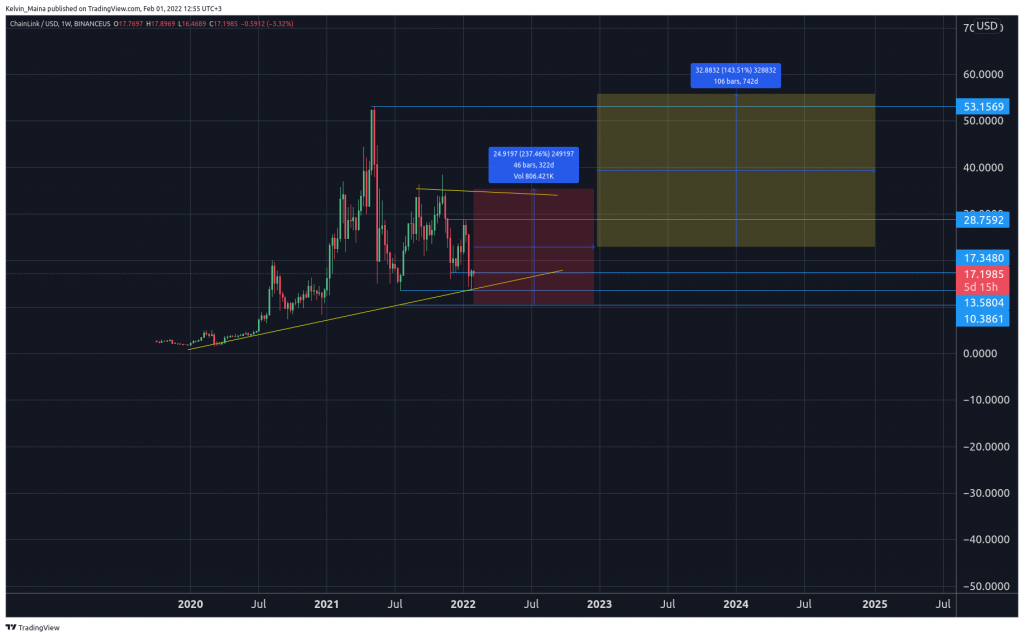 Chainlink Price Prediction 2030
My Chainlink price prediction for 2030 is the prices will have hit $100 by the start of 2030. This very conservative analysis assumes that growth will be about 70 percent from now till then per year.Therefore, my chainlink price prediction for 2030 is prices will trade within the purple area. These prices will range from a trading price of $39 to a price slightly above the $100 mark.
However, chainlink prices may also increase exponentially over the coming years, and by 2030, the prices will be as high as $200 or even a thousand. This prediction is not out of the realm of possibility, and hence investors have to prepare for such a scenario.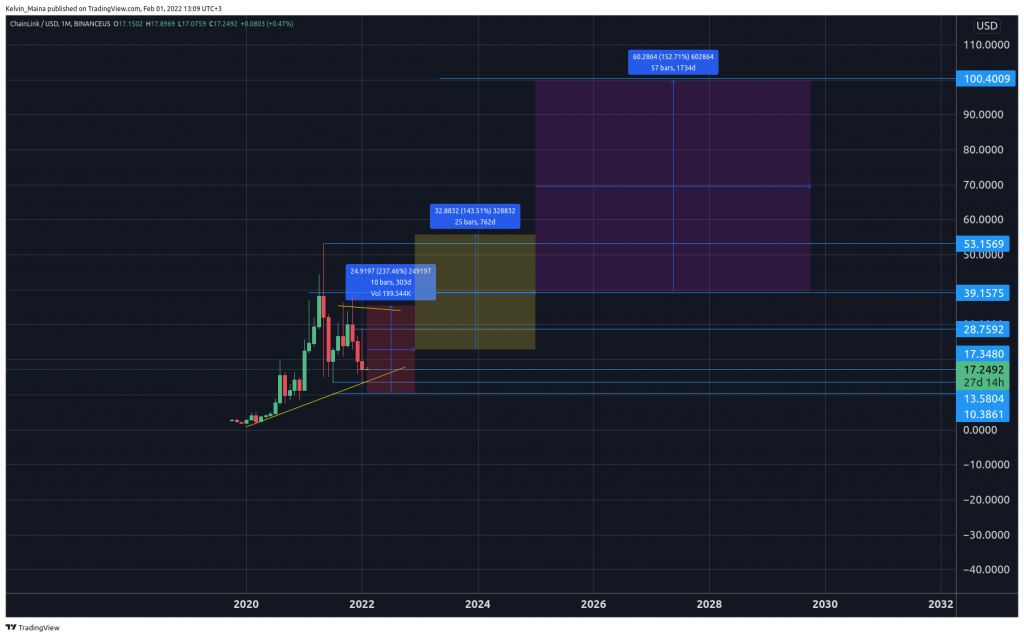 Chainlink Latest News
Chainlink VRF is finding applications in gaming dApps and NFT projects, where it is being used as a tamper-proof, variable and provably sore of on-chain randomness.
In another development of Chainlink usage, the Larix project, which is the first metaverse-based finance protocol has also adopted chainlink for its price feeds. The move is geared towards providing reliable decentralized price data to its lending and borrowing platform on Solana.
Is Chainlink a Good Investment
Based on my analysis of Chainlink's 2022, 2025, and 2030 price predictions, I believe that Chainlink is a good investment with a lot of potential. Chainlink also has a lot of real-world use cases. This has placed it at the center of the current blockchain revolution, with thousands of projects agreeing to work with them. Therefore, the platform is built for the future, and I don't expect it to disappear after some years.
How to Buy Chainlink
Investors looking to buy Chainlink have numerous options to choose from. Some of the platforms that offer Chainlink to investors include Kraken, Binance, Coinbase, GateIO, Exodus, and many other crypto exchanges. Unlike other crypto's where exchanges are in fear because they have legal cases against them, Chainlink is not embroiled in controversy. Therefore, you can almost find it on any platform that deals with cryptocurrencies.