The crypto market shows signs of an intraday recovery this Monday, even though this upside move does not necessarily boost Algorand price predictions. The ALGO/USDT pair is up 5.41%, motivated by the potential for talks between Ukraine and Russia in Gomel, a town on the Belarus-Ukraine border.
The ALGO/USDT pair had dropped the previous week in tandem with most of the crypto market, as investors abandoned risky assets in droves following Russia's invasion of Ukraine. This sentiment has largely overwhelmed any internal fundamentals of crypto assets. Last week, Algorand was listed on Amazon's Web Services to help users deploy and operate nodes in the secure environment that AWS offers. This was made possible via the Guardrail cloud solutions service, an alternative to standard API aggregation services.
Algorand has also launched its Agofi DEX defi platform. Vest Equity's NFT platform launch on the Algorand blockchain is the latest series of partnerships that the blockchain network has engaged in since its inception. However, the short-term Algorand price prediction seems set to be dominated more by geopolitics than by its internal fundamentals, which appear to be heading in the right direction.
Algorand Price Prediction Outlook
The ALGO/USDT pair bounced off the 0.7829 support level, preserving its integrity after repeated tests in the last two weeks. The bulls need to increase the momentum on the bullish end of things to mount a challenge on the 0.9181 resistance. If this resistance gives way, 1.0704 becomes the new barrier to recovery. Above this level, 1.2122 and 1.3265 are additional price targets to the north.
On the flip side, the bears need to degrade 0.7829 before the slide can resume, targeting 0.6760 initially before 1-year lows at 0.5942 (11 January 2021 high) potentially become a viable target.
ALGO/USDT: Daily Chart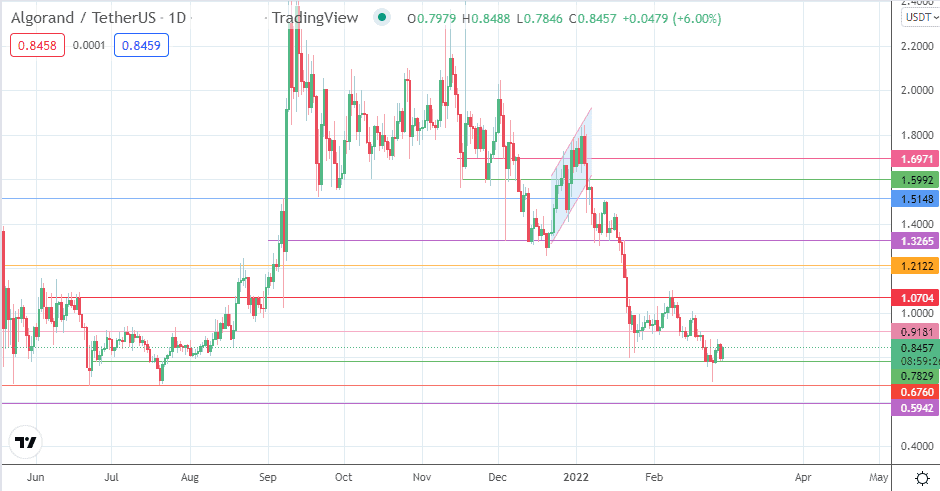 Follow Eno on Twitter.