The AITX stock forecast is looking bearish on the strength of the price picture on the charts. A look at the 4-hour chart indicates that the attempt by the bulls to force the price above the 0.0180 resistance was foiled, resulting in an intraday decline which preserves the evolution of the descending triangle.
The company recently disclosed that the sales channels for its robotic assistance devices have increased following its participation in the ISC West conference and exhibition event. Artificial Intelligence Technology Solutions Inc owns the Robotic Assistance Devices Inc company, through which it develops and markets these devices. The company says it has attracted several new prospects from this event, many of whom are Fortune 500 companies.
Despite this positive development, the stock is expected to push lower before buying interest re-emerges. With the price activity now drifting downwards to test for a breakdown opportunity at the 0.0154 support, what is the AITX stock forecast heading into the 2nd quarter of 2022?
AITX Stock Forecast
The picture on the 4-hour chart is that of a descending triangle. Given that the previous trend is a downtrend, there will be a downside continuation in most cases. This downside break comes from the rejection at the triangle's upper border and a breakdown of 0.0154. This opens the door to a measured move that is expected to terminate at 0.012. The only barrier to this move is the 29 December 2021 low at 0.0145.
On the other hand, a break of the triangle's upper border signifies a reversal and an invalidation of the bearish expectation. This scenario would see 0.0180 coming into the picture as the initial target. Above this level, 0.0202 becomes an additional target to the north. 0.0234 only enters the mix if the bulls uncap the 0.0202 resistance barrier.
AITX: 4-Hour Chart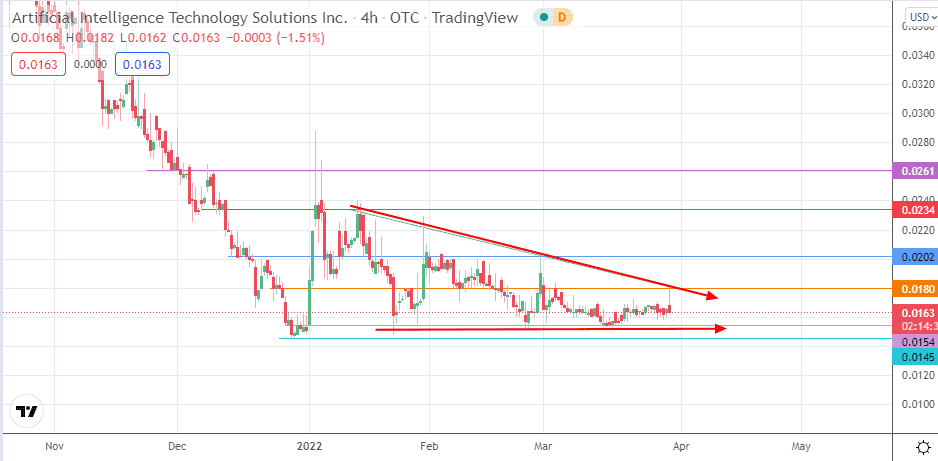 Follow Eno on Twitter.