The Aave price has been struggling for bullish momentum and down 20% this month, leaving it vulnerable to a severe drawdown.
Aave (AAVE) has performed poorly over the last two months. In that time, the protocol lost its place atop the DeFi leaderboard and more than $3 billion in value. Aave's market cap has fallen to $3.4 billion, around $5 billion below its peak, causing Aave to slide to the rank of 55th-largest cryptocurrency. Furthermore, the disappointing performance has pushed the AAVE price down to what I consider a critical level of support, and which, if broken, may lead to substantial losses.
Price Analysis
The daily chart shows AAVE is approaching horizontal support at $251. If the Token drops below $251, it could fall to $165.
Therefore, its imperative for the bulls that the $251 support holds out. Unfortunately, in my opinion, it is only a matter of time before support fails. However, for now, the price is above the line. And for that reason, traders should wait for confirmation.
In my view, we should expect a binary outcome from this level. If the price holds above it in the coming sessions, it will confirm the support. In that event, buyers may wish to initiate long positions, with a stop below the support. On the other hand, if the trend is broken, short-sellers may open position, placing a stop above the former support.
My advice is to wait and see how the price reacts at this level. But sometime in the next few days, a clear cut trading opportunity should arrive.
Aave Price Chart (daily)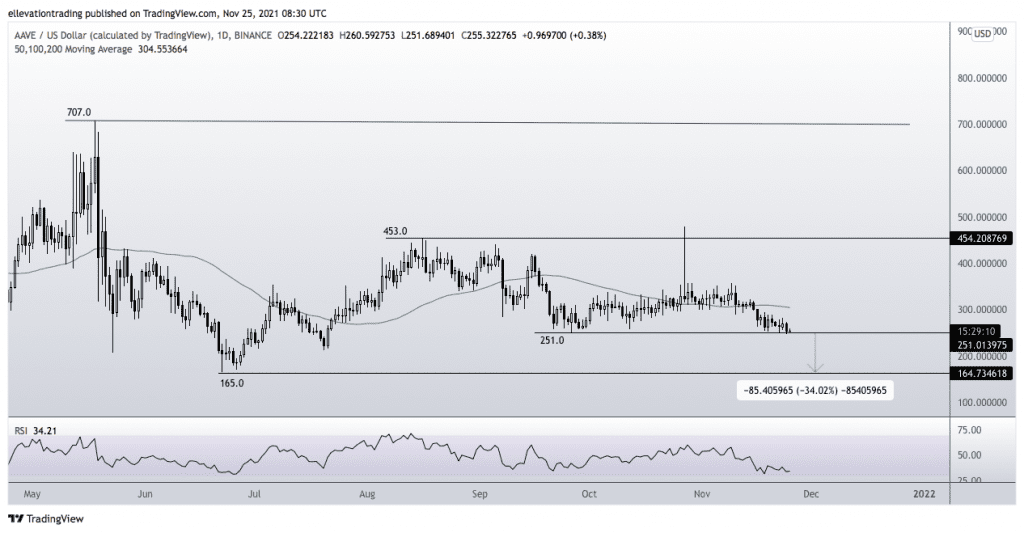 For more market insights, follow Elliott on Twitter.