The Unilever share price has endured a 0.97% decline on the day in a price move which is more of a profit-taking retracement at a key resistance than anything else.
Wednesday's price decline follows several days of gains that have taken the Unilever share price from 3359p to as high as 3733.0p, following the company's 12% rise in turnover recorded in Q1 2022. The consumer products giant maintained its dividend at 0.4268 Euros per share but expects cost inflation to rise due to the war in Ukraine and the rise in raw material costs.
The sharp rise in cost inflation from the previous estimate of 1.5 billion euros to the current estimate of 2.7 billion will see consumers paying more for its products, the company has warned. As a result, the company saw a 1% dip in sales volumes for the first quarter, which has some worrying about possible product substitution from consumers wary of rising prices. 
Despite the inflationary pressures, German broker Berenger has raised its 12-month price targets for the Unilever share price from 3650p to 3800p. Berenger hinged its estimates on the company's organic growth, which beat estimates, and the price increases in products offsetting sales volume drops.
Unilever Share Price Outlook
The Unilever share price is trading within the confines of the falling wedge pattern. The expected outcome of this pattern is a breakout to the upside, pursuing the attainment of a measured move towards the 4189.5 resistance mark (22 July 2021 high). This outlook depends initially on a break of the resistance at 3733.0 (29 April 2022 high), which also marks the wedge's upper border site. The initial target resides at 3800.0 (19 November 2021 and 27 January 2022 lows in role reversal). Then, 3923.0 (11 February high) comes into the picture with an advance beyond 3800.00. This leaves 4030 as the intervening target between this level and the completion point of the measured move at 4189.5.
Conversely, extending the rejection of price activity at 3733.0 makes 3549.5 an initial downside target. If the bulls fail to defend this support against a bearish onslaught, a move towards 3442.5 (15-23 March highs in role reversal) cannot be ruled out. Below this level, 3559.5 marks the wedge's lower border and the 25 March/19 April lows.
Unilever: Daily Chart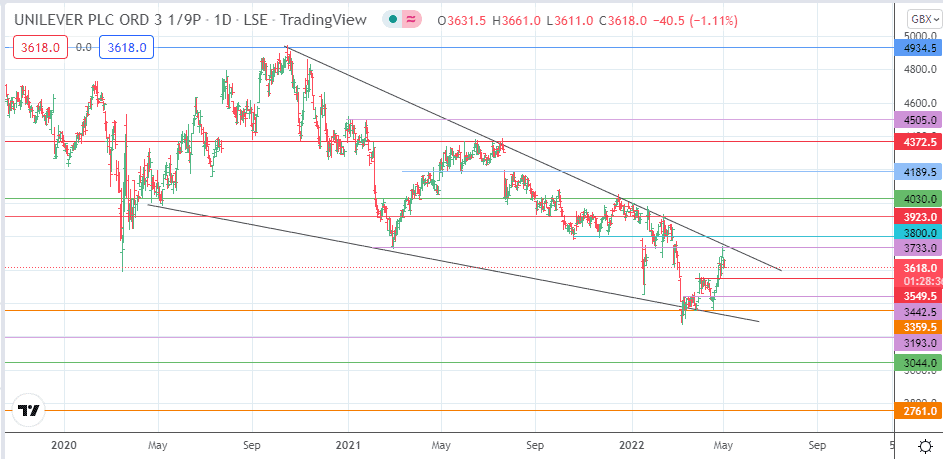 Follow Eno on Twitter.