As we enter 2022, the sellers seem to be in control of the SAND price.
SAND saw a significant loss of 39.42% while dropping from $7.12 on December 28th to $4.20 on January 10, 2022. However, the price now seems to be pushing to the upside for a correction phase.
Mega-City sale on Sand
The latest buzz around the Sandbox is the new LAND sale that is launching on 13 January 2022 at 1 PM UTC. The previous Snoop Dogg land sale on 2nd December attracted a lot of buyers. During the sale, a piece of land sold for $4.3 million near Snoop Dogg's virtual mansion.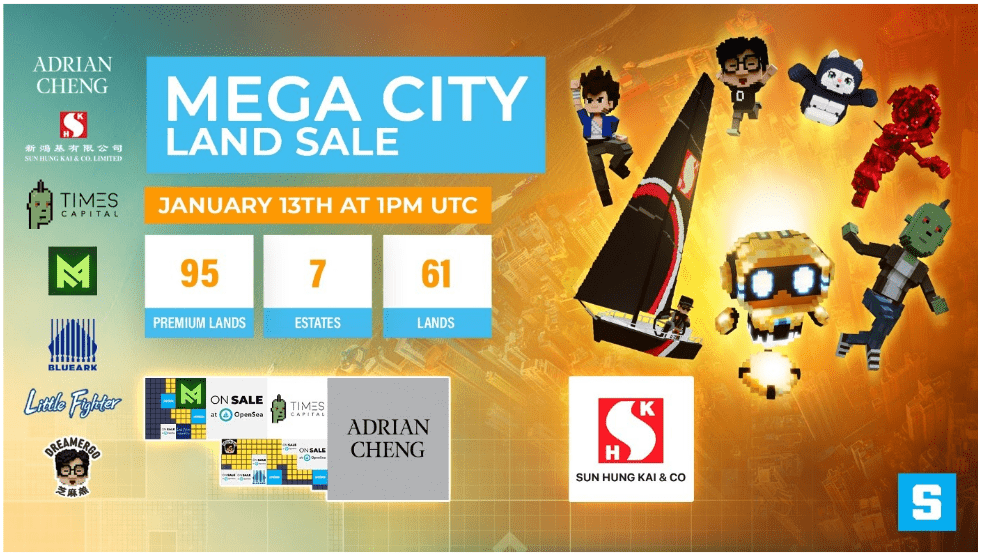 The name of the new land is Mega City, which is a new map in the Sandbox metaverse. The Mega-city map will be acquired by multiple Hong Kong partners from different industries, ranging from entertainment to real estate, music, finance, and gaming.
A few of these partners are some well-known entrepreneurs and brands like Stephen Fung and Shu Qi, Sun Hung Kai & Co. Limited (SHK & Co), TIMES CAPITAL, Adrian Cheng, [email protected], and Adrian Cheng.
Adrian Cheng an entrepreneur, based out of Hong Kong, has bought his XL Estate (24 x 24 LANDs), which will be the innovation hub of Mega-City. Sun Hung Kai & Co. Limited (SHK & Co) has an XL Estate that will bring his experience in finance, sports, art, and culture from around the world to the Sandbox.
The Mega-City will also have a large NFT gallery presented by TIMES CAPITAL, a blockchain-related investment fund institution. They have Their 12×12 ESTATE in the Sandbox Metaverse.
Effect on SAND price:
At the time of writing, SAND was trading at $4.82 and is up 8.84% in the past 24hours.
On the 4hr SAND/USDT price chart, we can see the price has formed a head and shoulders pattern, with the head touching $6.96 on December 26th.
After the break of the neckline formed at $5.84, the price started falling creating a series of long bearish candles. The price thereafter started to follow a bearish trendline, making lower highs and lower lows.
The price recently broke the bearish trendline and almost reached the previous swing high formed at $4.91on 9th January showing bullish sentiment in the market.
If the price breaks the resistance zone and swing high at $4.91, the price could then move up and trade around $5.20. However, if the price fails to break above the high, it may trade to the major low formed at $4.19.