The Hut Group share price has been in a strong bearish trend since the company went public in 2020. The THG stock crashed to an all-time low of 70p in February. This price was about 89% below its all-time high. As a result, its total market cap has crashed from over 8 billion pounds to about 1.5 billion pounds.
What is The Hut Group?
THG, formerly known as The Hut Group, is a Manchester-headquartered company that was started by Matthew Moulding. The company focuses on the beauty and nutrition industries by infusing technology in their purchases and delivery.
THG operates in four key divisions. First, it owns Ingenuity, which is a technology platform that holds the studio, commerce, manufacturing, and fraud protection division. It is one of its pillar projects and handles over 200 websites for clients.. Second, it has a nutrition division that owns products like My Protein, My Vegan, My Vitamins, and Exante.
Further, it has its beauty business that owns companies like Look Fantastic, Espa, Ameliorate, and SkinStore among others. Its final division is On-demand, which provides services like packaging, sales, and production. Beauty is the company's biggest division followed by Nutrition, Ingenuity, and Ondemand. While THG is based in the UK, it delivers its solutions globally through a network of mainstream delivery companies. 
THG stock performance
Before going public in 2020, The Hut Group was one of the best-known British startups. Indeed, its main investor was Softbank, the Japanese company. Other backers are Blackrock and KKR. As a result, its IPO was the biggest in London for years, which helped push the stock to an all-time high of 845p.
However, these gains were short-lived as the stock started falling. The decline was initially due to a poorly-received presentation by Matthew Moulding as he laid his vision about the company. Some investors wanted the company to consider selling Ingenuity since some buyers had expressed interest. The stock continued falling in 2021 and 2022, pushing it to an all-time low of about 71.50p as shown below.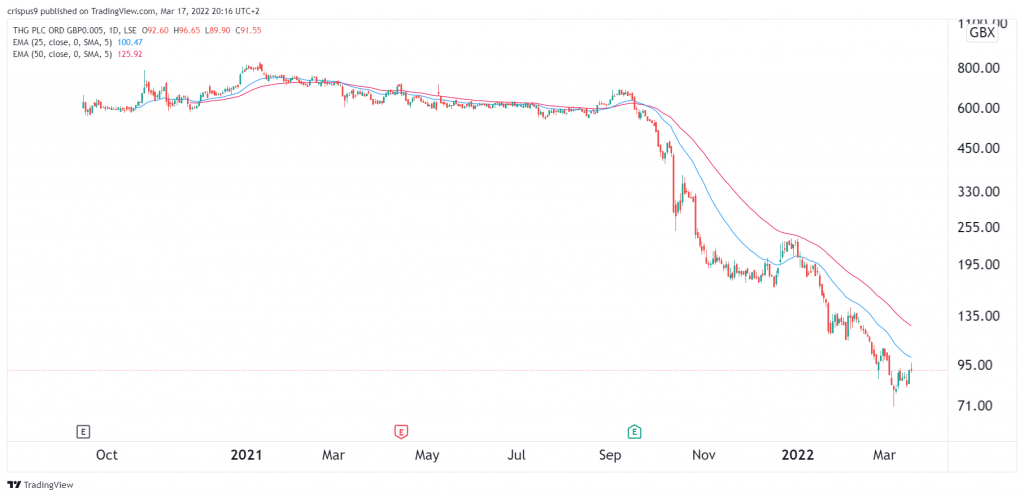 Why THG shares have crashed
There are several reasons why The Hut Group share price has crashed hard in the past few years. First, the stock has declined because of the overall slow growth. In 2021, the company's revenue rose by 37.9% to $2.9 billion. This revenue was driven by the growth of its beauty and Ingenuity brands. However, the company expects that its revenue will grow by about 22% this year, which will be a sign of a slowdown.
Second, for a long time, the company was among the most shorted at the London Stock Exchange (LSE). While the short interest remains, it is still one of the most shorted equities in the country. Others that have made the list are CineWorld, Boohoo, and Royal Mail among others. Short-sellers make money when a stock price retreats.
Third, THG is still a loss-making company and analysts see a long path towards profitability. Between 2017 and the end of June 2021, the company spent under 1 billion pounds doing deals as it lost 550 million pounds in losses. Further, like most growth stocks, THG has been stung by the changing monetary policy situation. With inflation rising, many central banks have turned hawkish. On Thursday, the Bank of England (BOE) delivered its third straight interest rate hike. 
The Fed has also delivered its first hike and hinted that more were coming. In times of high-interest rates, growth stocks tend to underperform as evidenced by the performance of the tech-heavy Nasdaq 100 index.
Is The Hut Group a good investment?
A case can be made that the THG share price has become extremely cheap now that it has fallen by over 80% from its all-time high. One of the most important reasons why some analysts believe it is a good investment is that it has become a viable acquisition target. Indeed, the management has expressed its openness about selling the entire company or some pieces of it.
According to Bloomberg, they have considered selling its beauty and nutrition businesses. Other rumors are that some private equity companies are circling the firm. Besides, like many other UK companies, analysts believe that it is incredibly cheap. That is the best-case scenario. The worst-case is if no buyers become available, meaning that the company will need to exist independently. While its revenue is still growing, the path of profitability is still unclear because of the amount it is spending on marketing and advertising. 
Analysts have a mixed opinion about THG share price. For example, those at JP Morgan and Royal Bank of Canada recently upgrade the stock. On the other hand, those at Barclays, Liberium Capital, and Morgan Stanley decided to lower their estimates as shown below. In total, the average estimate among estimates is that the stock will rise to 543p, which is significantly above its current level.

Is THG stock a buy?
A common question is whether it makes sense to invest in The Hut Group. In my view, I believe that the stock may have some upside as talk about acquisition or restructuring remains. As such, owning a small part of the company might make sense. The risk is that no acquisition comes and the BOE accelerates its hiking policy.
THG share price forecast
Turning to the daily chart, we see that the stock has been in a strong bearish trend in the past few months. It has continued making lower lows as demand for the stock fades. As a result, it has crashed below the 25-day and 50-day exponential moving averages (EMA). It is now above the upper side of the falling Andrews Pitchfork pattern while the Money Flow Index (MFI) has tilted upwards.
Therefore, the shares will likely keep rising in the near term as the acquisition talk continues. If this happens, the next reference level to watch will be at $100. A move above $100 will see the stock soar to above $120.